Digital Copiers Buyer's Guide
Copier service agreements
Table of Contents
As copiers become more durable and reliable, service agreements are becoming less necessary; however, some customers still appreciate the security service agreements offer.
Unlike warranties, which expire after a finite amount of time, a service agreement is ongoing. The service agreement stipulates when and how repairs will be done and covers labor as well as components. As with pricing for the copier itself, service agreement pricing can vary significantly from vendor to vendor, so make sure you are able to compare by getting quotes for the same level of service from multiple vendors.
Copy volume assumptions
Service contract pricing is based on estimated copy volume. However, your copier usage is likely to fluctuate month to month due to regular business cycles or summer vacations. Be wary of contracts that stipulate an annual or monthly copy volume that is unrealistically large. While it may be tempting to overestimate your expected copy volume to get a lower per-copy rate, if you do not meet that maximum, you will not be reimbursed for the difference. Similarly, if the volume estimate is too low, dealers often charge a per-copy fee above and beyond that limit, which can end up being quite costly.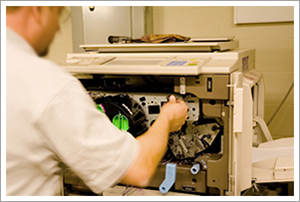 Service agreements ensure you get quick and reliable repairs when you need it.
If copy volume is something you are still trying to assess, try to get a service plan that charges you only for the copies you make (pay as you go) or one based on your estimated annual, not monthly, number of copies. A fair dealer should agree to those terms.
You can also negotiate a contract with monthly payments that cover copier parts and service but not supplies, or a lower monthly payment and a higher per-copy fee.
Typical coverage
All plans tend to cover costs of parts and labor for repairing and maintaining your copier. Unfortunately, "parts" often has a different definition from vendor to vendor. Parts that break during use are almost always covered, as are parts that wear out over time. This includes fuser rollers, cleaning blades, and other parts often bundled in preventative maintenance kits. Make sure you get a comprehensive list of what is and is not covered so you can compare plans accurately. You can purchase coverage that includes consumables such as toner and drums as well.
Emergency repairs
Find out whether these costs are covered in full or priced on an as-needed basis. If you will be paying as you go, you should know what your costs will be beforehand. Be sure to get a written commitment on response time (the typical maximum is four hours) and the hours service is available, particularly if you expect the copier to see a lot of use during evenings and weekends.
Also ask about loaner service. Many vendors will provide you with a replacement copier of equal or greater specifications if yours requires significant repairs.
Future costs
Get a sense for how service contracts will be priced in the future. Costs should ideally be limited to increases of less than 8 percent a year.
Consumables
Consumables such as toner are usually excluded from service contracts, unless you opt for an all-inclusive contract that covers all service calls, maintenance, and consumables - everything except paper and staples. All-inclusive contracts can be easier on the accounting, but may cost you more in the long run. Buyers often do not realize that they don't have to buy consumables from the dealer who sold them the machine. Sometimes, in fact, you can save 15% to 20% on supplies by going through an alternate source.
Letting a dealer know you are considering alternate sources for service or supplies can be a good way to dramatically reduce the price of these higher-margin items. Some copier dealers may falsely claim that you must purchase your consumables through them. This is illegal, so stand your ground.