Digital Copiers Buyer's Guide
Choosing office copiers
Table of Contents
Years ago, customers had the choice between the simplicity and tradition of analog copiers and the modernity and functionality of digital copiers. Analog machines, however, stopped being manufactured in 1996. As with many products we use, copiers have become exclusively digital.
Before you start comparing digital office copiers, there are three key questions you'll need to answer. Knowing where you stand on what you need the copier to do, how many prints you need to make, and how fast you need them made will help stay focused when you start talking to vendors. We've used data from other BuyerZone users to help you answer these questions.
1. What do I need my office copier to do?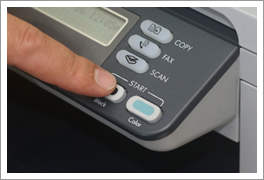 Modern digital copy machines allow you to copy, scan, and fax, all from the same unit.
Modern office copiers are often referred to as multifunctional products (MFPs) or multifunctional devices because they do much more than just copy. MFPs also print, fax, scan, email, make double sided copies, collate, punch holes, staple, and make booklets.
Having a multifunctional product connected to your internal network allows you to take care of many tasks directly from your computer. Not only can MFPs aid in electronic communication, they make it convenient to create finished documents without ever leaving your desk. They're also the ideal space saver, considering that one device handles your scanning, faxing, emailing, and printing. To help determine which multifunctional features will benefit you, see the Features section of this guide.
Additionally, you will need to carefully consider your color printing needs. The Color Copier Specifics section of this guide provides more details.
2. How much do I need to print and copy?
Once you decide on the features you need, the next step is to narrow your choices based on the number of copies you make in a month.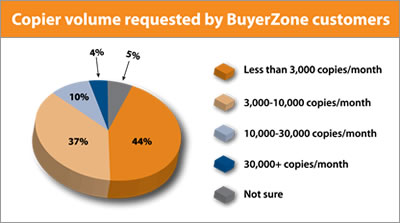 BuyerZone data, Q4 2011
If you already own or rent a copier, you can determine your actual copier usage by looking at the counter, usually found under the platen glass or internal storage. Much like an odometer on a car, the meter on the copier cannot be tampered with. It varies from copier to copier, but each one has a menu that shows how many color copies, color prints, black and white copies, black and white prints have been made. The overall total is also displayed on the counter.
If you don't have a copier at all, use your copy shop receipts to get a sense for your volume. If you're going to use the copier as a network printer as well, a useful way to get a rough estimate is to track your monthly paper consumption.
Don't worry about being too exact. Once you have a rough volume figure, increase it by at least 15%. This will help you account for future growth, as well as compensate for the somewhat inflated monthly copy volumes claims from manufacturers..
As you can see in the chart, 81% of BuyerZone users expect to make fewer than 10,000 copies per month. For most commercial-grade copiers, that's not a very demanding amount. If you're expecting to make fewer than 1,000 copies per month, you probably don't need the expense of a "business" copier at all. You'd be better off purchasing a small office copier, also known as a personal copy machine, from an office superstore - unless you want the advanced features or service guarantees that come with business copiers.
3. How fast do I need it to be?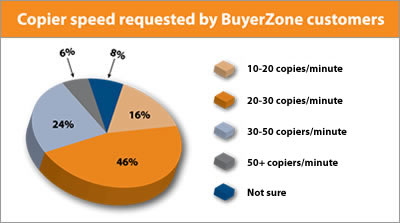 BuyerZone data, Q4 2011
Copier speed is measured in copies per minute (cpm), pages per minute (ppm), or outputs per minute (opm). Whichever term is used, it refers to the number of letter-sized pages the machine can produce in one minute when running at full speed. The copier industry categorizes six segments, defined by speed:
| | | |
| --- | --- | --- |
| 1 | 15 ppm | very small or home office |
| 2 | 20 ppm | small offices |
| 3 | 30 - 50 ppm | small to mid-sized offices |
| 4 | 50 - 70 ppm | mid to large offices |
| 5 | 70 - 90 ppm | very large offices and/or print runs |
| 6 | 90 - 100 ppm | commercial printers |
Note that segments 3 and above can all be networked. Most companies are satisfied with copiers from segments 2 - 4, in the 20 to 70 ppm range, and our stats back this up: 70% of our users are looking for copiers that meet those specs.
Of course, more complex forms of copying--two-sided copies, copying on larger paper, and sorting--are slower. If you will be frequently doing these types of copying, make sure you anticipate and plan for the slower speed. Also, if you expect to make many one-time single copies, ask about the first-copy speed, or the number of seconds it takes for one single copy to be made.