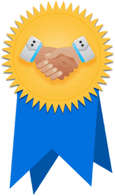 The 20 Best Small Business Blogs
As the leading online marketplace for B2B purchasing, BuyerZone is all about helping small businesses. Whether it's office furniture, phone systems, or security equipment, BuyerZone helps small businesses find the best suppliers for the products and services they need to run their business.
Here, we've highlighted 20 of the best blogs that help small business owners in other ways: these blogs provide valuable tips, advice, anecdotes, and expertise that can help you run your business more effectively, save money, or find new customers.
We were looking for small blogs that speak to small businesses - while blogs at sites like BusinessWeek and OpenForum are great, they're well known and easy to find. We wanted to unearth less visible but still valuable blogs, and we found plenty! Take a look, then let us know your favorite under-the-radar sources for small business info.

This blog should be bookmarked in every business owners' browser. John Jantsch has worked hard to ensure that his blog provides valuable content specifically for small businesses. The site is updated regularly and features content - as well as programs and services - that will give small business owners the insight they need to create successful businesses.
"
"
The Duct Tape Marketing blog was started in 2003 as a way to share practical tips, tactics and tools with small business owners and marketers. More than anything else the site is looked to as a place marketers can go and hear about what's new, but more importantly, what's useful and what they need to do right now.– John Jantsch, blog owner
Noobpreneur Business blog offers information and resources for small business owners who are just starting out. The reason this blog differs from the rest on the list is because it provides knowledge, tips and ideas from a variety of authors - located across the world. This "variety" gives readers different perspectives on important issues.
"
"
Noobpreneur.com is a business blog offering business insights from entrepreneurs and professionals from many backgrounds and nationalities. Our writers - both regular contributors and guest authors - are coming from the US, UK, Indonesia, India, and Australia. – Ivan Widjaya, blog owner

This blog is considered to be one of the most valuable sites for business owners and entrepreneurs, and has even been recognized by Forbes, Alltop, and the Better Business Bureau. Small Business Trends offers an array of information for business professionals because it collects information from numerous websites and feeds.
"
"
Our motto is "small business success delivered daily." That signifies what we hope you will take away from the site: digestible bits of information that you can use to help your business be successful. We strive for articles that are easy to read, with helpful takeaways that any entrepreneur or small business can put into place.– Anita Campbell, blog owner
FastupFront presents valuable information for small businesses on an array of topics, paying particular attention to financing. Blog post topics include accounting, business loans, business trends, leasing equipment, and more. Each post is written with the mission that it will provide help and guidance for small business owners.
"
"
FastUpFront is focused on helping merchants and small business owners. We started the blog as a way to provide helpful advice and information to our customers. We hope that our readers enjoy our content and benefit from the information by improving their businesses.– Gary Barzel, blog owner

Business Pundit was one of the first business blogs on the Internet, and gained a large audience because of its unique perspective on business and the economy. The senior writer, Drea Knufken, uses her degrees in Business Management Economics and Politics to create an intriguing blog.
"
"
It was launched by entrepreneur Rob May in 2003. I helped build it into a valuable resource with a variety of content, including: investigative articles, how-to's, interviews with captains of industry, technology and book reviews, and even a splash of humor. Today, Business Pundit continues to have a variety of interesting and original posts that offer an alternative perspective on the business world. – Drea Knufken
Business 2 Community is a great source of information for industry trends, news and real-life experiences because of the contributing authors who provide outstanding content. Blog founder Brian Rice and his team ensure that the site focuses on key topics in the industry, including: marketing, branding, PR and social media.
"
"
We pride ourselves in keeping our community open to bloggers that would like to increase the exposure for their thought leadership via contributing original articles or syndicating their blog on our site. Our goal is to share content that engages our readers by educating and entertaining them.– Brian Rice

Janet Attard set up this blog so business professionals could stay up to date with the latest trends, resources and news that would help their businesses grow. What makes this blog unique is that the information is delivered in short paragraphs because Janet understands that professionals don't always have the time to sit and read lengthy articles.
"
"
The original purpose of the blog was to provide brief notes and comments that will alert you to trends, resources and information to help you run your business more efficiently. – Janet Attard
When Laurel Delaney started this small business blog in 2004, she wanted it to do one thing: help entrepreneurs and small businesses go global. Seven years later, that's exactly what her blog is doing - helping professionals expand their businesses internationally.
"
"
The blog resonates with small business owners and entrepreneurs because it addresses a need on how to grow a business in a big world way. The blog platform itself makes it easy to share our global small business knowledge, inspire, educate and help people expand their businesses internationally.– Laurel Delaney

This blog aims to give readers helpful articles on marketing, finance, technology and even product resource reviews. Blog owner, Dequiana Brooks, is a well-known industry expert, but what she enjoys most about the blog is how it gives her the chance to profile other successful entrepreneurs.
"
"
[These profiles] give small business owners another outlet to promote their ventures. I also show my growing base of readers that being a full-time small business owner is possible.– Dequiana Brooks
The blog writers at Time to Start Up want to do more than provide small business tools and resources. Instead, they hope to inform and inspire small business owners.
"
"
We started Time To Start Up a few years ago as a way to help small business owners and entrepreneurs start, run and grow their businesses. We're committed to providing useful tips and practical ideas on how business owners can capitalize on the latest trends, as well inject tried and true best practices to get their businesses up and running and keep them running.– Jodi Kukla, blog staff

If you Google "small business blog," Stefan Topfer's blog is what you'll see at the top of your results page - and for good reason. This blog covers everything related to small business: books, marketing, services, relationships, social media and more. Stefan's blog provides information that will help entrepreneurs start a business and stay in business.
"
"
Focus and information is key to business survival, and that is what The Small Business Blog is all about. I believe we are seeing the dawn of a cultural shift, in which micro and small businesses are the most important part of our economy.– Stefan Topfer
In 2010, Karl Walinskas started his business Smart Company Growth, a resource for small businesses to spark sales, contain costs and promote profits. His blog, however, is an informational resource that provides entertaining tips, how-to's and expert interviews. What makes this blog especially entertaining are the ?Vlogs'.
"
"
Many posts are edgy, humorous text, but a growing number are Vlogs, where I'll record video interviews with business and thought leaders relative to the business growth audience. The Smart Blog focuses on how you can operate and grow your business smarter.– Karl Walinkskas

Martina Iring is a small business marketing consultant. She uses and shares her expertise via her blog with the hopes that readers receive the advice they might not be able to afford. The topics she covers include: small business inspiration, small business marketing and other small business tips.
"
"
I wanted to create a place where small business owners can feel comfortable knowing that the information [provided] is meant just for them. I hope that my blog will be a source of inspiration, guidance and fun for anyone on an entrepreneurial journey.– Martina Iring
A small business is only as good as the tools it works with. As a result, learning about what technology and equipment you should be working with is essential - and that's exactly what this blog covers.
"
"
[The blog] is intended to give small business owners and managers a leg up as they face the daily challenges of understanding, purchasing, and managing their business technology. Whether you run an office of 50 employees or you are a sole practitioner working from home, you will find relevant topics that will help you save time, grief, and money. – Alex Lesberg, VP and Senior Consultant at Jackrabbit.com
The Deluxe staff understands that a lot of small business owners shy away from marketing their business because they don't know how to. As a result, this blog aims to help readers understand the online marketing world, tools and industry changes.
"
"
The goal of our content is to really help small businesses become more effective in marketing. Our content shares marketing insights, best practices and real-world examples that will help readers achieve their objectives in a cost- effective manner. – Rachel Medina, blog staff
#16: BlogNotions: Small Business Blog
This blog focuses on delivering a variety of perspectives from leaders in the small business industry. Post and forum topics include: small business technology, tips and tricks, marketing, and common problems and solutions.
"
"
We launched BlogNotions with the intent of providing professionals a platform whereby they can access helpful information, ask questions, and collaborate freely with some of the web's most esteemed industry experts. – David Fortino, VP of Audience Development at Netline Corporation
Sample post: 10 Quotes that Tag You as a High Risk Entrepreneur
#17: Solutions are Power
The Internet isn't a mystery for small business owners and professionals. However, social networks like Twitter and Google+, and terminology like SEO and PPC might be. And if that's the case, Solutions are Power is a blog you should be reading.
This blog strives to help their readers understand common issues like how to drive more traffic to your business website, and what online tools you should be using to improve your business' online presence. The blog writers do a great job of simplifying complex issues and even provide videos and pictures in their posts.
Sample post: Five Great Social Media Infographics to Help Guide Your Business
#18: BizAmmo Small Business Blog
BizAmmo is a small business blog that was originally launched as a small business network in 2006. Now, however, it has developed into a full blown blog that covers an array of small business topics such as: accounting, social media, business development, marketing, and more.
Business writers Jennifer Mattern and Dan Smith do an excellent job of providing valuable industry-related news that is updated on a regular basis.
Sample post: How to Make Your Small Business Job Vacancies as Attractive as Possible
#19: Small Biz Survival
Sometimes reading real stories from other small business owners is the best way to get the information you need. If that's the case, Small Biz Survival is the blog you are looking for. Becky McCray started this blog as a way for businesses to take a lesson from small town entrepreneurs like her.
Each post is typically short in length but full of straight-to-the-point tips and advice, based off of real experiences. Post topics include: marketing, entrepreneurship, economic development and more.
Sample post: 4 Tips for Going into Business
#20: Small Business Labs
Blog writers Steve King and Carolyn Ockels have created an insightful blog that will prove helpful for any small business owner. Small Business Labs, which has been recognized by Alltop and Forbes, contains informative content on small business trends, technology and news.
What makes this blog different from other business blogs is how both Steve and Carolyn write their content; each post is straight forward and to the point. These writers don't waste your time with 500-word posts but instead will give you the same valuable message in under 300 words.
Sample post: More on Personal Tax Rates and Small Business Jobs