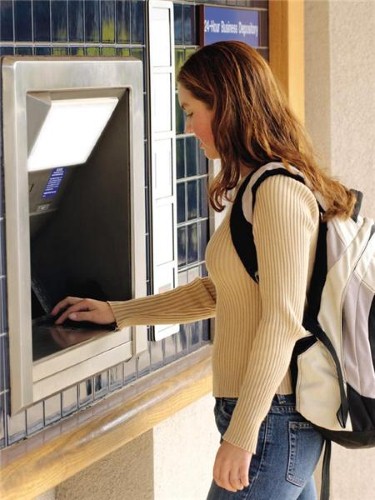 Consumers can now use ATMs to reduce their environmental impact and get cash.
ATMs help consumers and businesses recycle
November 9, 2012
Most consumers and businesses have adopted environmentally friendly practices as a way to save money, reduce their carbon footprints and develop positive reputations. There are now ATMs that can help them achieve their goals of becoming more "green."
Greater ATM use driving terminal innovations
Many banks are currently undergoing transitions that involve putting more focus on self-service options and reducing their staff presence at local branches. This move is intended to cut back on payroll costs and provide customers with 24-hour service, as a new wave of ATM machines can facilitate complicated transactions, including deposits, money transfers and even bill payments.
At the same time as use is increasing, consumers are also making more frequent stops at ATM machines as the economy improves, according to ATM Marketplace. However, greater cash processing also means higher costs. ATM deployers and financial institutions are absorbing additional expenses when it comes to counting, protecting, transporting and processing paper bills for their terminals, the source adds.
In fact, Wincor Nixdorf estimates these costs mount to $300 billion worldwide. This has spurred the development of cash-recycling ATMs that are currently being implemented by firms as a way to offset those expenses.
Consumers can recycle old phones in ATMs
If consumers are looking to reduce their carbon footprints even further when they visit ATMs, they might be interested in a line of terminals that can be used to recycle old electronics, such as smartphones. The EcoATM allows consumers to insert their discarded mobile devices in exchange for cash.
"You place your device inside of the chamber, the system will close on it and will identify that phone via the use of artificial intelligence software, camera and vision systems and will come up with a price," said Tom Tullie of EcoATM.
The latest phone models can be traded for more than $200 in cash, the source adds. There are currently 181 of these terminals across the country that allow consumers to deposit their smartphones for refurbishment or recycling rather than gathering dust in their junk drawers. Currently, more than half of Americans have smartphones, but only 20 percent of those devices are recycled.
If ATM deployers are looking for better ways to make their machines more environmentally friendly, they might also consider offering paperless receipts to reduce waste and costs.