Let Your Smartphone Charge It
Mobile credit card services have the potential to transform the business landscape. Small business owners can use their smartphone or other small handheld device as a virtual terminal. Allowing customers to swipe a credit card on a phone or pocket-sized device instead of an expensive terminal means small businesses can easily take their products and services on the road to events including open-air markets, street fairs, and conventions, as well as meet demand for unexpected purchases by impulse buyers.
Does Your Business Need a Mobile Credit Card Processor?
How much time do you spend processing credit cards, waiting for checks to be written and mailed, and creating and distributing receipts? The results could vary, depending on whether you hire a bookkeeper or mind your own business, but probably a few percentage points of your sale go toward this overhead. If you keep your own accounts, like many small business owners, you could be experiencing an even bigger drain on profits due to indirect costs such as the time you spend calculating, scanning, copying, depositing, printing, and emailing receipts.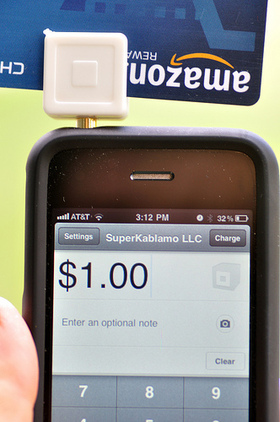 There are at least a dozen good mobile credit card processing systems available. All of them come with the latest security technology. No information is stored on the phone itself, passwords are protected, and all of them use Secure Sockets Layer (SSL), an encryption that ensures security as data transfers from your phone's browser via the Internet.
Hardware, compatibility, the acceptance of all major credit cards, and features for each transaction look similar from service to service. One of the key differences is the price. Some mobile credit card processing companies require that you purchase hardware first. After that, varying swipe fees occur at the transaction level.
Two Popular Choices
One of the most popular mobile credit card services is Square. This tiny, square device plugs into a smartphone and uses an app to process payments. You need to sign up to Square to receive a free card reader, with Square taking 2.75 percent of each transaction. The size and ease of use are two appealing features of Square, though the "per swipe" fee is high compared to other devices.
National Bankcard, who ranked fourth on the March 2013 List of the 30 best credit card processing companies, have a portable credit card terminal. Although it is not as convenient as equipment that attaches to your smartphone, it works similarly and allows businesses to access the same set of customers. In less than two minutes, you can swipe a credit card to transfer money directly into a bank account you set up, have the customer sign the receipt (including calculated tax and a tip option) on the touch screen, and have a receipt emailed to you and the customer. You can even upload a picture of the product to be included on the receipt for the absent-minded shopper.