Credit Card Processing Buyer's Guide
Credit card processing introduction
Table of Contents
Credit card processing for small businesses
When Western Union first gave charge cards to their best customers in 1914, it was little more than a gimmick. Back then, no one would have guessed that over $1.9 trillion would be charged in the United States in 2011. Even as U.S. consumers cut their credit card spending during recession years, they continue to use their cards in an increasing number of ways.
The rise in online transactions is a major contributor to that expansion. But credit card use is also growing notably on two opposite ends of the purchasing spectrum: large business-to-business transactions and small retail purchases. As a result, certain businesses that would not have accepted credit cards a few years ago have been forced to reconsider. Because when even a $4 purchase at the coffee shop is fair game, credit cards can be said to represent a critical component to business commerce.
If you're considering which types of payment to accept or have been exploring the possibility of expanding your cash-only business, there are a number of options to consider – so many, in fact, that it's easy to get overwhelmed. The pitches can be confusing, especially for small businesses who have never accepted credit cards before. And some providers can be overly aggressive. Even for businesses that have accepted credit cards for years, it can be tough to compare competing offers to evaluate whether you can save some money by switching to a new provider.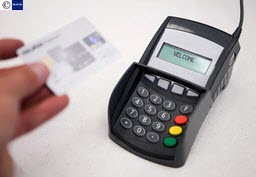 This BuyerZone Credit Card Processing Buyer's Guide can help you make the right decision. In it, you'll learn:
How to choose a merchant account provider for your company
Some common bait-and-switch tactics to avoid
How new technology can grow your business while saving time and money
What you can expect to pay
How to negotiate with providers
Once you have all the information you need, use our free request for credit card processing price quotes service to connect with multiple merchant services providers.