Choosing a Cloud Computing Service for Your Data Backup Needs
While IT professionals continue to debate the origin and meaning of the term "cloud computing," companies offering a cloud computing service are flourishing. Savvy individuals, groups, and business owners are learning how cloud computing services offering online backups can help them operate more efficiently.
What is cloud computing?
In cloud computing situations, clients assign tasks to off-site locations that are managed by remote computing companies, instead of buying, housing, and maintaining their own computer equipment. For example, a company offering online backup services will take care of storage space requirements, security, bandwidth, and operating system upgrades, allowing you to focus on other things, like running your business without worrying about losing company files.
Cloud computing provider Rackspace, also called "the open cloud company", categorizes cloud computing with these core characteristics:
Virtual. Massive server resources are divided into multiple virtual servers to create a cloud.
Secure. A private cloud can be created on dedicated hardware.
Scalable. Virtual servers are both flexible and scalable to provide varying levels of support.
Affordable. Using a public cloud with virtual servers will provide cost savings when space is shared with other customers.
Hybrid. Hybrid cloud features provide both public and private access in public cloud components, with private data cloud storage options.
Terms like "software as a service" (SaaS, or on-demand software) and "hardware as a service" (HaaS, or licensing) are also used to describe cloud computing services. Other cloud computing terms may include "infrastructure as a service" (IaaS), "desktop as a service" (DaaS), "platform as a service" (PaaS), and "backend as a service" (BaaS). Regardless of the terminology used, the services are typically delivered over the Internet, as needed, from off-location data centers.
Online backup services
One of the most popular services offered by remote computing companies is online backups. Online backup services offer managed, automatic backups based on predefined schedules.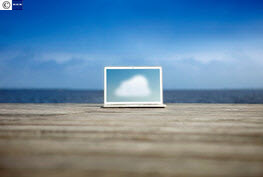 Other common uses for a cloud computing service include:
Hosting e-mail
Website and document creation
Social networks
Online business meetings
Calendars
Application sharing
Process and storage of large amounts of files and data in a secure environment
Newer cloud computing services, like cloud media hosting, provide the opportunity to post high-quality, high-resolution media in images, audio, videos, and documents on a website using cloud files. The main advantage to cloud media hosting is to speed page upload time and increase page views, offering a business the potential for more traffic and sales conversions.
Pay as you go
Remote computing services give users the flexibility to buy only the bandwidth, disk space, and applications they need. As company or computing requirements grow, resources can be increased without interruptions and huge expenditures.
For example, most B2C websites see sales increase dramatically during the holiday season. Pay for the extra bandwidth and disk space needed during November and December, then switch back to lower resource levels after the rush is over: You'll save money the rest of the year while accommodating your increased holiday traffic.
Even large providers like Verizon are now catching onto the on-demand cloud computing trend. Verizon now offers a pay as you go cloud computing service in Computing as a Service, designed specifically for small to medium businesses.
Remote computing and the future
Obviously, remote services are not for everyone, but emerging trends seem to indicate a move toward off-site computing.
Even if you don't own a business, a cloud computing service can help you perform regular online backups, store personal data and files safely, expand storage capacity, access new software and applications and, most importantly, save time and money.
Ready to Compare Cloud Backup Price Quotes?