A Gallery of the Best Heavy Excavators Available
Here's our roundup of news and model information in the 10- to 20-ton class of excavators.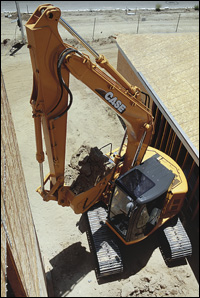 Works within one traffic lane
The CX135 minimum-swing-radius excavator is able to work in confined spaces, such as a single lane of traffic. Case says the selectable cushion control on the boom and arm functions increase material retention while reducing shock loads.
Number of models: 3
New model: CX135
Product-line features: Auto work mode simplifies machine operation by automatically matching the boom, stick and swing priority to the task at hand. Bypass filtration, like the Nephron system of its LBX counterparts, protects Case hydraulic systems.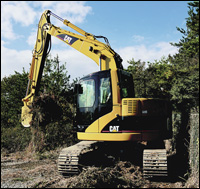 Largest with Offset Boom
A power-offset boom is available for the 314C CR (minimum-swing-radius model), giving it the ability to dig parallel with the edge of the tracks. Unlike the articulating boom, or swinging boom, which hinges at the base of the boom only, Cat's power offset boom is a custom option with two hinge points built into the boom. The 32,600-pound unit is one of the largest excavators with the capacity to excavate the entire width of the machine with walls parallel to its tracks. Cat's electronic-control system automatically selects boom and swing priority and delivers full engine power as needed.
Number of models: 4
Product-line features: Cat's Pin Grabber Plus hydraulic quick coupler for attachments is available from the factory throughout the 10- to 20-ton range, as are medium pressure circuits. These circuits increase machine compatibility with powered work tools that include tilting or rotating mechanisms.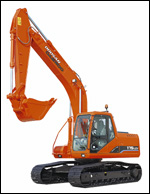 Computer Coordinates Power and Pumps
Doosan Daewoo improved its EPOS electronic controller for excavators in this size range. The system coordinates engine and hydraulic efforts to match the horsepower, hydraulic flow and operating pressure to the demands of each job. Upgraded electronics also simplify selection of work modes.
Number of models: 2
New models: Solar 140LC-V and 175LC-V
Product-line features: A hydraulic diagnostic system can be accessed via laptop to display work history as well as real-time performance data in graphed or numeric format. The system stores fault-code history in memory for later analysis.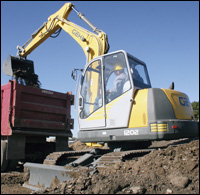 Compact with Big-Machine Power
Gehl changed the power source in its 25,400-pound 1202 from a Yanmar Tier 1-certified diesel to John Deere's 4045TF270 Tier 2 turbocharged engine. To find an excavator with more than the 1202's 99 horsepower, you have to start looking at machines that weigh almost 2,000 pounds more.
Number of models: 1
Product-line features: The 1202 combines compact-excavator features such as a standard dozer blade, auxiliary hydraulics, and independent boom swing with the power of larger excavators.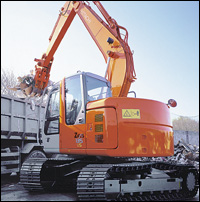 Less Fuel Delivers More Power
The Zaxis excavators were introduced in 2003 with improvements measured in cycle times and digging force even with increased fuel economy. Hitachi says its Auto-Accel power mode, which varies engine speed to match hydraulic-system pressure can cut fuel use by 10 percent in light-load applications. The greasing interval in boom and stick joints increased to 500 hours with special bushings and thrust plates. Engines go 500 hours between oil changes, and the hydraulic-oil-change interval is stretched to 4,000 hours.
Number of models: 3
New models: ZX135US
Product-line features: The ZX135US introduced reduced tail swing to the Hitachi North American lineup in 2003.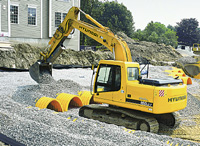 Auto and Manual Control Choices
When Hyundai introduced the Robex Dash-7 excavators to replace the Dash-3 machines with Tier 2 compliance, they also carried a hydraulic upgrade. Mode selections offer the operator a choice of hydraulic speed and power settings. The operator can fine tune the engine speed and power using the manual throttle dial or select the automatic modes to give the computer control of engine power.
Number of models: 4
Product-line features: Hyundai upgraded the electrical systems in its Dash-7 excavators with newly designed, premium wiring made especially for oil resistance and heavy-excavator application. New insulation and a specially wound wire core strengthen the wire, and connectors are all water resistant.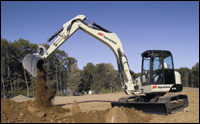 Articulated Boom at 14 Tons
The ZX-125 zero-tail-swing excavator weighs 27,563 pounds and uses the same water-cooled, 94-hp Deutz diesel as Terex's HR42. Both machines are sourced from Terex Atlas in Germany. An articulated boom allows the ZX-125 to dig parallel to the tracks and excavate the entire width of the machine without repositioning.
Number of models: 1
New model: ZX-125
Product-line features: An optional open-flow return for the auxiliary hydraulic line allows a hammer or similar attachment to be installed without requiring special return lines.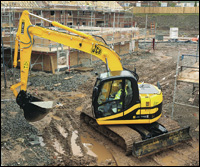 Zero Swing at 30,000 Pounds
The JZ140 extends JCB's zero-tail-swing line into the 30,000-pound size class. Restyled cabs upgrade the operator's view of work and the controllability of the JS130 and JS160. The AMS controller offers manual or automatic control of engine and hydraulic speed and power.
Number of models: 3
Product-line features: JCB worked to improve service access on the New Generation range. A bypass hydraulic filter, the Plexus system, extends hydraulic-oil change intervals to 5,000 hours.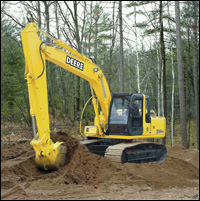 Consistent Power
John Deere says its Powerwize II electronic system manages engine and hydraulic system to deliver predictable performance. "The hydraulics perform the desired function when the operator wants that function, every time," says Mark Wall, excavator product manager. Service intervals have been extended in the same ways as the Hitachi counterparts. Greasing interval for the boom and arm joints has been extended to 500 hours. Engines will run 500 hours between oil changes and the hydraulic-oil change interval has been increased to 4,000 hours.
Number of models: 3
New model: 135C RTS
Product-line features: All 120C and 160C LC models are built with heavy-duty, high ambient cooling systems with wide radiator-fin spacing and airfoil fan blade.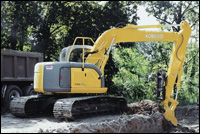 Just 5 Inches Wider Than Tracks
The counterweights on Kobelco's short-radius 115SRDZ and 135SRLC excavators never extend more than 5.1 inches beyond the tracks. Kobelco says its minimum-swing-radius Blade Runner ED150 will dig and lift more than a 14-ton excavator and push dirt like a mid-size dozer. The Blade Runner has a six-way power angle tilt blade, sealed and lubricated track chain and rollers, and standard curved track shoes for precise turning like a dozer.
Number of models: 5
Product-line features: Kobelco boasts of the smooth starts and stops and more precise bucket placement with its shock-dampening swing valve. The valve dampens rebound caused by gear train backlash in the swing system. With minimum-swing-radius units, a Blade Runner, and conventional excavators, Kobelco squeezes five models into a 30,000- to 40,000-pound range.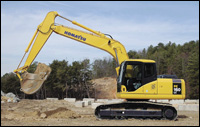 Investments in Cab Silence
Komatsu installs a partition between the cab and engine compartment, an airtight valve compartment and viscous cab mounting to reduce noise levels in the cab. A hybrid oil filter with 25 percent of its media surface given over to microglass media, quadruples the hydraulic-oil-filter change interval to 1,000 hours.
Number of models: 4
Product-line features: Komatsu says it is the only excavator manufacturer that designs and produces all the major components for its own excavators. The company's variety of excavators in the 10- to 20-ton class includes two conventional machines, the PC120LC-6 and PC160LC-7 and two minimum-swing-radius machines, the PC138USLC-2 and PC158USLC-2.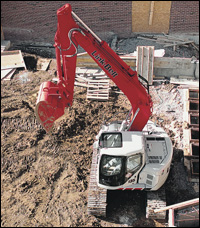 Return Accumulator Speeds Hydraulics
Link-Belt excavators reuse hydraulic oil returning from the arm and boom to reduce cavitation and back pressure. LBX claims a 20-percent improvement in cycle times and 10-percent improvement in 90-degree swing-and-dump operations compared to "conventional models."
Number of models: 3
Product features: The Nephron Filtration System is said to eliminate hydraulic-fluid contaminants of 1 micron or more in size and extend the service life of hydraulic components.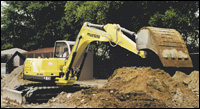 Powered Like Machines 1 Ton Heavier
Mustang puts its ME12002 model number and brand on the same excavator as Gehl's 1202, so Mustang reports the same change in diesel engines for the 25,400-pound unit from Yanmar to turbocharged Deere power. The ME12002 packs more horsepower than any other machine up to 2,000 pounds heavier.
Number of models: 1
Product-line features: The ME12002 puts compact-excavator features such as a dozer blade, auxiliary hydraulics, and independent boom swing and rubber-track option together with the power of larger excavators.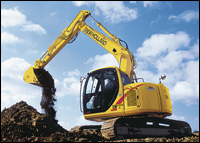 Reacts to Operator Input
The EH130 LC controls engine and hydraulic pumps, automatically tailoring response to the operator's lever movements. The system uses feedback from hydraulic pressure sensors, and an engine speed sensor. The engine automatically decelerates when appropriate and provides horsepower on demand with progressive rpm recovery. The manual default mode provides full performance for operations that require both maximum power and maximum speed, like heavy digging and loading.
Number of models: 2
Product-line features: The Breaker mode provides in-cab flow control for attachments like the corresponding Kobelco models. With only 9 inches of counterweight overhang, the EH130 LC can work within a 13 foot-8 inch width.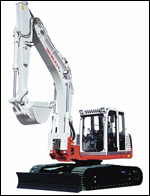 Biggest Is Much Bigger
The 31,500-pound TB1140 is 14,300 pounds heavier than the next excavator in Takeuchi's line. The excavator features independent boom swing, or an articulated boom, and its 83-hp Isuzu diesel has an emergency engine shutdown/return-to-idle system. Takeuchi claims that simultaneous operation of cab-swing and digging functions will not slow its working speed. The TB1140 is expected to retail for less than $130,000.
Number of models: 1
New model: TB 1140
Product-line features: Primary and secondary two-way-flow auxiliary hydraulics are plumbed to stick.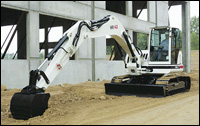 New Entries under 20 Tons
Terex added 10- to 20-ton excavators to its product line within the last 30 months courtesy of the Terex Atlas division in Germany and a marketing agreement with Doosan Daewoo. They offer the HR42 with zero turning radius, articulating boom, and standard dozer blade at 27,563 pounds. The more conventional TXC140LC-1 at 30,600 pounds and the TXC175LC-1 at 38,360 pounds have very similar cousins being marketed by Doosan.
Number of models: 3
New models: HR42, TXC140LC-1, TXC175LC-1
Product-line features: The models are equipped with load-sensing hydraulics.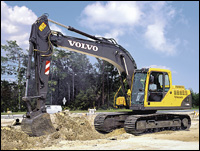 Engines Claim Top Fuel Economy
The turbocharged and intercooled, six-cylinder Volvo engine introduced with the B Series excavators is designed specifically for excavation work. "With high torque at low revs, it gives the lowest fuel consumption on the market," says Lars-Inge Larsson, Volvo's excavator product manager. The EC140B meets emissions limits with a turbocharged four-cylinder diesel. A heated, air-suspension seat and electronic cab-climate control keep the operator productive.
Number of models: 2
Product-line features: The standard auxiliary hydraulic circuit supplies one-way or two-way flow for use with a thumb, hammer or other powered attachments.
Enters a New Size Class
Yanmar breaks into the 10-ton size category with its largest excavator, trading zero tail swing for what it calls "ultra-tight tail swing" on the SV 100. The counterweight overhangs the track width by about a foot. The new machine, with more than 16 feet of dig depth, outweighs the VIO75 by about 3,000 pounds, and packs a 73.5-hp turbo diesel. Yanmar says its three-pump hydraulics increase power and fuel economy.
Number of models: 1
New model: SV 100
Product-line features: Yanmar's hydraulic bucket coupler is standard equipment, as is a dozer blade. Cab and air conditioner are also standard.
Ready to Compare Excavators Price Quotes?