Caterpillar's D-Series Offers Power on Construction Sites
Caterpillar had to re-engineer its over-100-hp excavators because the EPA's Tier 3 emissions limits first applied to that size class in 2007, but they wanted more marketable features than just cleaner engines. Surveying excavator customers revealed a simple, overriding expectation: Do more with less. Cat responded by adding engine power, hydraulic power and weight to its D Series machines so they could do more than the C-Series machines they replace.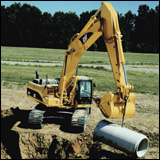 The D Series lifting mode increases hydraulic pressure to 5,080 psi for 5 percent more lifting power, while reducing flow to improve fine-motor control.
The 322C L becomes the 324D L. The C's 3126B diesel is replaced by a C7, rated at 188 horsepower - a 12 percent increase that raises the 324 to the same power rating as the 325C. The 325D L also swaps the 3126B for a C7, this time rated at 204 horsepower, for a 9 percent increase in power. And the C9 in the 330D L has been turned up to 268 horsepower.
Caterpillar boosted hydraulic power by raising system-operating pressure to 5,080 psi. Stick digging forces have increased from 5 to 9 percent, depending on the machine, and bucket digging forces are up 4 to 13 percent. Cat claims the changes improve cycle times by 4 percent and bucket fill factor by 8 percent.
The C Series eliminated work modes but Cat reintroduced one mode, a lifting mode, for the Ds. It increases hydraulic pressure 5 percent to 5,080 psi to give the machine more power for heavier picks, while reducing flow to improve control.
The 325D L lays down 8 inches longer track than the 325C L, and offers a new 12 foot-4 inch stick option.
The optional Tool Control System for auxiliary work tools will now allow operators to store flow and pressure settings for 10 attachments using the monitor in the cab. The new Pin Grabber Plus is a cast-steel quick coupler to replace the fabricated coupler. The design is compatible with existing Cat work tools and many competitive attachments. It also allows the operator to turn the bucket around to use like a shovel.
The new monitor is a full color liquid crystal display that can be adjusted to minimize glare. The graphical display is easier to read and navigate than the C-Series monitor - for both operators and maintenance people.
To improve serviceability and reduce maintenance costs, hydraulic return-oil filter service is doubled to 2,000 hours. Oil-pressure and sampling ports have been added to the hydraulic system, and all electric wires and connectors on the D Series are color and number coded. Cat maintained the 500-hour engine-oil change interval on the ACERT engines without increasing oil-sump capacity.
Caterpillar officials say they do not plan any additional price increases over what was announced in January.
Basic Specifications: Cat 324D L, 325D L, 330D L Excavators
| | | | |
| --- | --- | --- | --- |
| | 324D L | 325D L | 330D L |
| Operating weight | 54,660 lb.1 | 64,460 lb.2 | 79,700 lb.3 |
| Net power | 188 hp | 204 hp | 268 hp |
| Bucket dig force (SAE) | 36,644 lb. | 39,566 lb. | 42,376 lb. |
| Max. digging depth | 24 ft. 1 in. | 25 ft. 8 in. | 26 ft. 10 in. |
| Track length | 15 ft. 2 in. | 15 ft. 11 in. | 16 ft. 6 in. |
Base machine: reach boom, 9 ft 8 in. stick, 1.44 cu yd bucket, 32 in. shoes.
Base machine: reach boom, 10 ft 5 in. stick, 1.44 cu yd bucket, 32 in. shoes.
Base machine: reach boom, 12 ft 6 in. stick, 1.56 cu yd bucket, 32 in. shoes.
Ready to Compare Excavators Price Quotes?