JCB Rough Terrain Forklifts Refine Versatility for Rehandling Applications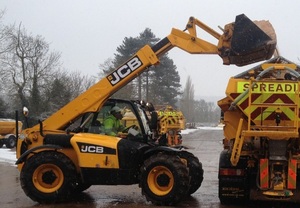 Originating in 1945, JCB got its start when one guy started building agricultural tipping trailers out of his garage. If that scenario strikes a comparison to a computer mega-giant we all know and love, it's entirely justified. Today, JCB is one of the leading manufacturers of rough terrain telehandlers and telescopic booms. A lot of their success can be attributed to the time and resources devoted to development and technology, especially with regard to performance. They recently invested £45 million ($72.1 million) in the production of six cylinder engines.
In a quick "by the numbers", JCB currently maintains a network of 22 plants on four continents, supported by more than 750 dealers and 2,000 dealer locations throughout the world. With a workforce of around 11,000 people, their machines are sold in 150 countries around the globe.
Broken into three separate lines, JCB rough terrain forklifts include:
JCB Product Offering
Type
Max Lift Height (varies by mast)
Max Capacity
Mast Tilt (Foward/Backward)
Operating Weight
Estimated Cost
930
15' - 22'
2,500 - 6,000 lbs.
18˚ / 10˚
13,985 - 14,600 lbs.
$22,500 - $39,500
940
15' - 22'
3,500 - 8,000 lbs.
18˚ / 10˚
15,190 - 15,810 lbs.
$62,000 - $84,000
950
15' - 22'
6,500 - 10,000 lbs.
18˚ / 10˚
17,290 lbs.
$65,000 - $95,000
Built for productivity
Known for specializing in a wide range of heavy-duty equipment (300 unique machines by recent count), JCB produces an expansive selection, including backhoe loaders, compaction equipment, compact track loaders, hydraulic excavators, teletrucks, skid steer loaders, and utility vehicles.
Though the application for each varies dramatically, one common thread is their consistency in design - one that's focused on easy-to-use versatility. For example, the rough terrain line has been manufactured specifically for rehandling applications commonly found within forestry and construction. But they're also equally suited to smaller applications like special events, shipping docks, and scrap yards.
Engineered for high mobility, they feature a robust transmission that permits fast directional changes and enhanced traction on rough terrain. The hydrostatic power steering provides a turning diameter of 14 feet 8 inches and a 43˚ wheel steer angle. Available in two-wheel or four-wheel drive, the tires are also customizable to adapt to a variety of different terrains.
Additional productivity features include:
Choice of cab or canopy
Suspension seat
Air conditioning

Air pre-cleaner
Side shift carriage
Spark arrester exhaust system
Standard safety equipment and upgrades include:
Cab exterior mirrors
Front screen guard
Rear fenders (optional)

Propshaft guards
Work lights
Reversing lights
Dieselmax engine
Shown to enhance the efficiency of their RTFLs (rough terrain forklifts), the JCB Dieselmax engine produces 74 hp (55kW) of output for top speeds of up to 18 mph, as well as low revs to ensure maximum fuel efficiency. As mentioned above, the transmission makes use of an integral torque converter and four-speed synchromesh gearbox. This pairing delivers quick, smooth directional changes and safety through optimum control.
Interestingly, the engine is reportedly so efficient, it complies with Stage IIIB and Tier 4i regulations without the need for an exhaust after-treatment system, according to the manufacturer. The need for a diesel particulate filter (DPF) or selective catalytic reduction (SCR) system is eliminated by the engine's high pressure common rail combustion that injects the fuel at extremely high pressures (up to 29,010 psi / 2000bar). This design has been shown to produce exhaust that's practically free of particulate matter.
Further enhancements to the Dieselmax engine design include:
Variable Geometry Turbo Charger (VGT) that controls the volume of air entering the engine then provides the equivalent volume of fuel to create combustion efficiency
Exhaust Gas Recirculation (EGR) to recycle the exhaust and further decrease NOx emissions
Ready to Compare Rough Terrain Forklifts Price Quotes?