Manitou Brings Selection to Construction Forklift Category
Manitou Group is a French industrial heavy-equipment manufacturer that specializes in material handling. Employing 3,200 people in 19 countries throughout the world, they are comprised of five distinct brands including Manitou, Gehl, Mustang, Loc, and Edge. Together, these companies reported combined revenue of nearly €1.2 billion in 2013 (the equivalent of $1.6 billion US).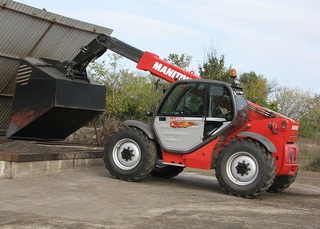 With a corporate history that dates back more than 60 years, they produce an extensive selection of telehandlers, aerial work platforms, truck mounted forklifts, and warehouse equipment. But 'extensive' doesn't really do their telehandler line justice. All-encompassing is more like it. Manitou currently manufactures 38 unique telehandlers, seven rotating telehandlers, and 33 masted forklift trucks - positioning themselves in a niche that's relatively narrow to begin with by offering highly specific construction telehandlers for a variety of heavy-duty applications.
Some of their popular models include:
Manitou Rough Terrain Forklifts
Model
Type
Lift Height
Max Reach
Max Capacity
Turning Radius
Estimated Cost
MLT 634 120
Telehandler
20'
10'
7,400 lbs.
13'
$40,000 - $84,000
MLT 845-120
Telehandler
24'
14'
9,900 lbs.
13'
$70,000 - $100,000
MHT 7140
Telehandler
23'
11'
30,800 lbs.
18'
$104,000 - $375,000
MRT 1044 Easy
Rotating Telehandler
45'
38'
8,818 lbs.
-
$70,000 - $180,000
MRT 3050 Privilege+
Rotating Telehandler
97'
83'
11,023 lbs.
-
$122,000 - $229,000
M 30-2
Masted Forklift Truck
22'
-
6,000 lbs.
-
$30,000 - $110,000
MI 20 G
Masted Forklift Truck
9'
-
4,400 lbs.
-
$24,000 - $70,000
Construction telehandlers and attachments for any application
From construction to agriculture, Manitou rough terrain forklifts service an ever-growing range of industrial markets including mines and quarries, logistics, environmental, tourism and leisure, groups and special events, and military applications.
In doing so, they've continued to develop a productive combination of machines and rough terrain forklift attachments that address a limitless combination of needs related to construction, demolition, loading, and warehousing.
Some of these attachments include:
Buckets
Clamps
Platforms
Cranes

Concrete skips
Mudforks and grabs
Sweepers
High pressure cleaners
Specialized markets
Producing a standard construction telehandler is one thing. But engineering a machine that's capable of productivity in a specific niche is something else entirely. As listed in the chart above, the Manitou Group has developed highly specific rough terrain telehandlers with specific intent.
Among some of their most commonly-served industries are:
Construction: Manitou has been producing equipment for the construction industry for more than 50 years, catering to the specific needs of the job site in both rural and urban surroundings. From residential and commercial to heavy-duty and industrial construction applications, their machines include the latest in design and technology resulting in machines that facilitate productivity through operator comfort. Popular models for this niche include masted forklifts, telehandlers, rotating telehandlers, and aerial work platforms. Specialty attachments include feeding buckets, rehandling buckets, and concrete mixing buckets.


Agriculture: Another longstanding commitment within the industry, Manitou products have been farming for more than 25 years. Largely focused on aspects of material handling that address moving and storing, popular models for this niche include masted forklifts and telehandlers. They also produce rough terrain forklift attachments like high pressure cleaners, manure grabs, and bale clamps that are designed especially for agricultural use.


Mines and quarries: Mining operations require significant construction and maintenance. Featuring a versatile, all-terrain design Manitou mining forklifts deliver cost-effective operation through adaptability and a rapid coupling system that enables operator and crew to quickly switch tasks. Popular models for this niche include masted forklifts, telehandlers, rotating telehandlers, and aerial work platforms. And similar to the bale clamps used for farming, mining tasks are expedited by tire and cylinder handlers.


Environmental: When it comes to the bulk handling of material, whether at a refuse or recycling station or an independent scrap yard, Manitou provides machines that can easily move and sort a variety of materials including plastics, glass, paper, cardboard, liquid or solid waste, and even dangerous materials. Popular models for this niche include masted forklifts, telehandlers, and truck mounted forklifts. Specialty attachments include re-handling buckets, intensive bale clamps, and pickup sweepers.
Ready to Compare Rough Terrain Forklifts Price Quotes?