Commercial Floor Sweepers
Commercial floor sweepers are used to clean up large surface areas in a short period of time. Designed to maintain both hard and resilient surfaces - from cement to hardwood - they're used for deep cleaning as well as regular maintenance and achieve perfect results on wide open surfaces as well as edges and corners. Unlike a standard vacuum and mop, commercial units protect your employees, customers, and facilities from harmful dust and other contaminates by capturing particles as small as 3 microns.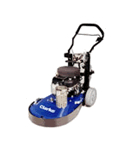 Powered by electricity, gasoline, or even propane, commercial sweepers are available in a wide variety of models, including walk-behind units that self-propel while an operator steers from behind (think lawn mowers) and uprights that resemble large vacuums. Some brands even produce riding versions similar to a tractor.
If you're interested in buying a commercial floor sweeper, the first step toward purchase is understanding what features your cleanup jobs will typically require. Specifically: outdoor or indoor?
Outdoor commercial floor sweepers
The most powerful commercial floor sweepers are designed for outdoor applications. These models tend to operate by gasoline or propane power. When purchasing this type of floor sweeper, you'll want to make sure that it's capable of picking up the kind of debris that is commonly found in your outdoor area, such as glass and plastic bottles, metal items and other large pieces of debris, and smaller debris like dirt and rocks.
In addition, speed is a typically factor for many businesses (after all, you're paying someone by the hour to walk behind it). So you'll want to select a model that can do the job well, but quickly. Most models include variable forward and reverse motions that enable the operator to slow down for a trouble spot and speed up for everything in between.
Consider the following example: If you were to clean a 40,000-square foot area manually using a broom, dustbin, and your hands, it would take you about 12 hours. In comparison, many commercial floor sweepers will be able to clean the same 40,000-square-foot section in about an hour.
Indoor commercial floor sweepers
Indoor cleaning applications can be performed better with electric commercial floor scrubbers or sweepers. When shopping for one of these models, ensure that it has either a lengthy power cord or an extended-life battery.
You should also make sure that your model is capable of picking up large pieces of debris without having to make any adjustments to the sweeper. Finally, you'll want to look for a model that has as few moving parts as possible. This will cut down on the amount of tangling, jams, and other mechanical malfunctions normally encountered by indoor sweepers, and further minimize the amount of maintenance required.
What to ask a commercial floor sweeper dealer
What models are best suited for the amount and type of cleaning I need to do?
What warranties or guarantees are offered on the model I am interested in?
How does the model I am interested in compare to other top brands in price, power, and usability?
Can I upgrade the battery so that it has a longer running cycle between recharging sessions?
Are there any special attachments that I can buy so the machine also will scrub, strip, or polish floors?
Find the right commercial floor sweeper today and submit a free BuyerZone floor cleaning machine request for quotes.
Want more information on choosing a floor cleaning machine? Read our Floor Cleaning Machine Buyer's Guide.
Ready to Compare Floor Cleaning Machines Price Quotes?