The Benefits of a Business Cash Advance Keep You Afloat
Successful businesses require a healthy cash flow. When cash runs out, especially during economic slumps, it is often tough to stay afloat. Borrowing from banks and other traditional lending institutions has become highly restrictive. Small and medium-sized business owners are therefore turning to easier sources of funding. They are now looking more keenly into the benefits of a business cash advance.
How It works
A business cash advance is a payment made by a financing company in exchange for a percentage of the business' future credit card sales. It comes in handy when you don't qualify for a traditional bank loan. It is secured on nothing and the cash advance amount is based on a business's average monthly credit card sales volume.
Businesses that accept credit cards are qualified for business cash advances. Most cash advance companies approve about 95 percent of qualified applications. There is no interest, just a provider's fee that is agreed upon by the provider and the customer right from the start. There is likewise no preset time to pay back, eliminating the pressures that late payments or penalties create.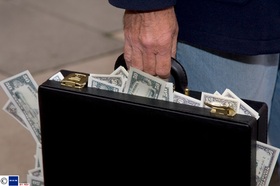 The benefits
If you want to keep your business running, the benefits of a business cash advance can make a positive impact on your operations. Cash advances provide quick and easy access to funding. All it takes is a quick review of your average credit card sales and repayment history by the cash advance provider. If approved, the cash advance can be available within seven to 10 days, which helps to minimize funding gaps and sustain normal business operations.
Business cash advances do not require any collateral or lien on your business or personal properties, a personal guarantee, or credit checking. Credit rating is not an issue to the provider but a good credit history can help you get a lower provider's fee. In addition, a business cash advance has minimal impact on your credit rating. Generally, it is not considered a loan but a future trading transaction, hence it has no bearing on your credit rating.
Cash advances allow for flexible repayment terms. Daily payment is based on a pre-agreed percentage of your actual daily credit card sales, so you don't have to worry about defaulting on payment schedules. You then pay more when sales go up and pay less when sales go down.
You get to keep your business running with cash advances, especially during seasonal down cycles. For instance, cash advances can help sustain the operations of resorts, restaurants, and other tourist-related establishments during off-seasons as they wait for collections and the new season.
The benefits of a business cash advance cannot be overlooked. All you need to do is find the right company and facility, understand the terms, and pay well to win the trust of providers. Remember, properly used cash advances help boost your cash flow and keep your business afloat.
Ready to Compare Business Cash Advance Price Quotes?