Cash Advance Loans Provide Alternatives to Traditional Methods
Now more than ever, business owners need capital to buy supplies, expand operations and keep their companies running in a sluggish economy. To meet their immediate needs, some businesses rely on cash advance loans to get through a financial crunch.
How Cash Advance Loans Work
Companies that offer cash advances are banking on the future earnings of your business. After you receive your loan, the lender will receive a percentage of your monthly credit card sales until the principal and interest are completely paid off. The repayment process is handled automatically through your credit card processing system, which eliminates the need for mailing in a regular payment to the lender.
Things to discuss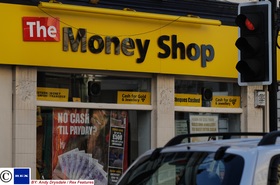 As is the case with any credit application, it really pays to read the fine print associated with cash advance loans. After you read the loan agreement, ask your lender about the following items:
Interest Rate: It's not uncommon for the interest on a cash advance loan to exceed 40 percent, which makes it essential to shop around and negotiate with lenders for the best rate possible.


Percentage Collected: Don't let the amount of credit card sales you pay each month push your monthly cash flow into the red. When applying for the loan, make sure that your estimated sales will cover your payment each month and that you aren't borrowing more than you can afford to pay back. Some companies also reserve the right to increase the monthly percentage at their discretion, so ask the lender about setting a fixed rate.


Balloon Payments: Loan agreements sometimes include a clause that gives the lender the right to request the balance due in full during the life of the loan. Deflate these balloon payments if possible and, in the event you have to close your business, make sure that a cash advance can be converted into a different kind of loan.
Checking out potential lenders
There are many companies offering cash advance loans to businesses, so it's essential to do your due diligence and investigate the history of potential lenders. By using Google, Yahoo and other search engines you can look for articles, comments and blog postings about the lending history of a particular company.
Arguably, the best resource is the Better Business Bureau (BBB), which can provide you with detailed reports on a specific company. Many legitimate lenders also are members of this organization while less-than-scrupulous companies will not have the BBB Seal of Approval.
Ready to Compare Business Cash Advance Price Quotes?