Hiring an Asset Recovery Collection Agency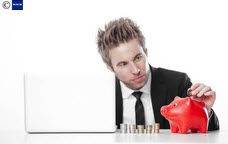 Following up on outstanding debts can be extremely costly. It requires the ongoing attention of employees - attention that could be far better invested in customer service or some other aspect of organizational development and profitability. To alleviate this burden, an asset recovery collection agency specializes in helping your business recover payment or tangible assets that have been leased or sold and are now delinquent in payment.
If you're having trouble collecting on assets that are still technically yours, an asset recovery collection agency can help you recover the majority or at least a percentage of what you're still owed. But hiring the right agency isn't as easy as picking the first one you find advertised on Google. You have to ensure you&'re hiring a company that can not only produce results but will also represent you in the best possible way through legal expertise and work practices.
Asset Recovery Collection Agency vs. Consumer Debt Collection
An asset recovery collection agency usually specializes in equipment-related fields, such as industrial molds and machinery, IT and tech-related gear, and a host of other equipment types. This is different from a consumer debt collection agency or a credit card collection company, which both seek payment of monetary debt. In contrast, an asset recovery collection agency helps you recover tangible assets or the monetary value of those assets.
In most cases, those who work in the asset recovery business specialize in construction, manufacturing, retail, and other industries in which equipment, inventory, and material goods are involved. So it's always best to hire a specialist that has established connections and detailed knowledge related to your line of business.
If payment for property is not an option, it may be possible to recover the assets themselves. In such cases, the recovery agency can help you get your property back and then liquidate it in order to recover the remaining value. You may not get the entire value of the assets, given their depreciation, but you'll get something for them. And that's another reason to go with an asset recovery collection agency that possesses a wide range of contacts - they'll already have an established network through which they'll be able to sell the assets as quickly as possible.
4 Tips For Choosing the Best Asset Recovery Collection Agency
To ensure your legal protection as well as your reputation, it's important to choose an asset management recovery service that adheres to a strict code of ethics. In doing so, they'll work to protect the creditor as well as debtor.
A professional agency should establish professional communications with your debtors and determine their ability and willingness to pay. By generating a dispute/resolution dialog, they can motivate them to acknowledge their obligations and encourage them to resolve their debts.
When you're trying to determine which agencies can be trusted and which one may be best suited to your business, watch out for these four indicators:
Professional credentials. Make sure the agency complies with all state licensing and bonding laws. If licensing or bonding is not required in your state, find out how long the agency has been in business. An established service record can be a good indicator of quality service. Also check for membership in state or national trade associations, such as ACA International, the Association of Credit and Collection Professionals. This will ensure that the agency works in compliance with all federal and state laws and regulations, and adheres to an established system of ethical standards and guidelines.
Insurance.You can be held responsible for those who act on your behalf. So insurance is an important consideration as creditors have been known to face litigation resulting from alleged violations by their collection agency. Look for an agency that holds Errors and Omissions Liability Insurance (E & O). It often extends coverage to the credit grantor as well as the agency and should specifically cover violations of the FDCPA or Fair Credit Reporting Act (FCRA).
Successful track record. The best asset recovery specialist is one with a proven history of successfully recovering or liquidating a variety of assets, recovering the maximum amount for its clients. Also look for agencies that collect fees only after they have made a successful recovery. Many agencies do this, reducing your risk, since you don't have to pay if the recovery agency doesn't manage to return your assets.
Ongoing employee training and development. Ask if the agency's employees receive ongoing training and education. This is a vital component to a successful agency as it ensures that the individuals who are communicating with your debtors are following the latest best practices for telephone collection techniques and related aspects of professional, competent behavior.
Asset recovery can be difficult and time consuming. You can be helped greatly by enlisting the aid of professionals who are experienced in asset recovery. Let BuyerZone help you in your recovery efforts by matching you with multiple asset recovery collection agencies in your area.
Ready to Compare Collection Agencies Price Quotes?