How to Buy a Dermatology EMR System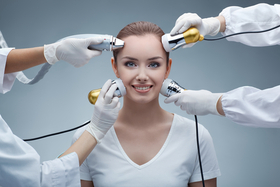 Dermatologists and cosmetic surgeons have different needs than primary-care physicians and other specialists, which is why a dermatology EMR system might be right for your office. Rather than choosing a generic software package, one geared toward your specialty will allow for greater customization and may make your job much easier.
Features unique to dermatology EMR systems
Any dermatology electronic medical records system should have features that are specifically designed for dermatological procedures and records. While such a package will likely have the standard patient records functionality and other features common to all EMR systems, it also should fulfill all needs that you might have in your specialty.
For example, many of these packages are capable of generating before and after reports that compare the results of a dermatological procedure for the benefit of both patients and physicians. You also should be able to upload and download before and after images for comparison. These systems also should come with cash-only billing options, a graphic database specific to dermatology, E and M coding assistance and dermatological health reminders.
You should be able to customize your dermatology EMR with your specific terminology, as this can change between dermatologists. Some of these programs even come with reference features for various dermatological conditions, such as skin cancer or lesions.
Other common features for the dermatology specialty include:
Dermatology CPT Codes and ICD-9 Crosswalks
Medication management and laboratory alerts for Accutane
Web-based Teledermatology
Dermatology equipment interfaces
Templates
In addition to the aforementioned features, a dermatology EMR program should also be equipped with templates specific to your practice, including:
Acne
Burns
Insect bites
Skin cancer

Psoriasis
Lesions
Rosacea
Varicose veins
These templates should be fully customizable (or nearly so) for your practice, and you should be able to alter them at will. Should your practice change over the coming years, your dermatology EMR program should be able to grow with you so that you don't have to purchase a new system every few years.
Patient relations
Finally, there are emotional issues that go hand-in-hand with many dermatological problems, which is why dermatologists need to get to know their patients. A good dermatology EMR program should allow you to input information about each of your patients for later retrieval, such as referrals you've generated or preferences for anesthesia. This will help you to offer your patients a higher level of care than you would be able to without it.
Choosing a dermatology EMR system might take time, but seeking references from other physicians may help you find the right one for you.
Estimated cost
Current industry leaders within the dermatology field include: Benchmark Systems, Kareo, GE Healthcare, Electronic Medical Assistant, and Greenway PrimeSUITE. And while the software isn't cheap, it's only one factor that comes into play with this type of upgrade.
Expect to pay anywhere from $15,000 to $70,000 depending on whether you opt for on-site deployment or a web-based platform. In addition to the software itself, this also factors in hardware upgrades to your existing equipment, implementation, training, and ongoing fees.
Ready to Compare Electronic Medical Records - INACTIVE Price Quotes?