Choose the Best Medical Billing Software
The right medical billing software can greatly improve your practice's cash flow. By simplifying interactions with insurance clearinghouses and making sure patients know what their share is, the best medical billing software pays for itself in a matter of months. And since most modern medical billing software packages are fully compliant with HIPAA regulations, your patients' confidential data is never at risk.
One of the first considerations to be aware of when you're evaluating medical software is the difference between packages that focus solely on billing, and more comprehensive medical practice management (MPM) systems that handle large parts of your day to day operations. MPM software is an excellent addition to many practices - but it's also more expensive than billing-only software packages.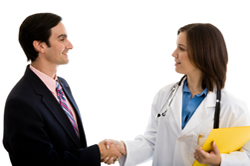 Medical billing software focuses on the financial end of your practice: you input the appropriate exams, tests, and diagnoses, and the software electronically transmits claims to the appropriate insurers, either through a clearinghouse or directly. The system also handles direct billing of patients, for co-pays, co-insurance, or expenses not covered by insurance.
Choosing the best medical billing software company
As you talk to medical billing software companies, you'll probably encounter two very different approaches to software delivery. Traditional systems, where you run the software on your own computers, are contrasted with application service provider (ASP) or software as a service (SaaS) models, in which the bulk of the processing and data storage is done at the software company's data center and you access it over the Internet.
While both models provide excellent reliability and most of the same features, one has begun to edge the other out for its levels of cost-effectiveness and convenience. ASP software is usually priced per user per month, whereas in-house software involves a larger up-front licensing fee and the potential for costly hardware purchases. Many SaaS models have no startup fees or upfront costs, and can be canceled without penalty. For these reasons, many practices have begun to gravitate toward a cloud-based solution.
Addition benefits they've reported include:
Access to patient data, billing, and other financial information from any web-enabled computer in the world
Faster deployment and adoption, with staff able to quickly pick up the already-familiar browser-based interface
Platform upgrades that are both free and effortless, made by the ASP and presented without missing a step the next time you log in
Some ASP platforms may include a service contract and are billed monthly, with others advertise a month-to-month payment schedule with no long-term commitment. Expect to pay between $200 and $700 per month, with a number of popular services currently falling in the $400 range. Substantially more affordable than an in-house EMR - which can cost between $33,000 and $48,000 by some estimates - an SaaS application can still have a total price tag in the neighborhood of $26,000 when you factor in the monthly fee and elements pertaining to the reorganization of your practice management.
Ultimately, the best medical software companies are those that treat your business like a partner, taking the time to understand your needs so they can offer a solution you'll be happy with. And the first step in finding the best partner for your medical software needs is using BuyerZone's free medical billing software quote request service to get connected to qualified suppliers in your area.
Ready to Compare Medical Billing Services Price Quotes?