Introduction to Medical Billing Services
Looking for a way to make your medical practice more efficient? A medical billing service could be the answer. These HIPAA-approved, professional services companies can take over your entire billing process by:
Submitting claims to claims clearinghouses
Following up on rejected claims
Tracking your accounts
Today, most healthcare practices rely on medical billing services to process claims electronically. According to the American Medical Association, submitting a "clean" electronic claim free from errors and omissions costs only $2.90 on average compared to a "clean" manual claim at $6.63. The AMA cites that a typical practice could save over $42,000 a year in expedient electronic claim submissions when submitting 6,200 claims on average.
Hiring a billing service should have a net positive impact on your revenues: the reduced costs and increased collections should more than compensate for the fees you pay. In addition, the less time your medical staff has to spend dealing with billing and insurance issues, the more time they can dedicate to working with patients.
Medical billing sellers can take on a wider range of services, too: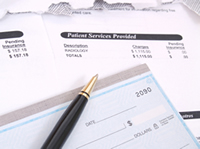 Practice management
Patient scheduling
Income report generation
Monthly patient invoicing
Unpaid/denied claim research
Insurance appeal processing
Billing collections
General insurance/patient inquiries
This BuyerZone Medical Billing Services Buyer's Guide will give you everything you need to choose the best billing services provider for your practice or office, including:
How the process works
What services you can expect
How to compare sellers
How much you can expect to pay
Once you've got all the information, you can submit a free request for medical billing services quotes and we'll connect you with several leading sellers.
---
To get started, take a few minutes to acquaint yourself with the potential of a medical billing service. The benefits will actually guide your purchase decision by revealing the platform's strong suits. From there, it will be far easier to pair the needs of your practice with the ideal platform. Get started here.
---
Benefits of Medical Billing Services
The main reasons to choose a medical billing service are all centered on saving money. In the long run, hiring a billing service should lead to more bottom line income for your practice - even when you factor in the billing company's fees.
The most direct cost savings come from eliminating much of the time office staff spend processing your claims. When you consider the costs of a full-time employee, including salary, health care, training, and insurance, you'll find it can be significantly cheaper to outsource your billing. Outsourced billing also allows staff members to focus on other activities.
Medical billing services can even do a better job than in-house staff in several areas:
Compliance with the latest industry regulations. Billing services constantly work to keep their staff up-to-date on changing codes and insurance regulations, which can reduce rejected and denied claims. Keeping up with these changes can be difficult for a busy practice.


Potential for quicker claim turnaround. Because they process high volumes of claims, billing services tend to get faster turnaround from clearinghouses than individual doctors: You may start seeing insurance payments in 5-8 days, instead of a month or two. Most insurers consider electronic claims a priority over paper.


Lower claim rejection rate. This is especially true when a medical billing service uses electronic versus paper claim submission. The average electronic claim rejection rate is roughly 2% compared to 35% paper claim rejection, often related to clerical errors.


Prompt claim resubmission after denial. When claims are returned from the clearinghouse, medical billing services work to turn them around and resubmit corrected forms as soon as possible. In-house staff juggling several roles may not always be able to deliver this turnaround time.


Greater incentive to increase collections. Medical billing services are paid based on a percentage of the money they bring in. In-house employees are typically paid the same salary regardless of the amount they collect. Having a third-party handle claims also provides some insurance against fraud or shoddy work, since both your internal staff and the billing seller will review every claim. Many services estimate increased collections at 10%-20%.
Some billing services have gone so far as to implement 24 hour payout policies. Using this type of instant payment program would offer clean claim payout daily compared to 45-50 days as an industry average. Although labeled as "instant," many billing services offer a majority payout policy; you may receive up to 80% of the amount owed to you in insurance collections in 24 hours and will be paid the remaining 20% when it is collected in 30 days or longer.
Are medical billing services right for you?
Medical billing services are useful for a diverse range of healthcare providers. But in general, many solutions are designed for use with organizations of two different sizes:
On the small end, solo practitioners often don't have the time or the expertise to handle billing in-house: just keeping up with demands of building a successful practice is enough of a challenge.


Larger practices, clinics, and hospitals may also see significant results from even a small percentage increase in collections, making a billing service worthwhile for them, too.
Not every healthcare professional is a good candidate for a billing service, though. If your volume of patients is low, it may be hard to reach a deal that makes sense for you and the billing service. For example, psychologists and chiropractors may only see 5 to 10 patients a day and have relatively low reimbursement rates. For most billing services to cover their costs, they would have to charge a high percentage that would be unacceptable to these types of practices.
With that being said, switching to outsourced medical billing may be the wisest choice if technology has gotten the best of you. As is true in any industry, technology is updated frequently. If you can no longer keep up with expensive billing technologies in-house, the cost to outsource these tasks may be your best bet. If so, take care in choosing a tech-forward medical billing service that can provide the highest quality billing technology for your investment.
As a bottom line, putting your medical billing in the hands of trustworthy professionals can help you to focus on what matters most: patient care. Outsourced medical billing saves time and money; it also allows a healthcare facility to target their attention on improved patient interaction, updated medical training, and continued education.
Buying tip: The moment your billing process becomes inefficient, it's time to explore outsourcing; lower collection amounts and longer collection times can be remedied with the expertise of a skilled medical billing seller.
---
Billing services are becoming widely used for the speed and efficiency they provide you, as well as your patients, dramatically simplifying the medical billing process from start to finish. Outsourcing your billing can be completed in a variety of different ways, each geared toward cost-effective simplicity.
---
How Outsourced Medical Billing Works
While each service may have slight variations, the general process of working with an outsourced medical billing service is fairly straightforward:
You send patient information, insurance data, and diagnosis and procedure codes to the billing service.


The service checks the data, completes the appropriate claim forms, and submits them to a claims clearinghouse.


As claims are approved, explanation of benefits forms (EOBs) and checks are sent to you.


Claims that are denied or rejected are returned to the billing company, which then corrects any errors and either resubmits them, or returns them to you.


Patient accounts are regularly reviewed to determine which bills are overdue.


The service follows up on delinquent claims by contacting insurers directly.


The service delivers regular reports on your claims and payments.
In addition, other medical billing services can be incorporated into the standard model listed above. These include:
Medical billing service initiates patient appointment scheduling to collect basic patient information (thorough scheduling can support better balance collection).
The service sets individual patient invoicing to include integrated paper bills or automated online charges.
The service transfers secure patient data electronically for online billing in real-time, when applicable.
Secondary insurance claims are submitted to a second payer, when applicable.
The service balances the books by checking that all patient appointments have been billed and accounted for.
Communicating claims to an outsourced medical billing service
Medical billing sellers can offer multiple ways for you to submit patient data and claim information:
Paper-based – Mail, fax, or scan and email your paper-based claims to the seller. This may involve the least change to your procedures but puts a more significant burden on the billing seller. Make sure the seller submits your claims electronically, even if you stick with paper.


Email – The simplest method of electronic transmission – you simply type up the information and send encrypted emails to the billing service.


Web-based – Log in to a secure webpage – run by the seller or a third-party – and enter claims and patient information directly into the billing system.


Software-based – The seller installs billing software on your computers that you use to enter claims and get access to your data. It transmits data to the seller's system through a secure Internet connection.


Mobile - Healthcare professionals shouldn't be surprised that medical billing has gone mobile; some medical billing services have created their own free iPad and iPhone apps that offer billing claim submission at the touch of a button. An app can be used to electronically capture codes and charges in each patient appointment for direct submission to the billing service.
Web, software, and app-based systems provide more structured data entry and better error checking than other methods. They also allow better cooperation between your staff and the billing service and let you pull reports and review claims status as needed. To get the most out of an outsourced medical billing service, these methods are by far the best choice.
In addition, a service should do a "scrubbing" pass on the claims before submission. This helps catch missing information and mistakes in diagnosis codes before claims are sent to the clearinghouse and is another contributing factor to improved payment rates.
While scrubbing technology was once used primarily by larger hospitals that could afford it, smaller practices can now take advantage of medical billing services that utilize software equipped with scrubbing features. Software scrubbing technology may eliminate the second step of double-checking after a claim has been entered by scanning for medical code errors in real-time.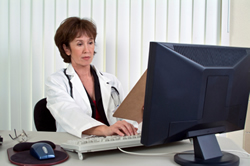 Claim submission and follow-up
One of the most important characteristics of a medical billing service is how well they follow up on claims that are initially rejected by the clearinghouse or denied by the payers.
Since problematic claims take more time to troubleshoot for the same amount of money as a normal claim, it's very important to learn how much staff and time a service will dedicated to pursuing unpaid claims. The expertise of the billing staff in resolving coding errors, insurance mismatches, and other common reasons for denied claims can also go a long way to help you increase your collections.
Keep in mind that if a medical billing service isn't using the latest billing technology, claim follow-up may prove nearly impossible, in some cases. As mentioned above, it's strongly recommended to outsource to a service that uses web, software, or app processing technology. The right technology coupled with aggressive billing specialists can mean faster follow-up every time.
Ongoing accounts receivable
This is another critical aspect of your evaluation, if you choose to outsource it. A skilled medical billing service can eliminate many of the headaches associated with payment collections, including scenarios dealing with a patient that falsifies insurance, submits inaccurate insurance information, or fails to respond to billing inquiries.
While you'll still collect payments in person for co-pays, coinsurance, and non-covered expenses, an outsourced medical billing service can take care of billing patients with outstanding balances. The service should have people and systems in place to track aging claims and take measures to collect on them. In some cases, the service will even turn to a collection agency.
Receiving EOBs and payments
You can handle incoming checks and EOBs from the insurance companies in several different ways:
Have them sent directly to your office. However, you then have a responsibility to get the information back to the outsourced medical billing service, either by scanning the EOBs or by entering the information back into the billing system.


Consider a bank lockbox. With lockbox service, your payments are scanned and electronically delivered to your seller, then promptly deposited into your account. This speeds the availability of your funds and ensures that the billing service gets the information they need. In fact, the funds turnaround is often faster than if you were collecting and depositing checks yourself.


Use EOB processing software. Electronic EOB processing is now available using a scanned EOB image along with individual patient records, while maintaining HIPAA compliance. EOB data can be scanned and captured on-site through a software system; it will then be automatically transferred to a medical billing service.
Utilizing one of the above receiving methods can greatly improve your relationship with your medical billing seller. If payment receivables are handled in a disorganized manner, it can undercut even your best billing efforts to cause major confusion in your claim submissions and balances.
Buying tip: Remaining diligent with documentation on your practice's end can prevent costly coding and billing errors from piling up with your medical billing service. Address staff under-coding and coding shortcuts immediately to prevent unnecessary claim kickbacks and reduce the risk of an audit.
Additional Medical Billing Services
Many medical billing services offer more than just claims submission and accounts receivable work. Make sure you evaluate the benefits of extras, from in-depth reporting to practice management to soft collections.
Reporting
The quality and availability of reporting is another distinguishing feature among medical billing services. With detailed and comprehensive reporting, you can better adjust your billing practices to improve revenues.
As part of your evaluation, get sample reports from each of the sellers you're considering. Compare how many options you have for sorting and filtering the information – is it easy to look at only the largest claims, or the oldest, or all claims for a single person?
Monthly overview reports should lay out your entire billing picture:
Total number of claims submitted
Value of claims submitted
Paid claims
Rejected claims
Outstanding claims
The seller should report on all denied claims and what steps they've taken to correct them, as well as those that have been written off or turned over to a collection agency. Some sellers separate their reports or "authorization tracking" into two weekly reports for referrals and authorizations set to expire. Other services advertise up to 100 different standard and custom real-time reports for this purpose.
Providers should also offer an easy-to-read accounts receivable aging report so you can track how effective the service is at collecting on claims 30, 60, and 90 days after the claim was submitted. If you use a web or software-based connection to the billing service, you should be able to pull additional reports on your own at any time.
Practice management and EMR
Some billing service sellers also offer medical practice management (MPM) and/or electronic medical records software (EMR). These systems are important purchasing decisions on their own, so avoid making a decision based on convenience. However, using one seller for all your office software systems does simplify integration issues - and a completely integrated system is quite powerful.
For example, with an integrated billing, MPM, and EMR system, doctors can enter a diagnosis during an exam, and that code is automatically stored on the patient's electronic chart and forwarded to the billing service along with the relevant insurance and demographic information. To achieve the best level of integration, make sure the systems you choose use the industry-standard HL7 protocol.
More common than complete MPM or EMR offerings among billing services are basic practice management features that are built in to their billing system. The most common example is scheduling and appointment management: since the system needs to have demographic and insurance information on all your patients, including scheduling features is a natural fit.
Even a bare-bones medical billing system that utilizes patient scheduling is highly recommended for one benefit: collections. A medical billing/scheduling system will automatically display patient or family payment balances at the time of appointment scheduling. Staff members can use this cue to offer a patient a "friendly" payment reminder before their next appointment is scheduled - with the hope of collecting outstanding balances in a nonthreatening manner.
Financial services
Some billing services offer other financial services as well. For example, medical financing, which is similar to factoring, can help you address short-term cash flow problems. Medical financing can provide a loan based on your expected receivables at a better rate than you'd get from a bank. Other sellers may incorporate accounting features into their software packages, or provide an easy way to export financial data for use in a standalone accounting program.
If you're looking for a one-two punch in medical billing and accounting, seek out medical billing/bookkeeping services. Within the scheduling and billing process, a medical billing service can naturally add one more step to the protocol with patient payment capture. Many sellers will offer real-time web access to this financial information for your convenience.
Accounting services under the umbrella of medical billing may include: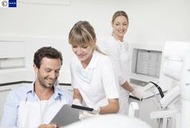 Accounts payables
Accounts receivables
Payroll processing
Bank reconciliation
Credit card reconciliation
Sales tax reporting and filing
940/941 payroll tax reporting and filing
Federal tax payment estimations
Providers can also provide consulting and/or training to help you improve your coding and claims submission processes. They can combine their thorough understanding of your current operation with the experience of many other sellers to recommend the best methods to reduce rejections or improve collections.
---
With a firm understanding of what medical billing services can do for your practice, it's time to compare the platforms. The ideal setup is unified and simple, minimizing the amount of effort you and your staff have to spend on learning and operating the system. But beyond that, there are a number of considerations to take into account, in particular those related to confidentiality and security.
---
Comparing Medical Billing Software
In most cases, you'll be using a software system provided by the vendor to enter information and get reports. This includes both web-based systems and software that runs on your computers. Here are some factors to consider when evaluating medical billing software.
Who owns the medical billing software?
You'll find that some billing services develop their own applications, while others license the software from a third party.
Companies that own their own systems have the advantage of being able to control the future of the system. Your requests for improvements and bug fixes are more likely to be heard, and you can be sure that the software will continue to be supported and upgraded as long as you stay with the service.
On the other hand, services that license their platforms from a third-party developer can be more focused on actually running the billing for their clients and getting claims paid, since they don't also have to do software development.
If you choose a billing service that licensees their software from another developer, make sure you do some investigation of that company, as well - be sure that they a strong customer base to keep them in business for the long term. Note: one quick way to evaluate a company is to track the history of releases; continuous improvements can be a good indicator of support.
Web-based vs. local software
You'll probably encounter two types of medical billing software:
Web-based systems, also known as ASP solutions, require you to log in and enter your information through a website.


Local software runs on the computers in your office.
Since a central part of medical billing is transmitting protected patient data to the seller, both options must meet stringent HIPAA security requirements.
Running your software locally may increase the burden on the staff that maintains your computers, but vendors should offer considerable technical support if needed. Using a web-based service means that you won't be able to access your information if your Internet goes down.
Some modern medical billing practices now offer software "in the cloud." Cloud software can be accessed from any remote location using an Internet browser; you can log in to check billing data managed by the billing service from home or on your office computer. Many cloud-based medical billing services tout cloud software as more accurate and expedient when it comes to claims submission because of web-based rules intelligence – meaning, automatic claim qualification updates as they come in.
All options can provide secure, reliable medical billing. Unless you have internal IT staff with a strong preference for one method or the other, it's best to keep your options open.
Usability
When evaluating billing sellers, make sure you get a hands-on demonstration of the software you'll use to enter your claims information. When comparing different software clients, there's no substitute for actually sitting down and entering the information yourself.
See how easy it is to enter and find information. Try your most common tasks – entering a typical bill, looking up an individual patient's claims status, or reviewing your oldest claims:
Are the commands and buttons intuitive and easy to find?
Are there multiple menus to navigate through to perform even basic tasks?
Can you undo mistakes or retrace your steps easily?
Does the software provide proof of medical claim submission automatically?
Can staff members of all ages easily understand how to use the software?
If a medical billing service provides reporting features in their software, make sure to take these tools for a test drive before signing up for service. Generating unfamiliar reports may take some getting used to. However, basic reporting features should be user-friendly and allow report settings to be programmed by specific dates, insurance categories, patient groups, and more.
Security
The application you choose must include security measures that meet HIPAA standards and ensure patient confidentiality.
SSL is a standard method for communicating securely over the Internet as well as a HIPAA requirement.


Multiple access levels give you the ability to allow different staffers varying amounts of access: billing clerks, for example, could be allowed view-only access to diagnoses and procedures.


Change logs keep track of what information users access and/or edit, which can be essential if security is compromised.
For even greater security, some medical billing software systems allow you to restrict access by time of day or IP address, meaning only certain computers would be allowed to access the data at all.
Infrastructure
Whether you enter claims through a web client or local software, your critical billing information and confidential patient data is all stored on the seller's computers once you transmit it.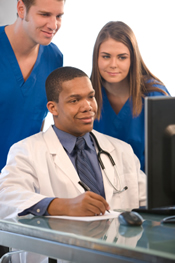 Ask about the type of infrastructure they have in place to see how safe it will really be. Important safeguards should include:
Regular offsite backups (some available nightly)
Physically secure computers
Backup power
Redundant servers
Software compliance with HIPAA, HITECH, and Information Security standards
You may have more peace of mind in your patient data security if you are assigned a dedicated service agent by your medical billing seller. Some medical billing services advertise one-on-one account managers for each practice that will be responsible for your daily workload. You can contact your account manager directly for any queries related to data security, as well as staff concerns, patient billing, follow-up claims, and overdue payments.
Buying tip: Ask a medical billing service if they perform background checks on all staff members. Some medical billing sellers advertise routine drug screening and even truth indicator tests to ensure that employees entrusted with sensitive patient data remain ethical.
---
Choosing the best medical billing seller is one of the most critical steps in your purchase process for one simple reason: patient privacy. Plus, a seller who is accustomed to dealing with practices of your size and specialty can advise you on the best system and options for your office.
---
Choosing a Medical Billing Service
Deciding which medical billing service seller to work with is more than a matter of checking features off a list and comparing prices. You'll be entrusting this seller with a central component of your practice's success – in some ways they become an extension of your own office. It's critical to choose a company that you can work with closely.
Here are a few tips to get the ball rolling:
Look for a seller with industry experience. This includes familiarity with your type of practice. You don't want to be the only chiropractor among your seller's clients, for example. This ensures that the service understands the codes and procedures that apply to your specialty.


Look for a seller with overall experience. You also don't want to take a chance on a seller who's just getting into the business. Make sure the seller you work with has a track record of successful billing. More specifically, verify that they're familiar with the insurance companies you work with most and have experience in the states you cover.


Look for a seller with HIPAA compliance. Because they handle personal health information – protected information under HIPAA – all medical billing services must be 100% HIPAA compliant. They're covered through a "business associate agreement" that allows you to send protected data to them.
Lastly, verify that the seller is well-versed in the updated National Provider Identifier (NPI) system, which assigns a unique, intelligence-free 10-digit number to all healthcare businesses for use throughout the insurance system. Every healthcare seller, insurer, and clearinghouse was required to comply with the NPI system by May 2008; NPI must now be used in lieu of once-common legacy seller identifiers, such as UPIN, OSCAR, and NSC, in HIPAA transactions.
Billing service expertise
The seller's billing specialists will heavily influence the overall success of your outsourced billing:
Find out what training the service provides for their staff. Top-notch sellers offer continuous education to keep their employees on top of changing codes and insurance regulations.


Ask how the service is set up. As we touched upon, some services will offer you a dedicated account manager who will manage all your interactions with the service; others have specialized teams dedicated to handling specific parts of the claims process like denials.


Inquire where the staff is located. Outsourcing to countries worldwide is common in medical billing. Outsourcing can reduce your total costs, but make sure the education, training, and English language standards are as high for the outsourced workers as they are for US staff to avoid any drop-off in service levels. Read more about offshore outsourcing.
Medical billing staff employed by the service should have in-depth knowledge of:
Advanced medical terminology
HCPCS, CPT4, and ICD9 coding
OIG and HIPAA compliance
Insurance billing, claims, appeals, denials, and fraud
Claim reimbursement
Internet and software technology
Though it may eat into your budget, don't shortchange yourself by overlooking a medical billing seller with diverse expertise. Seeking out a medical billing company that provides a multitude of services under one roof - practice management, bookkeeping, and scheduling - can be worth the additional investment.
At the very least, a billing service should have enough training to perform a full billing cycle that includes patient registration, insurance verification, code review, claim prep and submission, payment monitoring, insurance follow-up, collection reporting, and payment posting.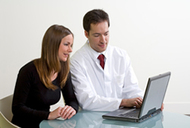 Checking references
Ask a billing service for references to practices similar to yours in size and specialty.
While you're sure to be referred to very satisfied customers, questions like these can help you determine how good a match the service is for your practice:
How long have you been working with this seller? What duties are they handling for you?
Overall, how satisfied are you with them as a billing seller?
Have they complied with HIPAA requirements to your satisfaction?
How have your collections changed since you started working with this seller?
What percentage of your claims is accepted on the first submission? And overall?
How effective are they at pursuing unpaid claims?
Did the service ever have to implement a disaster recovery procedure? What was the outcome?
What's the best thing about working this service?
How do you get information to them? Is the process intuitive and efficient?
Do your patients notice any difference in billing or collections?
Does your staff feel like they can count on the seller to resolve problems?
What was the biggest challenge about working with this company?
Do you feel that the price is fair for the service provided?
Do you intend to stay with this service for the long run?
Checking references may seem superfluous, especially if you run a busy practice. However, it is a necessary step to cover your bases since you will be entrusting sensitive patient data and billing information to a third-party company.
Buying tip: If other practices in your industry have never heard of a medical billing seller before, consider that a major red flag.
---
Before you get on the phone with a medical billing seller, it's important to know what you should expect to pay. We've compiled a range of cost estimates for medical billing services, based on current BuyerZone customers located around the country.
---
Pricing for Medical Billing
Medical billing services most often bill a percentage of the collections they bring in for your practice. This means that the amount they take in is completely dependent on their success: The more money they collect, the more they earn.
It's natural to try to get the lowest percentage you can. However, the real bottom line number for your business is your net income after you account for the billing service's fees: Even though a better service might demand a higher percentage of your collections, their total collections can make up for that difference and still result in more income for your practice.
Keep in mind that one of the biggest differentiators between billing providers is how good they are at resolving denied claims and collecting on your outstanding accounts. Simply choosing the lowest cost option is unlikely to get you the best provider.
Example pricing
The percentage you pay can vary quite a bit, depending on a few factors:
Average claim size and volume. The more claims you bring in and the larger dollar amount per claim, the lower the percentage you'll have to pay. Surgeons, whose average claims run into the thousands of dollars, get charged less per claim than therapists who only get $25 to $40 per claim.


Total claim volume. A single psychologist who treats 20 or 30 patients a week will pay a much higher rate than a five-doctor practice that sees 150 patients or more. You'll have to work with a provider to estimate the total volume and average amount of claims you process to help determine your exact pricing.


Additional service add-ons. Including accounts receivable collections from patients instead of just claims handling can increase the percentage you'll pay. Faster turnaround of your claims or 24/7 support will also command a higher percentage.
Given those factors, the fees for medical billing services typically range from 4% to 14%, with most types of practices paying 5% to 6%. A medical billing service that charges per claim may quote $3.50 to $4.50 on average. Other services advertise startup fees of $250 without monthly minimums or surcharges.
Some services may charge additional set fees for patient statements, delinquency notices, data exports, and other activities, while others offer a number of freebies, like free EMR/MPM subscription, free EMR integration, and free credentialing. Make sure you get a full breakdown of all the costs and "freebies" associated with your account before you sign a contract.
Adding practice management software or electronic medical records packages can change how you're billed, in addition to how much you pay. If subscriptions aren't available as free add-ons, the services may be priced either with an upfront licensing fee or a per user monthly charge, independent of your collections activities.
Many healthcare facilities make the assumption that outsourcing medical billing isn't worth the cost, based on the percentages listed above. However, a National Healthcare Exchange report confirmed that doctor's offices often spend as much as 14% of total revenue on claim reimbursement - significantly higher than the average of 5% to 6% paid to a medical billing service.
To provide a clearer example, in-house billing department estimates for a three physician practice start at $118,000 for 80 claims filed per day. When the same claim volume and size was outsourced, billing department costs dropped to $4000.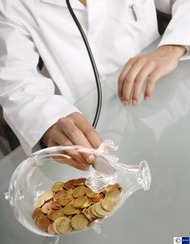 Contracts
Billing services take some different approaches to contracts. Some prefer to put you on an auto-renewing 30- or 60-day contract. You may have to pay an upfront setup cost, but once you're up and running, you can use the service for as long as you'd like, and cancel any time with just 1 to 2 months notice.
Other providers prefer that you sign a longer-term contract: one, two, even three years. In some cases, the tradeoff is that the provider will assume the setup costs. This lowers your initial costs but means you do have to commit to a longer time period. Be sure to weigh how comfortable you are with your purchasing decision before committing to a long-term contract.
A medical billing contract should be as detailed as possible. As a healthcare provider, you may perform your coding and transcription in-house before submitting claims to a medical billing service. If you would like the billing service to take care of coding, transcription, and claims, this must be detailed in the contract.
To see the greatest success in outsourced medical billing, be upfront with any concerns you may have about a contract. With some providers, drawing up a lengthy, detailed contract could cost you in unexpected legal fees. A billing provider should also disclose any hidden costs for the service within the contract.
Open communication between a healthcare facility and a medical billing service can eliminate any unfortunate misunderstandings, especially in contractual conditions. When you choose a trustworthy medical billing service that utilizes the latest technology, you can rest assured that your secure patient records are in good hands. At best, outsourced medical billing is designed to save you money and improve your practice's cash flow through uninterrupted billing and claim submission.
Ready to Compare Medical Billing Services Price Quotes?