EHR: A Good Prescription for Patients and Providers
Electronic health record systems are a certain kind of digital medical record promoted by the federal government to help providers achieve various key goals. Having an electronic health record system in place can help providers transfer patient health information from one practice to another, but these systems also have some very appealing points for patients who need better access to their own medical histories.
Studies found that during 2011, 55% of medical facilities had a system in place. This is despite reports of systems that are less than user friendly and money spent on replacement systems. Of the 55% of users surveyed during the initial study, 75% of them reported improved patient care through use of an electronic health record system. These doctors have noted that electronic health records help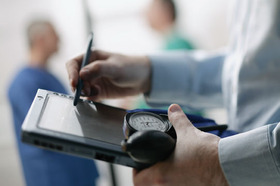 Save patient's lives because data and information is immediately available to doctors
Identify complications and remedy them quickly
Reduce the amount of patient readmits back into the hospital
Resolve many safety issues that were previously an issue with paperwork
Improve patient care for those with chronic diseases
Having EHRs in place can make it easier for health care providers to release medical forms or records to a patient. This can come in handy when a patient has to change providers, for example, or when a patient needs a single chart or document from a family practice to give to a specialist. The portability of EHRs can reduce the hassle for patients who need to facilitate these kinds of transfers.
The portability of EHRs also means that patients may be able to obtain more of their own health data themselves. Many patients report being better equipped to ask the right questions in the doctor's office, follow their prescribed courses of treatment, and advocate in a clinical setting when they have fully reviewed key parts of their medical histories.
Because electronic health record systems have so many practical applications for a modern medical office, and a number of benefits for patients, as well, doctors and practice leaders are looking at how to add these cutting-edge data handling systems to their offices.
Growing Pains
It takes time to train staff and incorporate EHR models into a working practice. Doctors and nurses need to know how to use the tools, digital charts and related resources. An EHR system also needs to fit into the existing IT architecture.
All this is keeping some medical businesses from really profiting from advanced EHR technology, which many of them adopted partially because of new HITECH government incentives. But even the government offices providing these incentives recognize that EHR systems are only useful if implemented in practical ways, which is why the government came up with "meaningful use" rules for these technologies.
Certified EHR standards have been created and adopted because they are practical. Having EHR systems standardized in this way can also make a lot of sense to practice administrators. Being able to rely on standardized resources and common explanations of these technologies will help those behind the front desk or in the back office of a practice, and will help doctors get the most out of their digital record keeping systems.
Many medical consultants who help practices adopt EHR systems and other tools agree that in order to really benefit from these services, doctors and practice leaders need to ask questions up front. Vendors need to share their plans for how they will help a practice build a working EHR model into their office's future operations.
This works best when there are open channels between a vendor and a practice, when key people have delegated parts of the workload to various staff levels and where doctors have a clear understanding of what the vendor software is intended to do for them. For anyone looking around for good electronic health record systems or other practice management software, tech support should be part of the conversation.
Ready to Compare Electronic Medical Records - INACTIVE Price Quotes?