FAQ: EHR Incentives
The Electronic Health Record (EHR) incentive program helps doctors and clinics upgrade their medical record systems to meet the new digital age. Find out more about incentives and funding requirements through these common questions about the program.
What is the purpose of EHR incentives?
The Health Information Technology for Economic and Clinical Health (HITECH) Act created medical record incentives in a federal program to encourage the use of EHR throughout the United States. When compared to old-fashioned filing systems, EHRs have proven to be: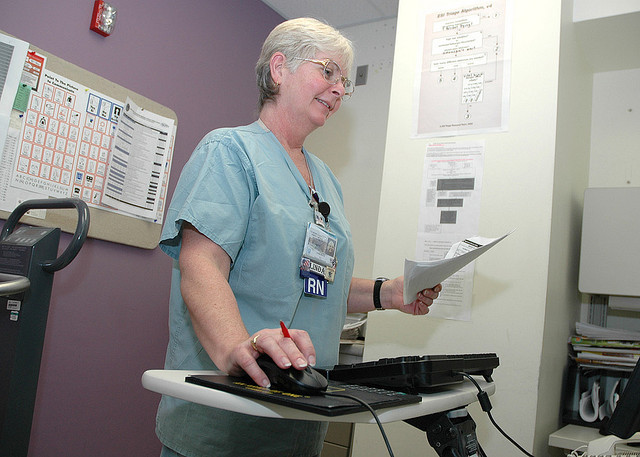 Faster
Neater
More accurate
However, American clinics struggled with the expenses involved in making the transition. To reduce costs and encourage clinics to eventually meet international ICD-10 coding standards, the federal government began offering incentives for digital record upgrades in the early 2010s.
Who do the incentives affect?
The incentives are designed for Medicare and Medicaid eligible professionals (EPs). Under Medicare, this includes:
Doctors
Dentists
Optometrists
Chiropractors
Medicare Advantage organizations wanting to upgrade their systems
Eligible Medicaid EPs are more limited. Physicians, certified nurses, and dentists all qualify, but they must have a minimum of 30% Medicaid patients or 30% equivalent (low-income patients in need of support).
How much do the incentives guarantee?
Current federal legislation sets the Medicare limit at $44,000 of incentives spread across a five-year period. This is the maximum amount that any entity can earn through the program. But when you adopted the EMR system will determine how much of that incentive you'll qualify for:
Early adopters - If all guidelines are met correctly and doctors began upgrading to electronic records in 2011 or 2012, it is possible to earn the full amount.
Late adopters - Those who begin in 2013 or 2014 can only earn up to $39,000 and $24,000 respectively through the program.
By 2015 - It will be too late to earn EHR Medicare incentives.
Medicaid incentives are similar, but the maximum amount is set at $63,750 and payments are administered by state organizations over a period of six years.
How do eligible EPs qualify for incentives?
Qualification takes place through a two-step process:
First, EPs must register for the program, either through the Centers for Medicare and Medicaid Services (CMS) or their state Medicaid Agency.
Then the EP or organization must adopt new EHR technology or implement EHR programs that upgrade their current systems.
The first incentive payments are provided when this implementation is documented. The following years of payments are more difficult to secure. EPs must prove the meaningful use of the new EHR technology annually to continue receiving the incentive.
This "meaningful use" caveat is broken down into core objectives, which include among other things:
E-prescribing
Electronic patient records on demand
Active medication/medication electronic lists
Security protocols
There is also a separate set of objectives, which include:
The ability to submit electronic data to immunization systems
The ability to make drug-formulary checks online
A system to send e-mail reminders to patients according to their preferences
If EPs meet enough objectives, they continue to qualify. Objectives can vary between Medicare and Medicaid qualification.
What is the future of EHR incentives?
Despite the objectives listed, payment and fraud issues have arisen in the EHR payment system. Future legislation is expected to create more specifics for the program, including stricter guidelines and rules on tapering off payments if objectives are not met. Some legislators worry that the program is not fulfilling objectives properly and can be too easily misused, objections future laws are likely to address. Since 2011, nearly $7 billion in incentives has been paid out, with no total spending cap yet specified.
Ready to Compare Electronic Medical Records Price Quotes?