Electronic Medical Charts Are the Rx for Medical Practices
Health care professionals today are struggling to cope with record management in an increasingly paperless world. Add to that the growing demands of a mobile workforce and clientele, and you could expect hospitals, medical clinics, and health care centers to reach a state of confusion if they do not implement electronic medical charts for their patients.
The Benefits
Whether you're in private practice or work in a hospital, the benefits of using digital medical charts are wide. They provide crucial information about each patient, including his or her medical history, medications, dosage, allergies, and immunizations. Doctors can easily review exam results in a timely fashion and from any location, eliminating duplication and saving time for the medical staff and money for patients. With accessible electronic medical charts, doctors are better able to provide coordinated, efficient, and safe health care.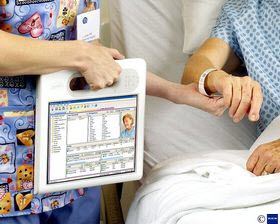 Selecting the right electronic medical records system is an important decision. Doubts, uncertainties, and reservations must be completely cleared by finding answers to the following questions:
Does the system meet the needs of your practice?
The system you choose must include the features that fit your requirements. Some software contains a broad scope of features while others have limited options. Many providers offer customized medical charts that are appropriate for specific practices in order to enhance day-to-day usability.
With what devices can data be entered and accessed?
The common devices for data entry and access are desktop computers, laptops, tablets, smartphones, and personal digital assistants (PDAs). For data entry, most users prefer the keyboard and the mouse, while more tech-savvy professionals are comfortable with touch-screen devices and speech-recognition applications. Printers likewise need to be considered, as some patients and regulatory agencies may need copies of medical records.
Is technical support available?
Be specific about what you want from the vendor in terms of technical support. It is important that a human being, not an answering machine, be available to walk you through your concerns. Ask how long it takes to reach someone from support, how long for technical support to offer a solution, and how frequently the solutions offered actually solve the problem.
How are text and images imported into the system?
In addition to data that you or your staff personally enter, you will need to import materials such as exam reports from laboratories and notes from consultants. Find out whether you will need additional software and hardware like an optical character recognition software or a scanner.
Was the software created to established development guidelines?
In the United States, patient health information is regulated by the Food and Drug Administration and the Health Insurance Portability and Accountability Act (HIPAA), while the International Organization for Standardization and the Internation Electrorechnical Commission set the standards in Canada and Europe.
While some medical professionals still have apprehensions about using electronic medical charts, those who want to try them should go right ahead - once they understand how they work.
Ready to Compare Electronic Medical Records - INACTIVE Price Quotes?