5 EMR Systems That Offer a Personal Demo
When it comes to determining the bottom-line cost of an EMR system, it can be difficult to calculate with a traditional checklist. Similar to buying a new car, each dealer will have a variety of packages, support programs, and hardware requirements that can multiply the cost exponentially depending on the size of your practice. These costs typically include acquisition of software, data conversion, customer support, version updates, and even workstation requirements for optimal performance.
With all that on the line, it's critical to be able to "test-drive" the platform before purchase to ensure it addresses the specifics of your practice. Far more than just a "tutorial experience," a personalized demo almost always requires you to sign up in advance, lasts for an hour or more, and should include: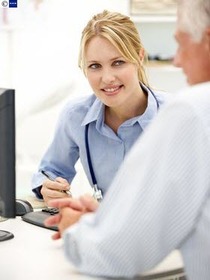 Overview of the platform, its navigation, and basic features
Review of technology for the product's ONC meaningful use certification
Patient functionalities and usability
Nurse functionalities and notational entry process (vitals, chief complaint, HPI, ROS, and PFSH)
Doctor functionalities and notational entry process (exam, diagnosis and treatment plan)
Templates
Reporting
Start your search by comparing these top-rated EMR platforms
We've gathered the following electronic medical record systems for their combination of high-quality services, positive user reviews, and willingness to let you try the product before purchase. If one or more of them meets your needs, fill out our free request for more information below and set up your on-site demo.
Patient Click: Entirely web-based and reportedly easy to use, Patient Click provides services through a multi-platform app (compatible with Mac, PC, smartphone, and iPad) that offers a clean, easily-navigable interface, customizable dashboards, integrated patient portal, and communication tools that can be customized for multiple clinicians. It also features automatic transfer of lab results, dictation and transcription interface, patient education, and free support 24x7.
Vitera: As the provider of EHR and practice management software to approximately 85,000 physicians, Vitera is reportedly easy to learn and focused on the efficiency and profitability of your practice. They offer both a personal demonstration to answer questions on-site, as well as a number of online product demos and additional information. Designed by clinicians and software specialists to adapt to your specific workflow, the platform features a simplified user interface that collates patient data, scheduling, intra-office messaging, user-friendly documentation, and customizable templates.
Intivia: The InSync EMR from Intivia unifies the processes of practice management and electronic medical records into a single platform that brings you into compliance with regulatory requirements. Unlike other EMR systems, InSync connects with all major healthcare information systems, keeping you connected to your practice 24/7 from anywhere in the world. Plus, the platform is highly scalable, promoting ease of use by solo practitioners and large, multi-specialty, multi-location facilities alike. Also popular for its unique, user-friendly design, Intivia's InSync "increases efficiency without disrupting the way you practice now."
Advanced MD: Support is the name of the game with this EMR system, making it a strong option for consideration among smaller practices. Upon implementation, your practice is assigned a training professional that facilitates training, familiarity, and proficiency while handling any additional staff needs. Geared to the overall management of a practice, Advanced MD includes a Patient Counter feature that monitors clinical information under physician control such as productive time spent with patients, effective coding, and billing, and HealthWatcher, a compliance add-on that ensures best practices via automated alerts.
CGM Enterprise: Boasting 385,000 customers in 35 countries, the popularity of the CGM Enterprise EHR platform extends to a broad range of clinicians and specialties, including Federally Qualified Health Centers (FQHCs), Community Health Centers (CHCs) and Physician Practices. This user-friendly solution supports effectiveness and adds value to your patients through clinical decision support, disease management, and an assortment of other efficiency and reporting tools that also ensure Meaningful Use compliance.
Ready to Compare Electronic Medical Records Price Quotes?