Setting a New Standard for Doctors and Patients
EMR legislation sets out how health care providers will qualify for Medicare and Medicaid payments under the Health Information Technology for Economic and Clinical Health (HITECH) Act. Under its provisions, the Department of Health and Human Services has the authority to set up programs to improve public health through the use of information technology. Electronic health records and the ability to exchange health information in a private, secure manner fall under this category.
Meaningful Use
The standard used to determine eligibility for Medicare and Medicaid incentive payments when health care professionals adopt EMRs is called "meaningful use." In stage 1, which needed to have been met by 2011-2012, health care providers needed to meet the following standards: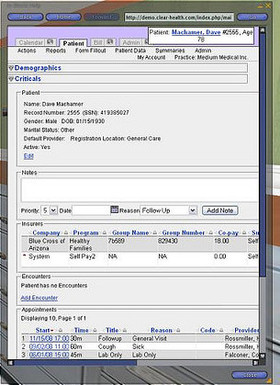 Capture health information electronically in a standardized fashion
Use the information to track key medical conditions
Communicate the information for care coordination processes
Initiate the reporting of clinical quality measures and public health information
Use the information to engage patients and families in their health care
Stage 2 of the meaningful use criteria required under EMR legislation must be completed by 2014 and focuses on:
More rigorous exchange of health information
Increased requirements for electronic prescribing and incorporating lab results
Electronic transmission of patient care summaries across multiple settings
More patient-controlled data
Stage 3 is about improved patient outcomes. It will enter the picture in 2016, at which time electronic medical records will be well established and will be used to:
Improve the quality and safety of patient treatment
Provide decision support for national high-priority conditions
Offer patients access to self-management tools
Provide health care providers access to comprehensive patient data
Improve overall public health
Health Insurance Portability and Accountability Act (HIPAA)
Among other things, the HIPAA law gives patients some privacy rights in regard to their medical records. It sets limits regarding who can release their medical information and sets penalties if the standards are not followed.
Patients have the right to ask for written notice about how their health information is being used and shared. They also can ask to see a copy of their medical file and request that any errors be corrected.
The goal of EMR legislation is to help make patient records more accessible to health care providers. Continuity of care will become easier, since doctors working as a team will be able to access patient records quickly and conveniently. Patients will ultimately benefit, as well, since all members of their treatment team will be privy to the most up-to-date information concerning their condition.
Ready to Compare Electronic Medical Records Price Quotes?