Optometry EMR Solutions Focus on Medical and Retail Business Components
Electronic Medical Record (EMR) systems are one of the fastest growing trends in the medical community today. Much of that growth has been driven by the American Recovery and Reinvestment Act (ARRA) and the "meaningful use" incentives that aim to provide $30 billion to healthcare providers and hospitals in the United States as they integrate the technology into their individual practices.
Popular for their ability to streamline patient care while simultaneously boosting the profitability of a practice, each platform is a little bit different. A lot of attention is given to workflow. And it's a critical consideration. But for optometry, there are a number of other considerations derived from the retail end of the practice that are no less important - and sometimes even more so.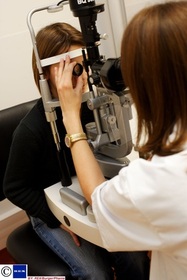 Comparing Top Optometry EMR Systems
When evaluating specific EMR solutions for your optometry practice, pay close attention to the following five criteria:
Meaningful Use Compliance
The specific details for the incentive programs vary based on specialty but all are centered on the functionalities of the EMR platform.
Common qualifying features can include the following:
Comprehensive lists of diagnoses
Medications and possible allergic reactions
Personalized patient statistics like language, race, and ethnicity
A popular ONC-ATCB certified platform, designed exclusively for the eye care industry, is AdvancedMD.
User-friendly
Ease of use is a major consideration for staff and patients alike. Unfortunately, it's not currently one of the standards evaluated for certification. Be aware that older patients may experience difficulty using a computerized interface for scheduling and check-in. Therefore, components like font size, color coding, consistency of design, minimal clicking, and error forgiveness in data entry are crucial for ease of use.
In the same way, built-in shortcuts can be hugely instrumental for staff in cutting the time required for each patient. Vitera Intergy EHR and Patient Click are both popular among optometrists for their ease of use.
Practice Specific
This is critical for optometry groups that specialize. Whether your practice is geared more toward retail-oriented services like glasses and contact lens fulfillment or vision therapy that requires extensive medical notes related to binocular vision measurements, the EMR system you select should take into account the primary focus of your business. Acrendo has received high marks from optometry practices for the completeness of its platform.
Customizable Terms
Unlike a hospital or general practice, optometry involves a wide range of specialized tools and services, not the least of which deals with contact lens materials, electronic interaction with vision care plans, and the ability to store images captured by ophthalmic instruments.
As a result, EMR systems that are designed to accommodate an optometry practice include a complete, built-in list of these terms and often enable the physician and staff to customize with added terms when necessary. Additional examples include eye-specific conditions such as refractive, ocular health, low vision, vision therapy, and pediatric considerations. When evaluating platforms, these should all be part of the EMR's lexicon to effectively and efficiently provide the highest level of service.
Strong Customer Support.
If you're providing optometry services within a hospital or other large group, you probably have IT support on call when things go wrong. But for those operating within smaller optometry practices, customer support is vital to avoid costly downtime, unhappy patients, and lost business. Problems aside, customer support for EMR systems are also routinely called upon for help with setting up product selection, accounts payable, third-party billing, reimbursement reconciliation, and product ordering and delivery.
Ready to Compare Electronic Medical Records - INACTIVE Price Quotes?