EMR Solutions Include Specific Features for Pediatric Practices
Many of the electronic medical record (EMR) systems on the market today are primarily for adult care. This design makes them unsuitable for the specific needs of a pediatric practice as they often fail to account for the unique aspects of child growth and development.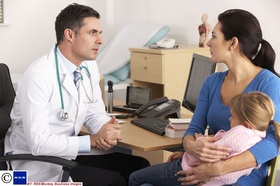 In a landmark publication, the American Academy of Pediatrics (AAP) laid out specific requirements that physicians and their office managers should consider when shopping around for an EMR system. In particular, the system as a whole should "facilitate care that is accessible, family-centered, continuous, comprehensive, coordinated, compassionate, and culturally effective," the report said.
To achieve that goal, a pediatric EMR system must contain the standard features common to most adult-centered systems. These include: problem lists, measurement and recording of health status and functionality, linkage of all clinical records and accessibility, easy reporting through selective retrieval and customized formatting, and an ability to provide evaluation and comparison between quality and cost of care.
But apart from these high-level functions, a software suite that's been designed for the wide range of issues related to pediatric clinical care should also include:
Growth data and age-based normal ranges: Tracking the progress of a child's growth is crucial for a pediatric EMR system to be effective. Specifically, it should be able to calculate, display, and compare growth percentiles and body mass index to normal ranges, as well as track vital signs and other physiologic parameters as they change in line with growth and development.
Simplified charting in line with national recommendations: It's also common for pediatric EMRs to incorporate WHO and CDC recommendations for age and gender then allow the physician to print customized growth charts based on the norm.
Special terminology and information: Like any dedicated field, the ability to speak with the proper terminology is essential to success. An EMR system should include a pediatric lexicon that incorporates the common terms used within your practice, like "developmental milestones," "anticipatory guidance", "weak cry," and "umbilical granuloma."
Prescription doses and immunization tracking: Basing prescriptions on a child's age and weight or body surface area, these specialized tools ensure the proper calculation of doses by integrating the other data mentioned above. Plus, by tracking the patient's immunization data, deficiency alerts can easily be provided should updated recommendation become available.
Unique privacy issues:This is one area that is especially sensitive as a result of the high and often varied levels of confidentiality required for minors. Though laws vary from state to state, the best EMR systems will have built-in restrictions that adhere to your area's local statutes and policies. These often include privacy safeguards for genetic information and guardianship records, as well as the data required to support social services in issues of adoption and foster care.
Top 3 user-reviewed electronic medical record solutions
The migration to EMR systems has been overwhelming. In the past few years alone, 72% of office-based physicians have begun using some form of EMR system in their practices, according to data compiled by the CDC. But as the reviews indicate, not all are equally suited to the task when it comes to pediatrics. That's why it's crucial, both in terms of patient care and the profitability of your practice, to obtain multiple quotes when evaluating EMR solutions.
Based on hundreds of individual reviews posted by physicians and pediatric office managers around the web, the following three solutions stand out:
AdvancedMD
AdvancedMD is a complete, cloud-based system that allows you to manage your entire practice through the convenience of an iPad or similar electronic tablet. This user interface makes it extremely versatile in a wide range of practices and treatment settings. Core functionalities, delivered through a customizable physician dashboard, include charting, problem lists, medication management, electronic prescribing, lab tests, and workflow management. AdvancedMD does a good job of outlining the specific aspects related to their pediatrics software.
Vitera
Designed with components uniquely for pediatric practices, Vitera can also be used across a wide variety of additional medical specialties and has been reported to be especially useful in billing issues that include confirming insurance, payment services, claim control, and the collections process.
Acrendo
This "one-click" solution enables physicians and office staff to run the entire practice through a single, integrated platform. Available in either cloud-based or client server models, Acrendo provides EHR, customizable Word-style templates, eLab order management, e-prescribing, disease management, and Dragon Speech, allowing you to dictate notes directly into a template. This ease of use and familiar look cut the cost of training staff on multiple platforms.
Ready to Compare Electronic Medical Records - INACTIVE Price Quotes?