Why a Web Based EMR Solution Makes Sense for Your Practice
Making the decision to use an EMR system in your practice is a step in the right direction. Using the system in a practice can streamline management and even make decisions based on past human interaction and actions. With features such as booking most appointments online, automatic appointment scheduling, and scanning/archiving capabilities, the system creates a significant return on investment.
In comparison to server-based programs, a Web based system has a lower upfront cost because users lease software on a subscription basis, rather than making a lifetime purchase. When looking at a Web based EMR system, there are many great advantages that make the investment worthwhile: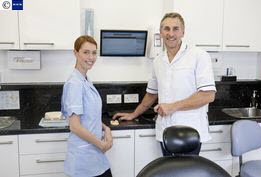 Charting. It's easier and faster to make entries, while eliminating issues with hard-to-read handwriting. With Web based EMR, providers can to sign electronically. Also, there are dozens of specialty templates that assist with charting information. Records can be accessed at any time, from any location, by anyone with authorization.
Scheduling. The scheduling program includes a master calendar with daily and weekly views. Patients are sent automatic email notifications, which results in fewer missed appointments.
E-prescribing. Prescriptions can be submitted electronically, as can refill requests from pharmacies. The system stores patient information about drug sensitivity and interactions and contains a complete medication library that tracks their medication history.
Messaging. The system handles phone requests, nursing orders, referrals, follow-ups and more, and all messages are secure and encrypted. The messaging can be a stand-alone center or used in conjunction with current methods.
Reporting. A host of reports can be run and linked directly to patient's records.
Lab. An online program streamlines all lab information, requests, and results, and can even notify patients.
Billing. The system stores classification codes (from the International Statistical Classification of Diseases and Related Health Problems) from previous billing, and can be used electronically or in conjunction with existing billing services, saving valuable time.
Cost
The basic system is priced, and then additional features can be added on. If you run a medical practice and wish to save on upfront costs and hardware requirements and make smaller payments over a longer period, then an EMR system is a great option. On average, costs can range from $10,000 to $50,000 for the initial system. Annual maintenance can cost an additional 15 percent per year.
The important thing to look at is how much a Web based EMR will save you - time for your employees, and money by identifying areas where expenses can be trimmed. In addition, making your practice much more efficient gives you the ability to increase your patient load.
Web based EMR (electronic medical records) systems have become a big hit with physicians and sales have even risen steeply; even seeing a 22 percent spike between 2010 and 2011, according to Healthcare-Informatics.com.
Ready to Compare Electronic Medical Records - INACTIVE Price Quotes?