Introduction to EMR
Electronic medical records (EMR), also called electronic health records (EHR) or health information technology (health IT), allow health care providers to replace traditional patient charts with computerized systems. These systems store physicians' notes, x-rays, prescriptions, and other medical information in electronic format rather than paper files. They make searching for, retrieving, and sharing patient data easier and more efficient.
Electronic medical records are also the primary focus of the federal Meaningful Use program authorized by the Health Information Technology for Economic and Clinical Health Act (HITECH) of 2009. Under this program health care providers can receive incentive payments from the government for the adoption and "meaningful use" of EMR technology.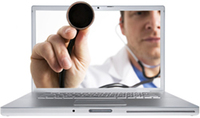 By implementing an EMR system your practice will:
Have all patient information where you need it when you need it.
Be better able coordinate with other providers by sharing patient information electronically.
Be able to streamline billing by integrating with your medical practice management software.
EMR systems have also proven to reduce malpractice by curtailing mistakes caused by poor handwriting and calling attention to possible drug interactions. EMR also help ensure that your practice complies with the privacy regulations and security standards set forth by the Health Insurance Portability and Accountability Act (HIPAA).
For all these reasons, choosing the right EMR system for your practice is critical. This BuyerZone EMR Buyer's Guide will help guide you through the EMR purchasing process. We can then put you in touch with qualified EMR software providers for free competitive price quotes.
---
The first step in your purchase process is to compare the software platforms themselves
---
Evaluating EMR Software
There are hundreds, maybe thousands, of EMR packages on the market, making it difficult to find the one that is right for you. Further complicating matters is the fact that not all EMR qualify for Meaningful Use: you may need to upgrade or switch to another system even if you are already using EMR. To find out if the EMR you have or are considering buying is certified check the website of The Office of The National Coordinator for Health Information Technology.
You can narrow your search for the right EMR, by focusing on systems that are designed for your specialty. Small family practices have different needs than large hospitals, as do orthopedic practices, dental offices, and physical therapists. A specialized EMR sold by a company that is familiar with your type of practice will already have in place features that you may not even know you need.
To get a better feel for which EMR within your specialty are worth considering, take a look at what practices similar to yours are using. Find offices of like size and specialty and visit them to see their software in action. You can also request a list of current clients from a prospective seller; then, ask those clients what they think of the seller's product.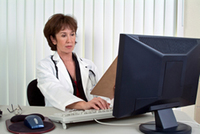 Before buying, always take an opportunity to try the software for yourself. Many sellers will provide a sample account or demo CD: use this to have your physicians, nurses, NPs, PAs, technicians, or any other interested parties experiment with the software. Go through your most common activities and see how the software performs. Do not settle for watching a canned demo, as it will not give you the same in-depth look into the product.
Lastly, ask your seller about HIPAA compliance. HIPAA dictates strict security standards that apply to any personally identifiable patient data. In order to be certified for Meaningful Use EMR software must meet HIPAA requirements. You will also be required to perform a security risk assessment as part of Meaningful Use, so be sure your seller provides details on how the security measures work.
---
Once you've applied your particular specialty to the field and found a software platform that will work for you in general, it's time to get specific. EMR solutions include a range of basic functionalities that are often customizable to your practice.
---
EMR Software Features
The primary purpose of EMR is medical records keeping. As you compare different systems pay attention to how they create, update, search, and display the contents of a patient's chart. Ask questions like:
Does the system recognize procedure and diagnostic codes common to your practice?
Can the system handle multiple doctors and offices?
Does the system support your practice's preferred charting style?
Are there multiple ways to organize and view patient data?
Are labs, x-rays, and other types of information easy to manage and access?
One key to your productivity will be how you enter information into the system. You will have several devices to choose from:
Desktop computers can be installed in each exam room or laptop computers transported from one room to to the next.
Tablet computers are convenient for their portability and touch screen interface.
Smart Phones can also access EMR systems via an online interface.
Be sure to find out if the EMR you are considering is compatible with different platforms; for example, can you use either Mac or PC?
You'll also need to decide what data entry method(s) you wish to use:
Keyboard and mouse combinations offer a familiar setup for typing doctor's notes or inputting diagnoses and exam codes.
Touch screen and stylus applications may allow you to hand write your notes and are particularly attractive for specialists who want to use illustrations.
Speech recognition allows you to dictate your notes into the EMR and give the EMR verbal instructions (e.g. you can say "enter" instead of hitting the enter button).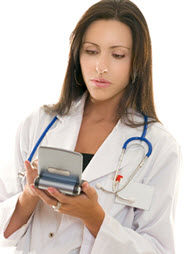 Which devices you choose will depend on your office's comfort level with the technology as well as what best suits your work flow. Consider an EMR system that supports multiple data entry methods. This lets you start with one method and later switch to another, or support multiple modes for different users.
One of the best ways to proceed is to choose an EMR system that supports multiple data entry methods. This lets you start with one method and later switch to another, or support multiple modes for different users.
Be prepared for a slowdown in productivity when you first implement the new system. Once users grow accustomed to it, productivity will gradually increase (this can take anywhere from three months to a year). Thorough training will also reduce the amount of time it takes to get acclimated to the new system.
Workflow features
Aside from how they handle patient records, there are many other features offered by EMR that you need to evaluate. For instance:
Can multiple users access a single record at the same time so your administrative staff can update insurance and billing information while the doctor meets with the patient?
Is there remote access for doctors so they can access patient records from outside the office?
Does the prescription handling feature automatically cross-check drugs for harmful interactions? Will it transmit directly to a pharmacy?
What kind of reporting features are there? (Meaningful Use certified EMR must track a wide range of statistics about your patients including blood pressure, weight, diagnoses, and medications.)
What security features are there to keep sensitive patient data secure and ensure compliance with HIPAA requirements?
How will the system integrate with other systems in your office? Read more about integrating EMR with MPM software.
Some EMR software packages offer convenient patient portals. These portals allow patients to go online to schedule an appointment, submit their medical history, review lab results, request referrals, print forms, and pay their bills. This is an attractive feature that saves time for both the patient and your staff.
By deciding which features are important to your practice, you can narrow your EMR search accordingly. It helps to be a bit of a cynic, too. Avoid being "wowed" by bells and whistles you are unlikely to use, and stay focused on evaluating the features you need.
Comparing features across multiple EMR packages can be difficult as you'll see similar features going by slightly different names or offering slightly different options. This is where experimenting with a demo account can help. Use the samples provided by your prospective sellers to check out not only what features are available, buy how easy they are to use. Ask yourself:
Is entering information intuitive? Can you skip sections or include non-standard information?
How much is automated for you?
Can you easily find specific information about a patient?
Are the various screens easy to understand?
How many clicks does it take to navigate to the feature you want?
Make sure to think in terms of real-life situations: what happens when a doctor is in the middle of editing a record and gets a phone call? Does the system allow for quick jumps from one spot to another outside the typical flow of work? Also, how much contextual help is included for when users have questions?
---
Another important decision to make when choosing your EMR system is where you want the software to be hosted.
---
ASP vs. Client Server Solutions
If the software is on computers in your office it's called a local, client-server, or desktop solution. If the software is on servers at your seller's office it is called application service provider (ASP), software as a service (SaaS), remote, web-based, or cloud computing. Each option provides distinct advantages, consider which are more important to you.
Client-server solutions
A client-server program runs on your computers and stores data either on your hard drive or a network server in your office. This setup gives you the greatest control over every aspect of your EMR system and sensative patient data.
However, installing and maintaining the necessary security and firewalls requires considerable technical expertise and effort. It also means you will be responsible for making regular backups - preferably daily - in case of a system crash. (Interested in remote backup services? Get a free quote today.)
If you choose the client-server route, you'll pay a lump sum upfront to buy and set up the system, including software and servers.
ASP solutions
With an ASP solution, both the application and data reside on your seller's servers. Your staff accesses the ASP via the Internet using a web browser or specialized client software.
The main advantage of an ASP is that it is maintained by IT professionals at your seller's office. They are responsible for providing layers of security, uninterrupted power, fail-over (instant switching from one computer to another in case of a crash), and reliable backups.
The biggest risk to an online solution is an outage in your Internet connection. Since no Internet connection works 100% of the time - your internal network may fail, your ISP may experience an outage, or an Internet worm may cause congestion - you may not always be able to access your system.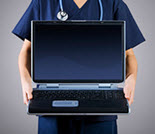 With online providers, payment is based on a smaller setup fee and ongoing monthly payments based on usage.
Which is right for you?
Client-server software was popular among early adopters of EMR and is still more prevalent in larger practices and hospitals. Today, however, many smaller offices have found that ASP models work best if they do not employ a full time IT staff. When choosing which is right for you ask yourself:
Does your office have the computer expertise, to handle a client-server solution? If yes, make sure to involve your technical personnel in the purchasing decision.


Which would be more of a problem for you: being unable to access your system while your Internet connection is down, or losing time and data because your server crashes?
If you are still uncertain, you may consider starting off with an ASP, then moving to a client-server solution later on. Just keep in mind that there may be fees involved with moving your old data to the new system.
---
One of the most popular terms in this category, Meaningful Use incentives are often misunderstood. Read what they are, what they require for qualification, and what your practice can receive for participation.
---
Meaningful Use of EMR Technology
In an effort to standardize and improve the US health care system the federal government passed HITECH as part of the American Recovery and Reinvestment Act of 2009. (Some providers mistakenly believe that Meaningful Use is part of the Patient Protection and Affordable Care Act or PPACA, sometimes referred to as ObamaCare, but it actually predates PPACA and is entirely separate.)
Under HITECH you can receive payments from the federal or state government if you implement and demonstrate "meaningful use" of a certified EMR system (in other words you have to first buy an EMR system then prove you are using it to benefit patients by meeting certain criteria).
There are two separate but similar Meaningful Use incentive programs: one for Medicare providers and the other for Medicaid providers. You can receive incentive payments of up to $44,000 for participating in the Medicare program and up to $63,750 for participating in the Medicaid program; you cannot, however, participate in both. The CMS website provides details about eligibility, enrollment, requirements, and payments.
| | |
| --- | --- |
| Medicare EHR Incentive Program | Medicaid EHR Incentive Program |
| Run by CMS | Run by Your State Medicaid Agency |
| Maximum incentive amount is $44,000 | Maximum incentive amount is $63,750 |
| Payments over 5 consecutive years | Payments over 6 years, does not have to be consecutive |
| Payment adjustments will begin in 2015 for providers who are eligible but decide not to participate | No Medicaid payment adjustments |
| Providers must demonstrate meaningful use every year to receive incentive payments. | In the first year providers can receive an incentive payment for adopting, implementing, or upgrading EHR technology. Providers must demonstrate meaningful use in the remaining years to receive incentive payments. |
Evaulating EMR Software Sellers
In addition to selecting the electronic medical records software, you are choosing a new partner for your practice. The application you choose will be part of your operations for years to come, so it is important that you go with a seller who will be around to support it.
One way to help assess the stability of your provider is to choose a product with a large installed base. This ensures that the seller will continue to upgrade and improve the product, and demonstrates that the company has an ongoing revenue stream to keep them in business.
Another indicator of stability is how long the company has been in business. In order to meet the demand created by Meaningful Use many new companies have started offering EMR. Investigate prospective sellers thoroughly to make sure they have the experience and support you need.
As with any software, you should expect occasional problems or outages. While shopping for an EMR seller find out how they react when something goes wrong. Inquire about their support policies: do they have live support staff available by phone 24 x 7? or only during business hours? Do you have to sit on hold before you can speak to anyone? Do they guarantee a specific response time? Request a list of references and ask them the following questions: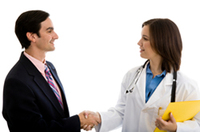 How responsive is the seller when you have problems?
Does the software do everything they said it would do?
Did the seller provide adequate training?
How much downtime have you experienced in the last year?
If you were starting over, would you work with the same seller again?
What do you like least about the program?
You can also look sellers up online to see what people are saying about them. All companies will have some unhappy customers, but a high volume of complaints should make you wary.
Electronic medical records training
Training and installation are critical. Getting started with a new electronic medical records system is an inconvenience even in the best case, so ask how your seller plans to minimize disruptions during installation.
The seller should provide extensive training for everyone who will be using the system. The better you understand your new system and how to use its various features, the greater benefit you will derive from it. Ask if the seller provides different types of training for doctors and support staff - and find out how long it takes to get training set up once you sign a contract.
Many practices prefer having a trainer come to their office, but this is not always possible. Web-based training can also be effective, but works best if there is still a live trainer available to answer user questions. Regardless of the type of training, make sure at least one of your staff members is highly proficient in the system and can answer basic questions as they come up.
---
It's important to know about the costs associated with an electronic medical records service -- in particular the wide (and often confounding) range of fees that can be assessed.
---
EMR Pricing
Different sellers use different metrics to determine EMR pricing, such as the number of practitioners, concurrent users, or how many computers the software will be installed on. A thorough needs assessment before you start shopping - who will use the system, and how - can make for smoother negotiation.
A medium sized practice may spend $30,000-$50,000 for a comprehensive client-server EMR program including hardware and software. Many sellers will set up leases or extended payment schedules, turning a hefty purchase into a more palatable monthly fee.
Pricing for ASP systems usually includes a setup fee of $1,000 to $3,000 and monthly fees ranging from $200 to $700 per full-time seller. Some ASPs may charge based on usage: $0.50 per updated chart or $0.80 for each new record, etc. Often, they have monthly minimums no matter how little you actually use the software. These usage-based pricing arrangements require you to estimate your average usage before you can compute the total cost.
There are a large number of additional fees to be aware of for both types of systems. Some sellers may include these as part of their monthly fees, and some may bill each item separately. As long as you know exactly what fees you will be expected to pay, you will be able to compare sellers accurately.
Additional EMR costs to be aware of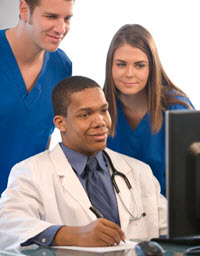 Data transfer fees - when you import existing data, sellers will often charge you for an extra step of cleaning, de-duping, and preparing the data for the new system.


Exit fees - when you leave the service, this fee covers the expense of exporting your data so you can move it to a new system.


Support fees - basic support is often included for six months or a year with the purchase of a client server system and is usually included in an ASP's monthly fee. However, you may encounter long hold times on the phone unless you upgrade to the "gold" or "premier" support package, which will cost extra.


Interface fees - some sellers will charge for setting up or monitoring your EMR system's interface with other software you are using.


Upgrade fees - ASPs will usually upgrade their software without charge to you, but client-server sellers may charge an upgrade fee because they have to help install the new software. Check your contract to see how often upgrades will occur and how much they will cost.


Training- As with support, basic training is often included, although it's usually computer-based training. If you need extra administrator training, or on-site classroom training, you can expect to pay extra for those as well.


Additional hardware - scanners, signature input pads, web cameras and other technology that is used to upgrade your EMR system.
Choose a reputable seller. You want to work with a company who will be there for you. Check sellers' references and reputation before hiring them.
---
Once you've settled on a platform and its customized settings, it's time to transition your office to the new system. Whether you're implementing an EMR or MPM system, many sellers will offer either phone, web-based, or in-person support – maybe even a combination of all three.
---
Integrating with Medical Practice Management Software
EMR
It helps to designate a tech-savvy staff member to coordinate the implementation of the new software. This individual will work closely with the EMR company and be your office's go-to person for questions.
Your existing paper charts will have to be incorporated into your EMR system. Most practices choose a "day forward" technique, in which records are scanned and converted into the system only as they're accessed – for example, when the patient comes in for a visit. This turns a daunting project into a more manageable ongoing task. You can also opt for a total conversion, hiring a document conversion company that can provide high-speed scanners. These services generally charge 1-3 cents per page.
If you are switching from one EMR system to another there may be a significant data conversion fee associated with moving patient records from the old system to the new one. Many practices choose to "sunset" the old system over time, using both systems concurrently for a while as data is moved to the new system.
MPM
Another essential piece of software used by medical practices is medical practice management (MPM) software. MPM handles scheduling, billing and insurance functions.
Both MPM and EMR are major purchasing decisions that cost many thousands of dollars. Because of the expense and the impact on your productivity it is advisable to purchase and install them one at a time. However, to get the most out of both systems, it is important that they work well together.
The industry-standard HL7 protocol allows health care applications to share data with each other. Both your EMR and MPM software should use it. For optimal performance, they should communicate in real time without having to export batches of data from one to be uploaded into the other.
You may find that your best option is to purchase your EMR and MPM from the same seller, assuring seamless integration. However, you may also find that the provider with the MPM that is ideal for your business does not offer the best EMR, so shop around and ask about potential compatibility issues.
For more information about medical practice management software, read the MPM Software Buyer's Guide.
EMR Buying Tips
Build a test plan. Create a script that walks through your most common office tasks, both simple and more complex. Use it when you try out each solution, and you'll get a balanced comparison of how easy each package is to use.
Portability of data. If you leave, how easy is it to export your records to take them to new system? Remember that the patient data is yours, not the sellers: they need to be able to provide you with usable information if you decide to stop using their software.
Agree on your charts. Multiple physicians in the same practice often have different charting styles. Make sure you have a standard chart worked out before you start evaluating EMR software.
Go for the standards. Make sure any software you choose for your practice uses both SSL (for security) and HL7 (for seamless data exchange). These industry standards ensure that your system is dependable and built for the long haul.
Ready to Compare Electronic Medical Records Price Quotes?