Choose the Best Medical Practice Management Software
The right medical practice management software (or MPM software) can transform the way your whole practice works. It can combine separate systems for patient billing, insurance claims, appointment scheduling, reporting, and staff management into one comprehensive package. By pulling all this information into a central repository, the best medical practice management software can make your staff more efficient in nearly everything they do.
Good medical practice management (MPM) software can help doctors avoid some malpractice claims or situations, while inferior products and poor planning can leave doctors, and anyone else involved in the medical practice, vulnerable. When shopping for medical practice management software and related IT tools for a doctor's office, it's important to think about how the threat of medical malpractice can influence the choices that business leaders make.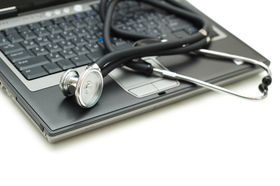 Evaluating MPM software
One of the first considerations to be aware of when you're evaluating medical software is the difference between comprehensive medical practice management (MPM) systems that handle large parts of your day-to-day operations, and medical billing software packages that focus solely on billing and related activities.
Medical billing software focuses on the financial end of your practice alone. It's less expensive than full-fledged MPM software, since it doesn't handle practice management tasks like appointment scheduling and reporting on diagnoses or procedures.
All medical software packages should be fully compliant with HIPAA regulations. The best medical practice management software can bring your office to 100% compliance with HIPAA's privacy and security rules.
If you have an existing Electronic Health Records system (EHR) for clinical data management, consider whether you want your EHR to integrate with your practice management system. If you don't have one, you might want to investigate systems that include both EHR and practice management functionality. Most of the over 100 practice management systems are designed to integrate with EHR systems. Of course, your software also should integrate with your clearinghouse systems and allow for HIPAA-ready electronic claims processing.
Features to consider
When looking for the best MPM software, small medical practices should consider its cost, ease of use, local support, and great feedback from other users. It will also be an excellent solution if it has the following features:
Registration: The small medical practice software must be able to capture patient data and manage them efficiently. Some nice features to look for will be automatic recall, patient database accounting tools, contacts manager, and temporary registration.


Scheduling: Appointments should be handled with precision and ease. Waiting lists, patient alerts, and real-time eligibility are essential features for this tool. It will also be a nice touch if you can pull up simple reports about your patients' check-in and checkout at the clinic. Some doctors want a mobile scheduling system integrated into the software. This also allows users to communicate with patients and use it for marketing purposes.


Billing: The medical practice management software must simplify the billing process and facilitate fast payment. You can find small medical practice tools in the market that can track charge postings and charge slips. It should also be able to accurately post payments and easily generate statements.


Security: The whole system should have an advanced security feature for some peace of mind. You must be able to customize access profiles for your team and other members of your staff. The MPM software must also have an audit trail, so any problem can be easily tracked and resolved.


Claims Management: MPM software must serve as a convenient platform to verify the eligibility of patients, track automated claims, monitor the status of inquiries, get fees update, and tap clearinghouse partners.


Reporting: You must be able to gain some financial and operation insight of your medical practice using the software. It must have standard reports that you can generate quickly. You must also be able to customize a report using the factors that you want to see.


Interoperability and Integration: An excellent medical practice management software must not have a problem integrating with other common systems and interfaces. It must also be able to connect with laboratory services, phone reminder systems, clearinghouses, and more.


Specialties: It should be adaptable to your field of expertise and other medical or surgical specialties of your business partners.
Compare ease of use
The best medical practice management software is focused on ease of use. If your doctors and administrative staff can't use it easily, even the best MPM software won't provide much of a productivity boost. And the only dependable way to evaluate ease of use is to try the software yourself.
Go through all your most common tasks on a free demonstration the vendor provides. See if you can figure out where information goes, if it's easy to navigate from one screen to another, and if the software can be set up to match the way your office works. If you can, get a second opinion from a billing clerk or another staffer who will use the software extensively
Choosing the best medical practice management software company
As you search for the best medical practice management software companies, you'll probably encounter two very different approaches to software delivery. Traditional systems, where you run the software on your own computers, are contrasted with application service provider (ASP) or software as a service (SaaS) models, in which the bulk of the processing and data storage is done at the software company's data center and you access it over the Internet.
Both models can provide excellent reliability and most of the same features. One important distinction is that in-house software involves a larger up-front purchase fee, while ASP software is usually priced per user per month.
Ultimately, the best MPM software companies are those that treat your business like a partner, taking the time to understand your needs so they can offer a solution that you'll be happy with.
Ready to Compare Medical Practice Management Software Price Quotes?