Electronic Medical Billing Programs and Software
Deciding you will use electronic medical billing software means you are ready to take your medical practice to the next level. In terms of efficiency, there is no comparison between the old system and digitizing. The ease with which you can verify eligibility, submit claims, see payments posted automatically, and perform other functions will get your staff off the phone and focused more on the patients.
There are several other important benefits to be gained from the right electronic medical billing software, including:
Improved staff productivity - easy-to-use software improves efficiency
Increased patient and customer satisfaction - more flexibility in scheduling and better access to personal information
Faster payment from insurers - paper claims usually take 30 - 60 days, electronic claims are usually paid in 10 - 14 days instead
Fewer errors in billing and insurance - correct and resubmit in hours, instead of week
Features
Here are five features to look for in a software package:
Claim submission solutions. Claim submission solutions include everything from automatic submission to pre-scrubbing of the data. There are countless ways for a claim to be rejected. Advanced medical billing software features a "Claim Inspector," able to hone in on the major areas known to create issues and eliminate them beforehand.


Eligibility verification. Instead of calling around and trying to coordinate with insurance providers, you can let your electronic medical billing software handle the job for you. Automatic requests for confirmation can go out as many as seven days in advance of an appointment. You'll know well ahead of time whether there is any issue.


Automatic payment posting. Checking for bank notifications is a waste of time when you can put software on the job. Instant posting squares your accounts and allows your staff to move on to the next project. In terms of time saved and stress avoided, this job saves staff hours over the course of a month.


Instant check on the status of claims. Going through the motions of checking a claim with an insurance company can be a long process. Since every provider has multiple calls coming at any given moment, your staff will end up waiting on hold when they could be helping a patient in the office or doing another more constructive task for you.


Appointment scheduling, confirmation and wait list services. Losing appointments on a regular basis means your practice has time blocks that could be filled with paying patients. Automated scheduling, confirmation and wait lists can notify patients of coming appointments, confirm their reply, and move on to the next person on the wait list if they do not show up for their scheduled time. Keeping a steady stream of patients is crucial.


E-prescribing. Forwarding prescriptions electronically saves time and money. You would spend less time on the phone with a pharmacist answering questions about a prescription you had ordered. Your staff would not have to send prescriptions to a pharmacy by fax and wait to see whether it had been received.
Software to help medical practices manage their finances has been around for decades. However, today's electronic medical billing programs are more accurately called medical practice management software (MPM software), and bears only the most basic resemblance to its older counterparts.
Billing and claim processing software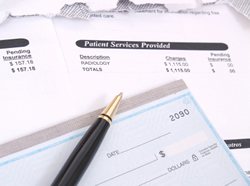 The switch to medical practice management software can be challenging at first; from e-prescribing to billing and claim processing, there are numerous options that keep your focus on caring for patients. These five choices are great options for billing and claims, whether you choose web-based applications or installed software:
Iris Medical Services
Medical practice management software has the ability to accommodate larger practices as well as smaller offices. The key to the Iris billing system is in its design. Experts at managing practice revenue cycles did their best to make billing consistent and error-free. Contracts are stored automatically and insurance is verified well before patients arrive for treatment. Support is included in the subscription fees, allowing you to take the guesswork out of tech issues.
Physicians Billing Service (PBS)
Priced affordably and requiring no software installations, PBS billing and claim processing software makes sense for most small practices. Your staff will be delighted in these fully web-based applications, which are Mac-friendly and convenient. Training on the software and tech support are included in the monthly fees.
Preferred Health Services
PHR's attention to detail and overall ease-of-use make it a top choice among small practices. Using this software, you can create financial reports that sum up the status of claims on a daily or monthly basis. HIPAA-compliant billing will no longer be an issue when using PHR. Their software packages can clean up any of the clerical issues your office has been facing.
AdvancedMD
Flexibility is one of the key factors for small practices choosing AdvancedMD software for billing and claim processing. You will be charged only for the specific modules you need and have the option of canceling if you cannot make your practice run more smoothly. Users of this software report more than 95 percent of claims accepted on the first try. When you consider the exorbitant cost of claims processing errors, it's easy to see why AdvancedMD is popular.
PPM Connect
Another practically error-free program is this option from PPM. Able to flag errors before going out in claims, you'll see minimal denials and track your revenue stream effectively using this software. PPM is cloud-based and has complex billing codes inside each package. Your staff will get a major boost in time management when using this system.
Finding a medical billing provider
Most medical billing programs will bring you into compliance with the sections of the Health Insurance Portability and Accountability Act (HIPAA) that specify increased security standards, ANSI billing formats, and more. Note that we say "most" - some software may provide only partial HIPAA compliance. You should quiz vendors carefully about the HIPAA compliance of any software you are evaluating, particularly around electronic billing and security measures.
How to investigate an electronic medical billing program
First, make sure you include the right people in the purchasing process. Physicians, office managers, receptionists, and billing managers will all have different viewpoints and important concerns: taking any major steps towards a purchasing decision without involving every role is likely to lead to problems down the line.
Next, see what practices like yours are choosing. Find offices similar to yours in size and specialty and visit their offices to see the software in action. While this may seem like an obvious tactic, it is highly effective. Try to find software that matches your specialty and office size by asking these types of questions, as they apply to you:
Does the system handle scheduling quirks unique to your practice?
Does the system recognize all the procedure and diagnosis codes your practice uses?
Can the system handle multiple offices and multiple doctors?
Can information be accessed from multiple locations?
Does it include inventory tracking or the ability to manage several separate accounts?
Of course, the best way to compare ease-of-use is to try it yourself. Many vendors allow you to log in to a sample account or will send you a sample CD to let you try out the software: take advantage of these opportunities. Have all the interested parties from your practice go through their most common activities to get a sense of how easy the software is to use - watching "canned" demos does not give you the same in-depth look at the products.
Ready to Compare Medical Practice Management Software Price Quotes?