Choosing a Transcriptionist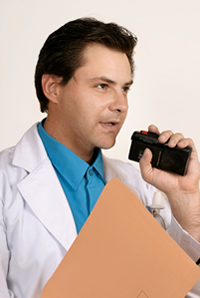 Converting a physician's digital recordings into electronic documents isn't easy. With so many medical terms and industry abbreviations to know, you need a reliable transcriptionist who is familiar with these terms and can accurately document the information.
A well-trained transcriptionist can handle multiple projects from a simple one-page diagnosis to a complex multi-page consultation recap. Medical transcription services can take a close look at what your practice does, and assign the right transcriptionist to help document all of your discharges, diagnoses, prescription data, consultations, and more.
BuyerZone can help you find the right transcriptionist for your practice. Simply complete an easy form to receive a free request for medical transcriptionist quotes, and we'll have several top providers contact you to find the best fit. Once you start receiving quotes from multiple companies, it's time to select the one you want to work with.
Transcriptionist traits to look for
To make it easier to hone in on your decision, here are some of the things you should look for in a transcriptionist:
Turnaround time – Whether you need a document within 1 to 2 days, or 2 to 4 hours, the transcriptionist should be able to adhere to the promised time frame. Find out when they need to receive a project to get the quickest service and if they offer some sort of guarantee if they don't finish the project in the expected time frame.
Accuracy – The medical world is one where a seemingly small error can have big consequences. You can't afford for a transcriptionist to make a mistake with a patient diagnosis or prescription information. Always look for a transcription service that emphasizes accuracy and reviews work before submitting finished projects.
Security – You need to protect patient data from falling into the wrong hands. Any transcriptionist you use must adhere to HIPAA regulations and uphold patient confidentiality. Make sure they send completed documents over secured web sites and learn how they protect your information on their premises.
Audit trails – To keep track of everyone with access to your information, a medical transcription service should be able to track who opens a document, who made changes, and when. This way, you know who to approach if you have questions.
Experience – Many medical transcription services require transcriptionists who completed a post secondary training program at a vocational school or community college. Others may have some form of medical experience, either from a previous job or to earn extra income while in school. This ensures you have reliable personnel that will do the job right.
Certification – Look for medical transcription companies that employ Certified Medical Transcriptionsts (CMT). The American Association for Medical Transcription (AAMT) makes sure its members adhere to certain standards and stay on top of industry changes.
Consider offshore – Many transcription services hire workers outside the country. Offshore transcriptionists are less expensive, well trained, and because they live in different time zones, are available to turn around a project when a U.S. transcriptionist isn't.
Industry specifics – If you have frequent transcription needs for your practice, or need a transcriptionist that specializes in your area of expertise, a medical transcription service can assign a team to your business. That way, they're familiar with your practice and note taking techniques so they can complete jobs faster.
Transcription methods – You'll typically record notes onto a digital recorder or dial into a special 800 number. The transcriptionist then listens to the recording by opening an MP3 file, accessing an FTP server, or calling into the 800 number. Find out which methods the transcriptionist is most familiar with and choose the most convenient one.
More than transcriptions – Some certified transcriptionists may also perform other medical office duties such as admit patience, schedule appointments, and other clerical responsibilities. This gives you more options if you need other services for your practice.
Ready to Compare Medical Transcription Services Price Quotes?