Real-world Ultrasound Equipment Prices from BuyerZone Buyers
We regularly survey BuyerZone users to find out how much they paid for their purchases. Here's a look at the prices they've paid recently for ultrasound machines.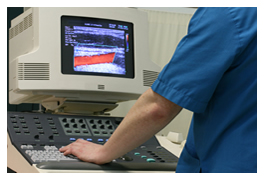 You can save money by purchasing a used ultrasound machine, but make sure you test it in person before you buy.
The responses below include a mix of new and refurbished or used ultrasounds. If you don't need the absolute latest and greatest technology, buying used is a great way to save money, as long you take some precautions. Always buy from a qualified medical equipment vendor - not from individuals or unrelated businesses. The "bargains" you're looking for can easily turn into major headaches if you don't at least a 90 day warranty on your purchase.
Second, make sure the model you choose is compatible with the exact procedures and accessories you want to use. Just because a transducer you already own was made by the same company as your new ultrasound machine is no guarantee that they'll work together.
Finally, keep in mind that an ultrasound machine will help pay for itself in exam costs. While it can easily cost $20,000 for a new machine, urology, ob/gyn, and other types of practices where they get a lot of use will find that those costs can be recouped fairly quickly.
Here are some example prices for ultrasound machines:
"B&K Flex focus 1 probe, 1year warranty, service contract. $24,900. Included transducer that allows the biopsy needle to go through the transducer with no out-rigger."

- Urology practice, Franklin, Tennessee

"Sonosite 180, $10,900. Brand new."

- Physician's office, Lone Tree, Colorado

"I purchased a used Sonovet 600 from National Ultrasound for $6,600. I have a one year warranty . I am very pleased."

- Veterinary practice, Norwalk, Ohio

"$49,000 dollars for a HD 11XE sonogram machine without 4D, new, with extra monitor and 2 printers. 2 OB/GYN transducers, endovaginal and sector scan (lineal c4)."

- Family practice, El Paso, Texas

"GE Vivid 7 with warranty- $10,000. 2006 model, with stress echo."

- Physician's office, Fair Oaks, California

"Aloka 1400 w/ UST 986, 1 yr. warranty on both w/Medicapture $7,000. Small footprint transducer with B and M modes."

- Veterinarian, Largo, Florida

"$20,750 dollars - 2 year warranty, free shipping, and 1 day training. For thyroid ultrasound, needle biopsy, power Doppler."

- Physician's office, Pittsburgh, Pennsylvania

"2008 GE Vivid 7 Dimension Ultrasound, $18,300. A late 2007 model was cheaper but had a 17 in monitor and older model transducers. In comparing the two we decided to go with the newer, less cannibalized version."

- Cardiologist, Columbia, South Carolina

"Summit Vista 500 with everything,m including movable stand and software. I even qualified for an upgrade to the newest style. All out the door for $5,400. Had to pay an extra $200 for 5 MHz probe."

- Physician's office, Trumbull, Connecticut

"$24,000 with 3 transducers including abdominal transducer. Included trade in of my old ultrasound equipment."

- Urologist, Hornell, New York

"$14,400 for refurbished Aspen with 3 probes plus a 128 to use with our old probes. Option to upgrade later to vascular and cardiac capabilities."

- Hospital, Stuart, Virginia
Want more information on buying ultrasound equipment? Read our Ultrasound Machines Buyer's Guide.
Information was provided by BuyerZone users. Quotes have been edited for clarity only.
Ready to Compare Ultrasound Machines Price Quotes?