New Developments in Ultrasound Machines and Other Medical Imaging Equipment
Medical imaging equipment includes several technologies central to modern medicine: ultrasound, MRI, CAT scan, and X-ray machines. When buying medical imaging equipment for your practice or hospital, it's important to focus on remaining competitive while providing the highest level of service to your patients.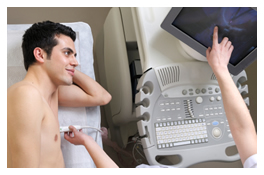 Since ultrasound images render immediately, doctors can show the patient what they find as they conduct the procedure.
You probably already know what type of imaging equipment is right for your current diagnostic needs and how it operates. So here's a quick review of the latest trends related to each:
Ultrasound machines
Greater mobility - With improvements that include portable hand-held devices and the introduction of the wireless transducer, ultrasound now has the capability of imaging internal organs without the constraints of cables or bulky machinery. These key developments have already improved point-of-care at hospitals and veterinary clinics, as well as the public's access to this type of medical imaging.
Enhanced imaging - Through real-time 3-D imaging of structures, the view of ultrasound images has taken huge steps forward with contrast-enhanced imaging, volume imaging, and elastography. These improvements enable doctors to view blood perfusion and blood flow and differentiate between malignant tumors and benign, far more easily and more accurately than ever before.
MRI (magnetic resonance imaging) machines
Reducing the magnet - Magnets are the cornerstone technology of an MRI system. Unfortunately, they're also the biggest, most costly, and most restrictive part of the system as well. The challenge in recent years has been to shrink the magnet package in the hope of providing a more affordable machine while simultaneously improving siting characteristics. To achieve these goals, modern machines position the magnet in relation to a counter-acting magnet. This creates a magnetic field that is much better contained while preserving the magnetic field (and therefore the effectiveness of the process) for the patient.
Open design - Another aspect, one that typically causes the most dread among patients, is the enclosed nature of the machine's design. So current models have attempted to increase the feeling of "openness" by promoting designs that feature larger and larger aperture sizes.
CT scan machines
Multi-slice spiral CT scanners - New technology enables "multi-slice" spiral CT scanners to acquire up to four slices in a single rotation and as much as eight times more data than previous models. This capability allows them to provide a wider range of non-invasive imaging while boosting the accuracy of the results - and delivered with substantially greater patient comfort in comparison to older CT scanners.
Virtual reality and 3-D CT scans - Through the use of computer software, the spiral CT process can now create three-dimensional images that further broaden the capability of non-invasive endoscopy, omitting the tiny camera while still providing a complete picture of the colon and other organs. This process also reportedly enables doctors to place a stent in major blood vessels - a process that was difficult if not impossible with traditional endoscopy.
X-Ray machines
One of the primary transitions in medical imaging is occurring in x-ray technology. X-ray equipment is being steadily converted away from a film-based process and towards computerized imaging. The two new choices are digital radiography (DR) and computed radiography (CR).
DR is equivalent to a digital camera: x-rays pass through the body and strike a digital sensor that translates the results into an image. DR is more expensive, but the fastest and most sensitive option.
CR replaces the film plate with a reusable imaging plate. The results of the x-ray are captured by a phosphorus plate, which is then placed into a reader that converts it into a digital image. It's less expensive than true DR, and can be retrofitted onto existing x-ray systems.
Either way, x-rays are available much faster - instantly, in some cases. Image quality improves because digital images are more easily adjusted if under- or over-exposed. Plus, it also eliminates ongoing costs for film development and storage.
Ready to Compare Ultrasound Machines Price Quotes?