Ultrasound Machine Help Detect Problems Before They Develop
Most people know that an ultrasound machine checks the status of a fetus during the early stages of pregnancy to ensure the baby is healthy and developing properly. But medical practices also depend on this versatile piece of medical imaging equipment to detect problems such as ulcers, tumors, and artery blockages in other parts of the body.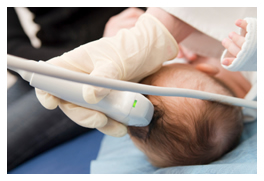 Doctor scans a baby's head using a small ultrasound transducer.
Although an ultrasound machine sounds ominous, it actually performs a painless, non-invasive procedure that produces little to no harmful side effects. It allows you to create vivid two-dimensional or three-dimensional images of a fetus or body organ in real time as well as display movement of organs and blood vessels. It's also inexpensive to operate so patients can afford it.
However, ultrasound machines aren't all-purpose medical devices. They can't clearly pass through bones, lungs, or gas-encompassed areas. Also, you need to be careful not to overuse an ultrasound machine on pregnant women because prolonged exposure to electric waves could cause long-term damage to the fetus.
Ultrasound machine features
The typical features you'll find on an ultrasound machine include:
Central processing unit (CPU) - The "brains" of the ultrasound machine, the CPU sends electrical waves to the body that can pass through body fluids and soft tissues. The CPU also performs calculations and holds the power supplies for the machine.
Transducer probes - Handles that attach to the ultrasound machine with coaxial cables to examine the body part. The frequency of the sound waves determines the clarity of the image.
Transducer pulse controls - The ultrasound machine operator (aka "ultrasonographer") creates and alters the frequency and duration of pulses coming from the probes.
Display - Either a monitor or oscilloscope that converts the processed data from the CPU into black and white or color images.
Input devices - Built-in keyboard and trackball that lets you enter data and take measurements.
Coaxial cable - 48 to 256 individual cables that run about 2 meters long and connect transducer probes to the ultrasound machine.
Printer - Thermal printer to produce hard copies of the images.
Storage device - Allows you to store ultrasound machine images to hard disk, recordable CD or DVD, or radiographic film.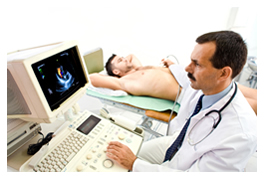 A doctor monitors a patient's ultrasound results during a procedure.
How an ultrasound machine works
An ultrasound machine releases high frequency sonic waves through the body to create echoes that determine the distance, shape, and size of objects inside. The machine sends the waves through transducer probes that you run over the surface of the body or insert into the body organs. From there, pulse controls detail the frequency, duration, and scan mode of the waves to check for any irregularities.
Once these waves are emitted through the ultrasound machine, they're fed into the CPU which then displays the moving image on the screen. You then use a keyboard/cursor to take measurements of the image. When completed, you can either print up the ultrasound image for future examination, or store it electronically to attach to the patient's file.
An ultrasound machine is just one solution
Ultrasound machines are part of a subsection of modern health care known as medical imaging equipment. This includes MRI (magnetic resonance imaging), fluoroscopy, x-rays, CAT Scans, and more. If you're looking for medical imaging equipment for your practice, submit a free BuyerZone request for quotes and get matched up to multiple providers. These providers will help you find the right ultrasound machine, or other medical imaging devices you'll need.
Ready to Compare Ultrasound Machines Price Quotes?