Set up a Direct Deposit Payroll System for Fast Electronic Payments
How do you provide direct deposit to your employees as a payment option? Setting up an electronic system of paying your employees is an option that you can set up with either your bank or your employees' banks. Before you can make the arrangements, you will need to be sure you are compliant with all applicable laws.
Whether you choose to pay your employees electronically or by traditional check, you still need to calculate their regular hours or salary earned during the pay period and make the required deductions from their pay.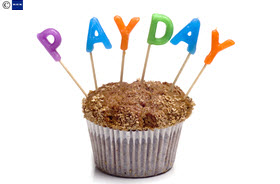 Overview of direct deposit of pay
Direct deposit is a way to pay employees where the funds are transferred electronically to the recipient's bank account on each payday. Instead of receiving a paper check, the employee receives a printed or electronic stub listing the following:
Gross pay
Withholding tax and other deductions
Net pay deposited
Advantages of direct deposit
The advantage to employees of direct deposit is that the funds are waiting for them on payday. They don't have to wait to physically receive a check and deposit in the bank to be paid.
For employers, this system is faster and more efficient than having to issue paper checks. Since funds are being paid electronically, there is no need to deal with stop payments and reissuing checks that have been lost or stolen. Bank fees are lower, and keeping track of transactions is easier when it's time to reconcile balances for the business bank account.
How do you provide direct deposit to your employees
The first step is to learn about direct deposit laws in your state. Participation may be need to be voluntary, as some employees may still prefer to be paid by paper check. Your next step would be to visit your bank or the banks you are interested in working with to find out about their direct deposit programs. The bank may request that you have a certain number of employees participating in the program or that you are registered with the Automated Clearing House (ACH).
ACH is an electronic funds transfer (EFT) system. To set up a system relationship with your bank, you would be asked to fill out an application that would include providing details about the type and volume of transactions you would be performing (single or recurring), and other information about your business. Based on the information provided, you would get a set daily and monthly limit for debits and credits to your account.
Before making any decisions about the best way to set up a direct deposit payroll system, consider your options carefully. Look at the cost savings, or whether you would need to sign on with a third-party payment processor, among other factors. And, importantly, remember to ask about bank fees before choosing a package of services.
Ready to Compare Payroll Services Price Quotes?