Payroll Services Have Come a Long Way From Punching a Timecard

BuyerZone has been helping businesses buy smarter for over 15 years, with free purchasing advice and help finding the best companies for over 150 different purchases. The following Large Business Payroll Guide will offer advice on payroll services specific to your size.
Large Business Payroll Guide
Large Business Payroll Guide
Payroll services are necessary tools for businesses of any size, but are especially important for large companies that need to manage hundreds of employees' timesheets and paychecks. It is near-impossible for a larger business to manually keep track of all employees' schedules, hours worked, paid time off, benefits, and tax information — and those are just the basic elements of payroll. Investing in a payroll service is a sound business decision because it will simplify these otherwise complex tasks. Here are the challenges many businesses face with payroll, and how a service can help.
Major challenges for large businesses
Big companies have a higher number of workers and vendors to keep track of than smaller companies. Whether your business employs 100 workers or 1,000, you must make sure that each individual's hours are accurately recorded so the person is paid in a timely manner, that each person receives benefits and a 401(k) if relevant, and that taxes are being deducted from paychecks.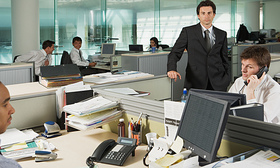 If any of these factors are inaccurate, it could take vital time and resources away from other business matters, lead to dissatisfied employees and poor work morale, and cause difficulties in filing taxes and problems with the IRS, as well as both short- and long-term financial problems. For example, if a business pays a vendor without completing a W-9 form first, they may be subject to withholding or other penalization, and one of the last things any business wants to deal with is being audited by the IRS.
What a payroll service can do
Payroll services have come a long way from having an employee simply punch a timecard to clock in and out. A good payroll service will manage direct deposit of employees' paychecks, calculate deductions, process payroll taxes, and more. It should also provide web-enabled self-service for your employees, making it easy for them to log hours and view statements online. Your service can serve as a comprehensive solution across many departments, providing human resources (HR) support, data integration, employee-benefit accrual, workers' compensation, health insurance, and more.
According to the American Payroll Association, outsourcing your payroll service is typically a better solution for building a system that meets the needs of large, complex organizations. A service can assist with unemployment management when employees leave or are terminated.
Although finding and investing in a payroll service that's right for your company requires an up-front investment, it will save you time, effort, and money in the long run. You won't have to worry about tax issues or keeping track of employees' hours because payroll services will organize it for you and make processing payroll easier.
Ready to Compare Payroll Services Price Quotes?