Real-World Payroll Services Prices
How much should you pay for a payroll service for your small business? Here's the ammo you need to make your payroll purchasing decision. We've collected real-world prices from thousands of BuyerZone users over the years, and here we're sharing some telling examples of how much payroll processing and related payroll services are costing businesses today.
In this article we're comparing prices for very small businesses: those with a single employee, and those with two to nine employees. You can also take a look at payroll service pricing for larger businesses with 10 to 150 employees.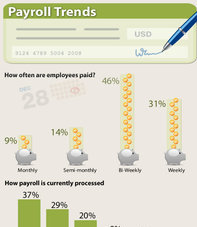 See what other BuyerZone users are looking for when they're comparing payroll providers.
Based on the information we received, here are some points to consider about pricing:
Most services small businesses need are included in the basic monthly costs: paycheck processing, online account access, tax filing, and direct deposit are all usually standard.
Prices can range from $20 to $150 per month depending on the frequency of payroll and the number of employees. Per-check fees, if applicable, range from $0.75 to $2 or more, and additional fees for adding new employees, check delivery, and extra reporting are typical. Make sure you get a full breakdown of all fees before you commit to a provider.
50% of of the decision makers at the businesses surveyed were trying to make a decision on a purchase 1-2 weeks after getting a quote on their service.
As you review the prices below, pay attention to the time period each quote is describing. Some listed prices are for monthly payroll, others per pay period. In general, payroll service vendors charge higher prices for more frequent pay periods.
Payroll processing costs for 1 employee
"Full payroll service $25 per pay period (bi-monthly); $35 for year-end filings."- Retailer, Hudson, Massachusetts
"$12 per payroll, one person once a month."- Accounting service, Denver, Colorado
"$38, for one employee per month, and tax services were included."- Landscaping Service, Hartford, Connecticut.
"First month free, then $9.95/mo for 3 months, and $10/week after that. Direct deposit included; also all state and fed tax forms." -Retailer, Portland, Oregon
"$14 per payroll period for one person. We also purchased pay as you go workers compensation insurance."- Advertising/Marketing/PR, Santa Barbara, California
"$51 per month, online entry, all taxes and forms, and full training."- Advertising/Marketing/PR, West Jordan, Utah
"Approximately $20 per month for all services including year end and quarterly filings."- Brokerage/Securities, Vienna, Virginia
"$18/month. No extra charge for quarterly filing and year end reports."- Real Estate, Cupertino, California
"$10 per week plus $1.50 per check."- Other Business Services, Deep River, Connecticut
"Full tax filing services, direct deposit and all normal full service features for 1 employee for $13/month (first month free)."- Business services, Florissant, Colorado
Payroll processing costs for 2-9 employees
"Went with Paycycle.com - they offer a monthly fee-based service, not payroll-based, and we're able to process as many payrolls each month as we wish to for that one monthly fee. In our scenario, it's costing us about $23 each month, compared to at least double that amount with the other suppliers, who base their fee on each payroll processed (and we do two each month)."- Insurance, Garland, Texas
"$50/month, for 1-5 employees. We currently process payroll for 3 employees but were told we would get the same rate as we grow up to 5. We got similar payroll pricing costs from a few different companies but this rep was nearby and is a good contact for us locally." - Software development, Boston, Massachusetts
"$59.99/month, no service contract, direct deposit included, no additional setup fees, additional services available if needed beyond payroll." - Financial Service, Norcross, Georgia
"$33.95 per payroll period including workers comp, tax filing, etc." - Manufacturing, Aurora, Ohio
"$7.50 per check includes all Human Resources advice and biweekly paychecks. Does not include deposits to government; Does include payroll reports required." - Other Business Services, Andover, Connecticut
"$44.95 per month for payroll processing services, plus $1.85 for each direct deposit. Online processing, employee self-service, interface with online time clock and with Quickbooks."- Manufacturing, Aurora, Ohio
"Free for first month, $9.99 for next 2 months, $25-$42/month thereafter."- Media/Entertainment/Publishing, Orem, Utah
"$59 per month for full processing up to 5 employees including W-2 processing, tax filings, reporting, and direct deposit."- Health Care, Sharon, Massachusetts
"$20 per payroll, but the vendor was able to process our payroll quarterly, not monthly, and that was the deciding factor."- Education, Liburn, Georgia
"Full service payroll, payment of all state and federal taxes, W-2, 1099, and all year-end tax statements for $31 per month."- Consulting, Orinda, California
"$133 per month. Local service, handbooks, and customer service."- Other Retail, Shreveport, Louisiana
"First month free. Months 2 and 3 $9.99/mth. Each month thereafter $24.99. For up to five employees. Includes unlimited number of payroll transactions per month, direct deposit, processing of all taxes, printing of checks, email communication with employees. Contract is month to month."- Education, Henderson, Nevada
"Roughly $32 per payroll and $25 for year end with $2 per W-2 per employee with all the bells and whistles including the ability to do 90% of what needs to be done online."- Religious Organization, Philadelphia, Pennsylvania
"$45/mo for four employees. Biweekly pay, envelopes stuffed with signed checks, direct deposit, monthly and quarterly statements for record keeping, and payment of income taxes with all liability on them." - Insurance agency, Brownstown, Michigan
"$45.55 per pay period for a bi-weekly payroll including tax service, direct deposit and garnishment.Section 125/POP is $25 per month, W-2's are $35 plus $3.50 per employee, and workers' comp is $120 per year."- Nonprofit, Cambridge, Massachusetts

Find out more about how to choose a vendor, the features you can take advantage of, and the factors that will influence your total costs in our Payroll Services Buyer's Guide.

Ready to Compare Payroll Services Price Quotes?