Paychecks are Out and Mobile Payroll is In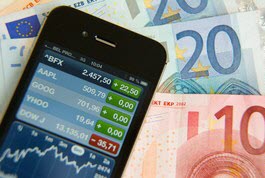 With Mobile Payroll, employees will be able to handle their finances better. REX Features
According to CPA Practice Advisor, "One of the fastest growing areas of professional apps is in the payroll space." In fact, most of the top payroll service providers offer mobile apps to their customers. This includes ADP Mobile Payroll, PayChex Online Mobile App, SurePayroll Mobile Payroll, execupay software, Intuit Online Payroll and Thomson Reuters Mobile CS. All of these companies offer the app free with their payroll services.
What mobile technology can do for your small business
Pay your salary, hourly, and 1099 employees.
Enter earnings, deductions, hours worked,and benefits like vacation, sick, and personal time.
View or change your check date.
Preview your payroll and payment methods to ensure accuracy.
View previous payroll summary reports.
Access employees' contact information.
Run your payroll
Stop direct deposit.
Keep employers abreast of payroll deadlines, bank holidays, employees' birthdays, and compliance updates.
Once you've downloaded an app, you can run payroll from anywhere in just a few swipes and know that your taxes will be paid and filed automatically.
Vigilance in benefits and payroll compliance
Depending on the amount of time employees work for you, calculating benefits can get complicated. The mobile payroll management system lets you manage each individual's special circumstances, whether adding up paid vacation time or contributing to a retirement fund.
Additionally, you won't be surprised by any changes in payroll compliance. Alerts warn you when there is a shift in payroll tax policy or change to the federal minimum wage.
What it means for employees
Glancing around the office, you've probably noticed the proliferation of tablets and smartphones. Employees can receive their check summary and note the transfer of funds to their accounts via direct deposit by glancing at their Internet-enabled devices.
In effect, you save them a trip to the bank, ensure they get the funds at the soonest moment, and answer all questions online -- the way most employees prefer it.
Savings in costs and resources
Every printed check costs businesses close to two dollars. When an employee loses the check and needs a replacement, it becomes even more expensive. Mobile payroll with paperless checks keeps your costs down and eliminates the hassle of waiting for checks to arrive, signing them, and having management pass them along to employees. On top of the convenience factor, you conserve paper resources and reduce your company's carbon footprint.
The downside of mobile payroll
Depending on the average age of your workforce, some 40 plus employees will not consider purchasing a smart phone, tablet or iPhone to handle their payroll and HR issues.
The largest concern is that of security. If a phone is lost or stolen, someone may be able to access personal information. Also, remember that these mobile devices all operate by wireless internet. Wireless internet is not as 'safe' as company-based or home-based Ethernet. If a user is at a restaurant, riding public transportation or sitting in a park hot spot and uses the wireless device to access his payroll information, it is much easier for a hacker to get to it.
Most mobile payroll app vendors are constantly programming newer features to help keep this data safe in space.
Ready to Compare Payroll Services Price Quotes?