Types of PEO Arrangements
Professional Employer Organizations (PEO) are becoming an attractive alternative or both small and medium sized businesses as an option to accomplish business requirements at cost-effective rates. Unlike standard leasing companies that offer limited payroll services, a PEO offers the ability to be a co-employer, sharing in many of the jobs that would normally require additional staff in your business. PEO companies also bring additional benefits that would normally only be available in large company environments, at significantly reduced costs. The employee offerings can elevate the small or mid-sized business to have the ability to entice and keep talented staff and increase your overall business profile.
There are a few options that are available with PEO arrangements: Classic PEO, PEO with carve-out, ASO (Administrative Services Organization) and A-la-carte. There are four main considerations when making a PEO choice: Employee size, Technology, Customization and Employment Relationship (Co-Employment).
Classic PEO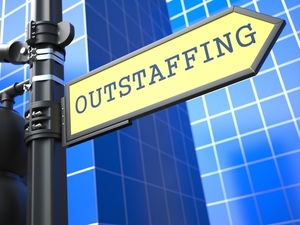 Classic PEO is an all-encompassing program group, typically for the small company (under 19 employees) that wants to offer all of the benefit offerings, but doesn't have the staff time available to coordinate but is a better fit for companies with over 40 employees, whose main focus is growing their business but chooses not to hire additional staff for benefits administration. Once your company contracts with a PEO, you will be existing in a co-employment relationship in which both you and the PEO company will share in the liabilities and responsibilities. While the PEO will assume a much greater level, your company will still maintain responsibility for and management of the rest of company operations, including employment law compliance, but the PEO company will be the Employer of Record. A classic PEO arrangement will include:
Business Employment
Human Resource management
Payroll and employee tax compliance
Tax filing compliance for both State and Federal governments
Health Plans covered by the PEO Master policy: Benefit package offerings that may include medical, vision, dental, long and short term disability, life insurance and 401k retirement plan.
Worker's Compensation
Safety and Risk Management
Regulatory Compliance
As an employer, you will be responsible for maintaining a safe work environment as well as the standard responsibilities associated with employer related taxes and employer related administrative activities. Each of the components that the PEO company will be responsible for will be detailed in the contract or agreement, with the ability to allow changes or alterations for employer preferred control or responsibilities in specific areas.
Pricing for a Classic PEO is at the highest charge, as it includes many services and can be a bit confusing. PEO companies may offer a per-employee-per-month fee as a stand alone cost and/or bundled with a percentage of payroll. An example of the stand alone might be $100 per month, per employee. An example of a bundled with payroll percentage might be $50 per month, per employee and $10 for every $100 of payroll paid.
PEO with carve-out
PEO with Carve-Out is typically used by medium sized companies that may already have some benefits plans that they want to maintain or may not wish to use all of the services in the Classic PEO offering. A carve-out plan with a PEO company may involve your business starting with the offerings of the Classic PEO and making specific benefits selections that require the PEO company to work outside of their normal offerings and prices. Each of the responsibilities that are included with the Classic PEO can be evaluated by the business owner and the PEO company to evaluation, inclusion or exclusion and PEO responsibilities designated in the contract or agreement. The PEO company will be the Employer of Record.
The benefit of a PEO carve-out is for the business to maintain any existing arrangements that may offer more opportunities or cost savings for the company as compared to those being offered by the PEO company. The benefits you may not want to include might be previously brokered discount health plan options with levels that fit your employee needs or maintaining an existing Worker's Compensation Insurance plan in-house.
The cost of a PEO with the carve-out option typically starts with the Classic PEO, with a price associated with each service. You can determine which of the services that you don't want to include, which lowers the price. In addition to a service fee, the PEO company can break out the individual costs of services, using reduced variations. An example of a service that you might not want to include would be Worker's Compensation, where a charge is based on a dollar per hundred configuration. i.e. $5.00 Worker's Compensation charge for each $100 payroll processed. Some of the service charges are based on state-specific guidelines. Fees for various services are also based on the job code and configured in a figure with respect to the gross annual wage of the job code. Pricing falls into four categories: statutory or pass through costs, Workers Compensation Insurance, State Unemployment Tax Obligations and Administrative fees and services for your business.
ASO (Administrative Services Organizations)
An ASO PEO offers the various services of a PEO but does not take on the standard employer of record responsibilities. All reporting and documentation is accomplished under the business FEIN, with your business held responsible for all tax remittance and payroll law compliance. This option typically fits in the business model of between 40 and 75 employees.
Each of the offerings in a Classic PEO can be added as additional stand-alone services within an ASO PEO contract. This would be an option for your business if you wanted to take advantage of the Human Resource services but did not wish to include any medical or supplemental health coverage or to have more flexibility in using your existing benefits that you have already brokered at lower rates. Other services that would be included in an ASO PEO could be Workers Compensation Insurance and Safety and Risk Management.
An example of the administrative fees for a PEO ASO would range from $600 to $1,200 per employee, per year.
The overall benefits of achieving the high level professional services of a PEO company are not only cost effective, but can give your business the opportunity to focus on the art of your products and services, with less time on the administrative side.
Ready to Compare PEO - Employee Leasing Price Quotes?