PEO Employee and Employer Benefits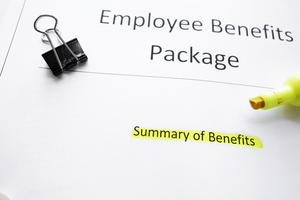 Successful businesses have found that there is a direct correlation between maintaining a trained and happy staff and an increase in their bottom line profitability. The savings on this side is on a variety of levels, from consistency in a well-trained staff, loyalty factors and maintaining a competitive edge to attract and keep good staff talent. In the last number of years, companies have examined the overhead costs to provide an array of professional services to accommodate these needs and have made significant savings with the choice of PEO (Professional Employment Organizations). This is especially note-worthy in small and medium sized companies, as the selection of a PEO has improved the employee benefits offerings that were previously not available to them. Working as a co-employment partner, a PEO company will save time, money and take the responsibilities off the shoulders of your company.
Added employee benefits from PEO arrangements
The high cost of employer sponsored benefits is greatly reduced through the use of a PEO company. A small to medium sized organization can take advantage of the reduced or group discounts that a PEO company brings to the table for an organization.
Insurance: The PEO company will have negotiated lower costs to offer your business for your various insurance needs. PEO insurance plans now offer the same flexibility in choices and coverage that many of the large companies include. These may be negotiated or outsourced insurance plans. The plans can be selected by the company and can offer employees Group Medical, Group Vision, Group Dental, and Life Insurance at greatly reduced rates. Variations in cost can often incorporate selections that will cover those staff members choosing basic coverage, all the way to full family coverage; with low, medium and high deductible options. To help your staff choose the right plans, specialists at the PEO company will be available for consultation at your business as well as one-on-one with employees. The professionals at the PEO company will manage a variety of the health programs, and will be the main contact for update distribution to your company and staff on all federal and state policy and procedural changes. The PEO will be available to assist you in clarifying the health care reform so that you are not exposed to penalties.
A PEO company will often have a secure online website for employees to view the services provided. This will include the insurance choices, policy names, contact information. In addition, the PEO company will coordinate with your company for an agreed upon annual date for employee selection changes.
Other Benefits Incentives: PEO companies can include your company in additional programs for your employees that are typically common in only the largest of corporations. This can include: Flexible Spending Accounts (FSA's), Employee Assistance Programs, 401k, Long Term and Short Term Disability Programs, and Human Resource Counseling.


Flexible Spending Accounts (FSA's): Specifically designed for employee contribution to assist in medical and health deductible payments and auto deducted from paycheck, based on the employee dollar choice amount.


Employee Assistance Programs: These programs can include counseling services, memberships to local gyms or exercise services, Yoga, wellness counseling, lifestyle change programs such as quit smoking and other addictions.


401k: The ability to offer staff a 401k retirement program that is automatically deducted from the paycheck and is based on the employee dollar choice amount. This can be available with or without employer contribution.


Long Term and Short Term Disability Programs: PEO companies have access to larger group discounts so that small and medium organizations can offer staff the options of long and short term disability programs. These are especially attractive for those companies in the construction industries that may experience larger accident incidences.


Human Resource Counseling: A professional PEO representative will be able to assist your staff members with their desire to move up within the company and the opportunities that are available.
Employer benefits from PEO arrangements
While every company wants to offer their staff a benefits package, there is also an up-side that your organization will experience in working with a PEO for these opportunities.
Bottom Line Profitability: According to Entreprenuer.com, staff dollar savings have been estimated at around 40% of staff member's daily schedule. The national organization for PEOs, NAPEO.org, sourced the publication 'Professional Employer Organizations: Fueling Small Business Growth', by Laurie Bassi and Dan McMurrer, to show that companies using PEO services experienced a 4% higher than employment growth when compared to the U.S. economic figures and 9% higher than other smaller businesses.
Attract and keep staff talent: Competition is fierce and every company needs to not only keep their existing staff but have offering to attract additional talent to support company growth. The use of PEO companies can give your organization that competitive edge.
Company Profile: Whether a start-up or well established company, your company profile is a direct reflection on your culture, products and services. The services of a PEO company will increase this profile and elevate the attraction for both client and peer organizations.
Overall, the benefits through the use of PEO companies is a win-win for any sized organization, bringing packages, choices and options that save time, money, encourage a positive work environment and ultimately help in increasing profitability.
Ready to Compare PEO - Employee Leasing Price Quotes?