PEO Services for Small Businesses
Two of the major challenges for all small businesses has been the ability to balance the requirements needed to maintain the amount of time needed for staffing as well as offer a benefits package to their employees. Until more recently, the latter has been somewhat unattainable due to cost. The growth in PEO (Professional Employer Organizations) is addressing both of these challenges with program offerings that are proving to help keep small businesses competitive and create a base to increase profitability.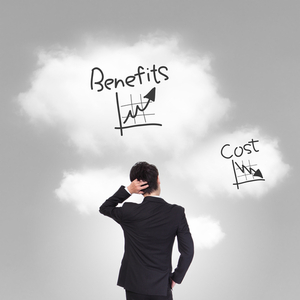 According to NAPEO, there is an estimate that 2 to 3 million Americans are involved in a PEO co-employment arrangement. This includes a large number of small businesses, offering services that would normally require additional staff and time, with an 88% client retention rate.
PEO HR Services: NAPEO estimates a 21% savings using PEO HR Services as compared to offering the same services using in-house staff.
Compliance assistance on HR-specific regulations
Assistance with job descriptions
Tracking and reporting of paid time off (PTO)
Customized employee handbooks
Background screening
Telephone consultation as it relates to personnel and HR
Employee exit interview assistance
Pre-employment drug screening
Wage and salary compensation planning assistance
Tracking of performance review and assistance
Job placement and recruitment
Employee surveys
Online training services for employees and supervisors
Turnover analysis and reporting
Personality testing
Professional licensing and certification tracking
Workman's Compensation:
Will act as the sole contact for reporting Worker's Compensation cases
Coordinate with state organizations and employee for medical care
Assist in compliance with state and federal guidelines for employment environment safety
Assist in resolving claims
Benefits:
Discounted insurance programs: health, wellness, dental, vision, life, short and long term disability.
Retirement programs: 401k employee and employee/employer contributed.
Payroll processing, taking care of all state and federal deductions and reporting
Added services such as wellness organization memberships in gyms and yoga
NAPEO has reported that small businesses using PEO services have a 7% employment growth as compared to those that do not use PEO services, all verticals in the small business area can benefit from the programs. There are, however, certain small businesses that may experience a higher savings due to the nature of the business.
Construction and building, where potential hazards are higher for employees.
Restaurant and hospitality, where there is an historic higher employment turnover
Technology, to maintain a competitive edge to keep talented staff
PEO leasing
Smaller businesses are usually familiar with a leasing company that assists with certain company functions. There is a major difference between a standard Leasing Company and any leasing services from a PEO. Some PEO companies will offer a la cart services such as Payroll, tax compliancy and filing. The advantage of a PEO company is the offering of a vast amount of additional services to select from as a la carte for your business.
Companies listed as leasing companies offer limited payroll services only. Cost is typically configured on a percentage or a flat amount of the monthly payroll total being processed. i.e.: $100 cost for every $1,000 payroll processed.


PEO companies typically have a flat fee based on the number of employees of the company and the services provided. According to NAPEO, a PEO company charge can be as little as $150 per month for 2-5 employees.
Savings from a PEO arrangement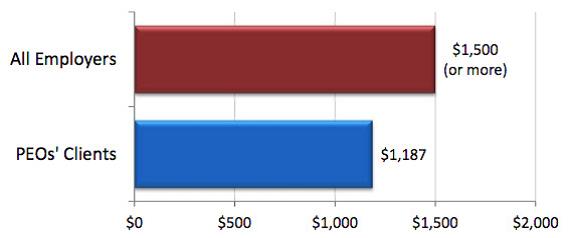 According to Entrepeneur.com, small business staff can spend as much as 40% of their daily time devoted just to Human Resources and Payroll responsibilities. This does not incorporate any of the other time that would be required if the small business chose to offer other benefits. Inevitably, to offer additional services would require hiring additional full time staff. While each company has different pay scales for their employees, you can do-the-math on this one to see what the cost comparison will be for staff members versus using the services of a PEO. Since time-is-money in all businesses, 4 staff members sharing the HR duties would equate to each devoting 10% of their salaries to these responsibilities. If each staff member earning $30,000 per year, the cost to the company would be $12,000 per year. HR Services alone would allow the four staff members to relinquish these duties, at a lesser cost to the company, and thereby allowing that time to be devoted to company growth.
Using the figures available for PEO HR Service charges only, as compared to data available for non-PEO companies, the average cost for PEO clients was $1,187 per employee, per year, as opposed to non-PEO companies for expenditures of approximately $1,500 per employee, per year.
The rapid growth of PEO companies, combined with the services offered at reasonable costs, has catapulted PEO popularity to be the selection of choice for small businesses. The cost savings gives the small business the opportunity to focus on growing their business and increasing profits.
Ready to Compare PEO - Employee Leasing Price Quotes?