Buying an Affordable CNC Router
Finding an affordable CNC router may seem difficult at first, but there are plenty of ways to stretch your dollar while still enjoying the perks of a quality router. To do this, however, you need to determine exactly what you'll be using the machine for, and how often you'll rely on it for your business. For example, it's easier to find a great deal on an inexpensive 3-axis CNC router than a pricier, more complex 5-axis router.
It's important to set your budget before you start shopping for an affordable CNC router. Knowing how much you're willing to spend could narrow your options considerably, but at least you won't waste time evaluating a machine only to discover that you can't afford it. Determine how much room you have in your budget, and then shop only within those parameters.
Shopping for a used CNC router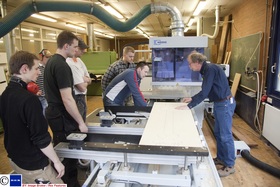 The easiest way to save money on a CNC router is to buy a used or refurbished machine. This will shave hundreds of dollars off your costs, and in many cases, you'll have just as long a shelf life buying used. Many manufacturers refurbish used routers and sell them at large discounts, ensuring any broken or worn parts are replaced so the unit works well.
While some models are in "as-is" condition, many sellers will also provide refurbished units that have been inspected for quality and also include repairs and maintenance to critical components and systems that absorb the brunt of the daily wear and tear. These components typically include:
Worktable
Spindle
Electrical system and wiring
Power track
Servo drives
Control system
Evaluate the warranty
Even if you buy a new, inexpensive CNC router, it's important that you get a warranty that lasts at least 30 days and preferably longer. A warranty can save you significantly in the long run if you have to replace broken parts or get the equipment serviced by a technician. As long as repair and maintenance is included in the warranty, you won't have to spend extra money.
And when buying used, you'll definitely want to make sure you're dealing with a reputable seller that backs their product with some type of guarantee. An affordable CNC router won't do you much good if it doesn't work when you start using it. Make sure it comes with at least a limited time warranty, and ask for a demo of the equipment before you make payment.
Comparison shopping and purchase considerations
There are dozens of different manufacturers that sell affordable CNC routers, but you shouldn't stop at the first place you look just because the price seems reasonable. Instead, talk to at least three different manufacturers or retailers to determine who has the best price.
Note that suppliers may be more willing to negotiate price for refurbished CNC routers than new machines. Consider making a lower offer and see if you and the seller can come to a compromise.
When shopping around, keep the following purchase considerations in mind:
What programs are installed? Are they the current versions?
Is the companion software easy to use?
What's your intended use? And what use has the machine been designed for - heavy commercial use or light hobbyist tasks?
Is the router under priced? And if so, why?
Does it come with a documented service record? And if so, what does it tell you about the frequency and thoroughness of the maintenance performed?
Who was the previous owner? What type of business were they in? And what was the volume of their business that would have required the use of a CNC router?
Shopping for an affordable CNC router will take time, but in the end you'll be satisfied with your purchase if you land the best deal possible. BuyerZone's free request for quotes service ensures you get matched to as many as six different CNC router suppliers to review.
Ready to Compare CNC Routers Price Quotes?