Looking at Enterprise Sustainability with a Global Perspective
With the evolution of both society and the industrial space, sustainability is becoming a central piece in operations. Driven by a number of ethical, environmental, health, and safety concerns, organizations are developing sustainability strategies to remain competitive in the market, uphold Corporate Social Responsibilities (CSR), and abide by regulations.
In response to the growing need for managing sustainability, leading organizations are implementing Enterprise Sustainability Management (ESM), which is a strategic framework for information management. It provides the portfolio of tools for monitoring and improving upon sustainability at the enterprise level.
Below, I'll provide a deeper explanation of ESM and also briefly note on one of its core components, Industrial Energy Management.
Sustainability Broken Down
Before diving into ESM, it may be helpful to provide a more expansive view of the sustainability space. At LNS Research, we define six specific areas of sustainability, each of which with its own method for management, analysis, and improvements.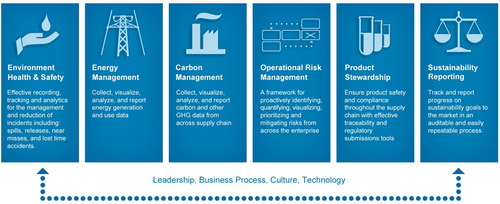 ESM Framework (Figure 1)
Environment, Health, and Safety (EH&S)
In response to an increasing number of environmental and public concerns, companies are implementing EH&S processes. This helps to identify non-conformances, put in place a root cause analysis and continuous improvement process, and mitigate risks associated with the effects of safety hazards to people, assets, products, and the environment.
Energy Management
By monitoring energy consumption, use, and efficiency data with energy management software and processes, industrial organizations are making better decisions for the environment and stakeholders. Energy management can be done at multiple levels of granularity (plant down to machine), providing the needed data for reducing costs and environmental impacts.
Carbon Management
With such significant focus on the effects of greenhouse gases, carbon is a rising factor in regulatory decisions and it's receiving increased attention in the industrial setting. Similar to energy management, its processes are being used to improve business performance and protect the environment across the value chain.
Operational Risk Management (ORM)
Providing visibility into operations, ORM is being utilized to establish risk-related business processes, manage change, monitoring risk analytics, and leverage the effectiveness of Corrective and Preventive Actions (CAPA).
Product Stewardship
Focused around creating environmentally friendly manufacturing and industrial processes and products, product stewardship is the concept of taking a sustainability-based approach to the product lifecycle and supply chain
Sustainability Reporting
Reporting is an important aspect of sustainability management. To monitor consumption levels, quickly respond to audits (internal and external), and make measurable improvements, companies must have strong Business Intelligence capabilities. Many companies are now managing sustainability reporting with same precision and rigor as with financial reporting.
A Holistic Information Management Framework
In response to both internal and external pressures, over time, many organizations have developed targeted processes or proprietary systems to manage these areas of sustainability. These are often by facility or department, lacking a global perspective. As a consequence, today, it's typical for there to be numerous disjointed processes that don't facilitate the level of communication needed to effectively manage sustainability.
Disparate processes are creating a bottleneck when it comes to improving business performance. The need for a more pervasive solution is quickly becoming apparent, and it's materializing as ESM. Companies taking this approach are viewing it through the lens of an enterprise initiative, rather than one of departments or business units.
Making sustainability more manageable, organizations are taking ESM to the next level by implementing ESM solutions. The ESM solutions market is an emerging software market, and it's helping to break down the barriers of disparate systems and manual processes that are acting as roadblocks for performance and growth. ESM software is centralizing, standardizing, and streamlining operations, providing executives with real-time data for making better decisions.
Industrial Energy Management
With the launch of our sustainability practice at LNS Research, we're excited to pick our first area of focus within ESM, Industrial Energy Management, which includes both energy and carbon management. IEM targets improvements in energy efficiency, reductions in energy costs, and the mitigation of negative environmental impacts.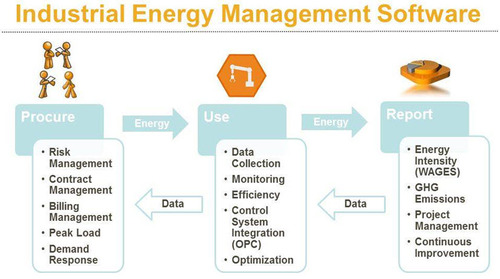 IEM Software (Figure 2)
Market leading companies are realizing gains from IEM by aligning energy-related people, processes, and technologies with operational excellence.
In our next column, we'll provide a more extensive discussion on this topic.