Introduction to General Liability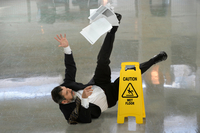 Mistakes happen. As a result, businesses need general business liability insurance.
Essentially, business liability insurance is there to clean up after your business's mistakes, providing coverage for claims related to negligent business activities (injury related to the use of your product, for example) or the failure to use reasonable care. The insurer typically pays damages and legal defense fees as well as case-settlement charges.
How much general liability coverage do you need? This can be difficult because benchmarks really do not exist. While some brokers recommend that your coverage match that of the largest court award for a case relevant to your business, others base recommendations on company assets. Moreover, unlike property, which has a fixed value, liability claims do not have any limitations. In this lawsuit-crazed society, the sky could indeed be the limit.
How much will general liability business insurance cost? There's no easy answer, as it will depend greatly on the type of business you're in, how much coverage you choose, and other factors. To get a rough idea on pricing, check out what other BuyerZone users paid for liability insurance.
And after you finishing your research, we can put you in touch with several qualified liability sellers in your area - for free!
---
The first step in the process is to understand the types of injuries covered by general liability insurance. From there, you can determine the levels of coverage you may need by customizing a policy to your line of business. Get started here.
---
Types of Commercial General Liability Insurance
Most companies obtain basic liability coverage through commercial general liability insurance. A CGL form covers four types of injuries:
Bodily injury that results in actual physical damage or loss
Property damage or loss
Personal injury
Advertising injury
Slander or damage to reputation falls under personal injury. Advertising injury protects companies from charges of negligence that result from the promotion of its own goods or services.
Supplemental coverage
Most companies will need to supplement their commercial general liability insurance with at least two other types of coverage: automobile insurance (aka fleet insurance) and workers' compensation.
Also, if your company risks facing particular types of claims — if, for example, you sell or serve alcohol, pose an environmental threat, or produce goods that could be subject to product recall — you may have to obtain special coverage.
Companies requiring higher levels of coverage than provided with their commercial business insurance often augment the policy with an umbrella liability insurance policy. Before buying, it makes sense to compare commercial insurance quotes from multiple companies using BuyerZone.
Umbrella insurance provides additional coverage for areas where you are not insured, coming into effect once a certain deductible, or self-insured retention level, is met. Contracts for umbrella insurance are usually tailored to each account, and the risks covered are generally negotiated.
---
The next step is to define how your liability coverage will address potential claims. There are benefits and, more importantly, limitations to each.
---
Defining Insurance Coverage
Probably the most important decision you will need to make regarding liability insurance is how you will define your coverage. The key question here is: should a claim be covered by a policy that was in effect at the time the incident occurred or when the claim was filed?
Time of occurrence
Traditionally, liability insurance has been based on the time of occurrence. This means the policy in effect at the time of the incident is responsible for handling any resulting claims — even if you are no longer with the insurance firm that originally provided coverage. With this coverage, it is obviously critical to keep good track of your policies.
Linking coverage to occurrences, however, does have its downside. Unlike property claims, liability claims can be filed years after the actual occurrence — years that don't necessarily take into account inflation or today's the-sky's-the-limit attitude toward legal awards.
As a result, the limits you originally purchased for coverage may be too low for today. Moreover, time passage usually makes the actual date of an incident difficult to pin down — and responsibility for coverage that much more difficult to assign.
Claims-made
Claims-made insurance is an alternate way to establish liability coverage. With these policies, coverage is linked to the policy in force when a claim is filed and reported. This minimizes the tracking and claim inflation problems that can occur with occurrence policies.
To limit the total risk to the insurance company, claims-made policies do place some limits on when an incident had occurred in order to qualify for coverage. Typically, claims-made policies will cover incidents that occurred as long as seven years before the policy began. They also normally provide coverage of claims made shortly after the policy expires.
If a new claims-made policy refuses to extend coverage to occurrences far in the past, you may need to purchase coverage from your previous insurer. This is known as a supplemental ERP, or tail-end coverage.
Tail-end coverage does not tend to be a very good deal for a company, since the insurer typically knows you have nowhere else to turn for coverage. It can, however, be used to fill gaps in coverage that cannot be otherwise addressed.
---
One final thing to be aware of when comparing general liability policies and sellers is the comprehensiveness of the coverage. This will ensure you're not only covered adequately but also avoid overpaying for unnecessary redundancies.
---
Insurance Gaps and Overlaps
If your company needs several types of liability insurance, pay special attention to any gaps or potential overlaps in coverage.
This is particularly important for claims falling in the realm of both automobile and general liability coverage. Rather than finding yourself caught between an "it's your claim" dispute between carriers, it is probably safer to have one insurer write both policies.
Even if this is done, though, be careful to see where you might have overlapping coverage. When more than one policy covers a given incident, the insurer may try to assign the claim to the policy providing — surprise! — less coverage.
Try to avoid this by making sure any overlapping coverage results in fairly equal reimbursement levels, or by having clearly defined policies to minimize these redundancies.
Ready to Compare General Liability Price Quotes?