Ecommerce Website Introduction
Commonly called e-commerce (short for "electronic commerce"), online stores are proliferating in all types of industries. Most consumer products are good candidates for e-commerce: clothes, household items, arts and crafts, pet supplies, specialty foods, electronics, and more.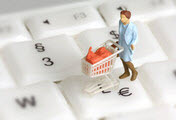 Major purchases that buyers want to try out in person and complicated items with lots of options and features are generally not well-suited for e-commerce.
It's worth noting that e-commerce is usually just one part of a website. While many website development firms also provide e-commerce, some e-commerce services don't include basic website features.
If you're starting your business' entire online presence from scratch, we recommend that you start with our Website Design Buyer's Guide.
This BuyerZone E-commerce Buyer's Guideis designed to help you determine what e-commerce solution is right for you. We'll review your basic e-commerce options, the questions to ask when evaluating options, and give you a quick guide to starting up a service.
Then, when you're ready, we can put you in touch with several qualified e-commerce designers in your area - for free!
---
As you prepare to get underway, the first step in the process is to actually start at the end. You'll need to figure out how your site will be hosted and who will maintain it to ensure everything continues to run smoothly once it's up and running. As such, these key considerations lead our discussion and are explained in detail below. Get started here.
---
Ecommerce Website Hosting & Site Management
E-commerce systems can range from basic storefronts that simply manage email orders to complex systems integrated with multiple aspects of your business. To determine how you want to proceed, there are a few basic questions you need to answer about your e-commerce hosting and management. This will help you determine which designers to focus on during your search.
Who will host the e-commerce software?
One option is to host the software yourself, which means that you buy and install the software on your own servers. This includes purchasing an SSL certificate for security and setting up appropriate connections to the other parts of your website and company databases.
This option is best for companies that already host their own website and have sufficient technical staff to maintain it. In-house hosting allows you to maintain tight links to your existing ordering and inventory systems, and permits a greater level of customization, both in terms of the features and look of the store and the back-end interface. The main drawback is that it can require a lot of time to implement. Plus, ongoing maintenance can be a drain on your internal resources.
The other choice is to have the e-commerce software hosted by an external company. That considerably reduces your operational burden. It may, however, also result in less flexibility in appearance, features, and integration with your internal systems. This path is probably best for companies interested in testing the online shopping waters with as little investment as possible, or smaller companies looking to e-commerce as a supplement to their existing business.
Who will set up your store?
Regardless of where your site is hosted, you can do the initial configuration and set up yourself, or you can hire an e-commerce website designer to do it for you. For businesses just starting out in e-commerce, and for the most complex projects, the best option is to use an e-commerce development firm.
For firms new to online commerce, working with an expert helps avoid some of the pitfalls and ensures that you get off on the right foot. And hiring a consulting firm is a better choice when extensive integration challenges are involved, since they provide considerable experience in combining multiple products into an efficient e-commerce system.
However if you have qualified technical personnel with some experience in e-commerce, you can save money by doing the development in-house. Many hosted solutions are fairly easy to set up, although connecting to merchant accounts and ensuring you have appropriate security in place can be a challenge.
Who will maintain the catalog and manage orders?
As with hosting and initially creating your site, you can maintain the catalog on your own or through an external company. In most cases, it's better to manage your catalog in-house. This doesn't require technical expertise - with the right interface, any computer-savvy employee can handle it. You should, however, look for an online interface that's easy to manage.
Doing it yourself is cheaper in the long run, and allows you to be more flexible. You don't want to have to call your designer every time you want to change the price on one of your products.
However, if you have your site hosted by an e-commerce designer, you can have them manage your orders and make updates. While this may increase your monthly fee, it removes the burden of updating your store from your employees.
We'll cover this feature in more detail below.
Do you have a merchant account?
To start accepting credit cards online, you will need a credit card merchant account. A merchant account allows you to accept credit cards and have payments transferred to your bank account. For a full discussion about how to choose a credit card merchant account designer, check out our Credit Card Processing Buyer's Guide.
While some e-commerce designers will set you up with a merchant account, most will be able to work with an existing merchant account designer if you already have one. Just make sure you check with your e-commerce designer.
---
With the specifics of implementation and maintenance settled, your next step is to consider the myriad of features available. These bells and whistles can turn your e-commerce site into an impressive storefront that facilitates the sales process.
---
E-commerce Software Features
At its most basic, an e-commerce website is a one-item-at-a-time shopping experience. The e-commerce software displays a "buy" button with each product description, but there is no shopping cart functionality to allow for purchases of multiple items at once. Visitors click the button for the product they want, enter their credit card details, shipping address, and in some cases the quantity to buy, and the transaction is complete. The order information is relayed via email, and you process it the same way you'd process a telephone order. This type of e-commerce is only suited for the most basic purchases.
Most businesses entering into e-commerce need a more complete online store that helps streamline the shopping process by allowing customers to shop for multiple products at once. To be called an online store, a site should include shopping cart functionality and an order processing and tracking system.
A typical shopping cart will include:
Product name
Product price
Condensed product description
Product image thumbnail for each product in the cart
Quantity box enabling users to add or subtract the quantity of products they purchase
Total cost of all products in the shopping cart
Many purchases involve multiple options: size and color are two very common examples. In an entry-level e-commerce site, you might have to create separate products for blue widgets, red widgets, and green widgets. Adding a "color" option simplifies the shopping process considerably and cuts down on the amount of work you have to do to manage your store.
Other important e-commerce features include:
Shipping calculator. The system can determine shipping charges based on the weight of the items, the customer's location, and the type of shipping they choose.


Tax status. The location of your business and the customer's location can affect whether or not you should collect sales tax on your purchases.


Automatic charge processing. By connecting to your merchant account, an e-commerce system can automatically charge customers' credit cards.


Stored shopping cart. Saves the contents of customers' shopping carts from one visit to the next if they are unable to complete their order.


Product navigation. Good navigation features enable customers to browse through all your products to quickly find the products or categories they want.


Search. No matter how good your navigation is, research shows that many web shoppers don't even try to browse their way through catalogs - they go straight to search to quickly locate the products they want.


Discount codes. The online equivalent of coupons: by entering a special code, customers can get free shipping, a discount on their order, or other special offers.
---
As mentioned above, the management of an e-commerce site is critical if you want the endeavor to be profitable. Factor the following considerations into your purchase decision before going any further.
---
Managing Your Ecommerce Site
When choosing an ecommerce website solution, consider how easy it is to manage your store. No matter how well designed your catalog is, it's not worth much if it's frustrating to manage.
SKUs
Stock keeping unit (SKU) management is a critical area to evaluate because you'll use it frequently. Get the designer to provide a demo and see how easy it is to add, update, and delete items from your catalog. Some potential questions to ask:
Does each item need to be listed individually or can you upload them in batches?
What is the maximum number of SKUs you can carry?
Can you easily sort your products into multiple categories and subcategories?
How many images can you display per item? Can you link to larger images?
What are the limits for accompanying descriptions?
How easy is it to update text or images?
Can you easily mark items as out-of-stock without removing them from the system? Can you remove items from the site without deleting their pictures and images from the database?
If your staff is not familiar with HTML, the basic programming language of the Web, you'll want a back-end system that lets you point and click your way through creating a catalog. However, if you have someone proficient in HTML to manage the store, you'll get a lot more flexibility in formatting without the frustrations that a point-and-click interface can create.
You may want more sophisticated price management options. Instead of just changing prices one at a time, some ecommerce solutions and software lets you pre-load many price changes at once, then turn them all on at the same time. Others allow scheduled changes, so if a sale ends at midnight, you don't have to be waiting with your finger on the button to change prices back.
Reporting
One of the great benefits of ecommerce web solutions is the detailed information you can use to analyze and improve your business. Most ecommerce software will provide basic sales reporting, but many can also report on visitors per product page, shopping cart usage, time spent looking at descriptions, and where your shoppers are coming from.
Be sure to get sample reports for the ecommerce systems you're considering. If you typically use a spreadsheet or other software for tracking your business, ask for samples of exported reports so you can compare formats and compatibility with your systems.
Processing orders
Once a customer places an order, the transaction details need to be delivered to you. Your preferences here will depend on your existing processes: if you already have a system in place to track telephone orders, you'll need your ecommerce solution to connect to it. If you don't, choose an ecommerce system that has order handling and tracking built in.
Also, look into customer notification: can you customize the emails that are sent out? Are the emails in HTML or plain text, and how do they look?
Consider the size of your orders: will you want to set minimums or maximums on prices or quantities? Do you need to increase shipping charges for very small orders?
Advanced features
These may cost a bit more, but if they're important to your store, then they're worth the extra expense.
Backend connections. If you have a computerized inventory tracking system or customer information database, you'll probably want your ecommerce web site solution to connect directly to them. Depending on the systems you use, this can be a simple configuration or some expensive custom programming. Make sure you know specifically which systems need to work together.


Fraud prevention. Precautions can be built into the system to help detect and prevent fraudulent transactions, such as address verification service (AVS).


Cross-sell. Sophisticated ecommerce software can be set up to recommend additional products based on the contents of a customers' shopping cart. For example, if they're buying golf clubs, it might suggest tees or balls. Imported cheese might go with fancy crackers.


Recurring billing. Some businesses may find it useful to create recurring billing and subscriptions to bill and ship to repeat customers without the need for reordering.


Affiliate tracking. If your products are being sold by affiliate websites, accurately tracking and reporting affiliate sales and commissions is paramount. Some advanced e-commerce packages can track which purchases should pay commissions, customize affiliates' commission rates, and automatically e-mail reports and updates to affiliate partners.
Choosing an Ecommerce Seller
As discussed in "About e-commerce website hosting", you can set your web site up for e-commerce in several different ways. Unless you're doing the entire project in-house, you'll need to choose appropriate e-commerce site designers for hosting, development, or both.
(Note: This Buyer's Guide focuses solely on e-commerce, not web site design and hosting or search engine marketing. Many e-commerce site designers offer a wide range of online marketing services, so you should decide in advance whether you want to work with a designer who focuses only on e-commerce or one that takes a broader view of your marketing efforts.)
Make sure the designer you choose has the capabilities and expertise necessary to build a successful online store. Here are some questions to ask e-commerce companies:
What are your strengths as an e-commerce web developer?
Do you understand what my company offers and what my customers need? (This is not a requirement - but it can be helpful.)
Will the store work in multiple browsers? Which? (Browser compatibility can be trickier for online stores than for informational websites.)
Do you create websites that are mobile friendly?
Can you create a separate e-commerce shopping mobile app?
Can your developers connect the site to our customer database/inventory tracking software/sales software?
How long have you been in business? Can you provide some sample sites for me to look at?
(If you choose a hosted e-commerce service) What guarantees of uptime and availability do you provide? What are your typical outage rates? What are your busiest times of the day? Do you have a data storage/disaster recovery system set up?
Customer support
Customer support is critical to choosing your designer. E-commerce systems are complicated and there is a strong possibility that something will eventually go wrong. While not every error is a complete disaster, you should be able to count on your designer for assistance.
Ask about the hours and methods of support they provide:
Is it 24/7, or only during business hours? (Don't forget - which time zone?)
Do their support hours match your busiest times?
Is there access to support by email, online chat, telephone, or all of the above?
What is the average resolution time for typical problems?
Is there a per-call fee?
References
In addition to looking at the sample online stores the developer provides, you should also check their references. Talking to their other clients can give you a good idea of what it's like to work with a particular e-commerce web developer. Get at least three different references, and ask them specific questions:
Did the designer meet deadlines?
Were they flexible?
Was the price reasonable for the services received?
What aspects of their work were particularly strong?
What areas were not quite up to your expectations?
Are you happy with your e-commerce results so far?
Did they set and meet realistic goals for your store?
Would you work with this company again?
---
To further narrow down the list of prospective designers, you can easily evaluate their work by trying some of the other shopping carts they've created.
---
Before You Decide, Test Shopping Carts Yourself
Once you select a couple of potential e-commerce designers, nothing is more valuable to your decision-making process than trying their shopping cart yourself.
First, try them out as a customer. Require that your designers provide links to a couple of e-commerce websites they built. Then go use those web sites to try out their work. Ask yourself these questions:
Is it easy to browse through the catalog?
Can I search for a product quickly?
Can I easily add or remove products from the shopping cart?
How effective is the help section?
Does the look of the store match the rest of the site? (Note that the actual look of the store isn't that important - if it matches the rest of the site you're looking at, chances are that the developers will be able to make it match your site, too.)
Take detailed notes of your impressions of the experience so you can ask questions of the developers later. Keep in mind that if you don't feel comfortable using the e-commerce system, your customers won't either.
Don't forget to actually place an order. (Order something inexpensive if you can't find something you need.) That way, you can see how shipping charges are calculated and displayed. Also, to ensure that orders are handled securely, look for a https (instead of http) prefix on any page that requests credit card information: the https prefix indicates that the website is encrypted for security.
By ordering online, you can also get a sense for how your account is managed after the order is placed. For example, are you sent an email receipt after the order is placed? Can you track your orders online? Do you receive an email when your order has been shipped? Finally, what merchandising opportunities are there to cross-sell or upsell related products?
Keep in mind that some features can be turned on and off, so if a feature you want is not in use at the sites you check, don't worry. It may be available, but disabled at the site that you are visiting.
Try managing the store
Some designers will provide you with a demo version of the software, which will allow you to try the management aspects of their system. Go through all the basic tasks: creating new products, changing prices, adding images, changing inventory status, setting up categories, creating discount codes, and viewing reports and activity. You'll be able to get a sense of how well the system fits your business and your skills.
This is another area you should investigate when checking references. Ask how easy the system is to manage and whether the designer trained them how to use it.
---
To help you find the best e-commerce designer within your budget, we've compiled pricing data taken from BuyerZone customers throughout the United States.
---
Ecommerce Solution Pricing
Costs for an e-commerce solution can range from the hundreds to tens of thousands of dollars. Pricing usually depends on what type of back end system you choose, as well as the size and complexity of the store.
See what other BuyerZone users paid for e-commerce development.
Off-the-shelf e-commerce software can be purchased for as little as a few hundred dollars. When considering total costs, remember to include the time it will take your employees to learn the software, create the store, and integrate it with your website.
Initial development costs for a low-end e-commerce website from an e-commerce development company can be as little as $1,500. However for that price you'll get very little in the way of support for multiple product options, connections to inventory systems, or customization. For an average online store, typical prices are $3,000 to $5,000.
Added features such as extensive cross selling, advanced search, and custom integration will add to your total cost. Keep in mind that e-commerce sites are more technically challenging to build than static web sites, since they require the services of a programmer or experienced e-commerce developer.
E-commerce packages
When using an e-commerce development designer, you may be offered a "packaged" store option that includes everything you'll need for one set price. This can be a good deal for more straightforward stores. However even if you start with a package deal, you'll probably want some customization or additional features, which are usually be billed by the hour (from $50 to $200).
More complex development projects are usually billed by the hour from the beginning, based on an estimate the designer will provide. Make sure you have a clear understanding of how far over the estimate they can go before they have to come back to you for approval.
When thinking about packages or hourly billing, keep in mind that many e-commerce designers offer additional services, including:
Social media profile setup and management
Blog setup, writing, and management
Search engine optimization (SEO) services
Additional web design services
Consulting
Store and website maintenance
If you expect to need these types of services, you may be pay for blocks of time in advance, and you may get discounts for buying more hours. For example, 10 pre-paid hours could cost $400, but 100 only $2500. Or, they may be included in a package deal. Pricing options vary widely, so our best advice is to get the details in writing from each designer you talk to so you can accurately compare them later.
Ongoing costs
Once your site is developed, expect to pay $10-$50 per month if you chose an online e-commerce solution, depending on the number of products, options, and your store's volume. If you run the e-commerce system in-house, you won't have to concern yourself with that monthly fee.
Ecommerce Business Tips
Understand basic pricing before hiring a vendor.
Unfortunately, many businesses make the mistake of hiring a vendor without fully understanding the pricing structure necessary to build an e-commerce website. This can lead to unrealistic expectations, with buyers thinking that their e-commerce programming and design will be much cheaper than it actually is.
Double check compatibility.
Before signing a contract or buying any software, make sure that your IT staff and the developer or e-commerce service provider all agree on the components that need to work together: your existing inventory systems and website, your merchant account, the e-commerce system, any customer service apps, etc. Experienced vendors can make almost any combination of tools work, given enough time and money - just be sure you understand how much of each it's going to take.
It's not free money.
The days of just putting up an e-commerce site and watching it make money are gone: don't launch with unrealistic expectations. You'll need to advertise your site (online and off) and build up a customer base. Just as in any business, it's an investment that will take time to pay off.
Make it easy to use.
If the shopping process is too complicated, you'll lose customers. Make sure your products are organized the way customers think about them - not necessarily the way you think about them.
Plan ahead.
Running your new store will require time and effort - make sure you plan for regular updates and promotion.
Ready to Compare Ecommerce Website Design Price Quotes?