Call Center Service Introduction
Hiring an outside seller to answer your incoming calls can be a daunting proposition. Some of your employees will likely view it as an obvious business decision; others, however, may feel that it is an expensive and risky way to treat customers and prospects. Add in a simmering debate about the merits of using offshore call centers and you have a recipe for a difficult decision-making process.
Note: Many call center service sellers handle both incoming and outgoing calls. If you want to learn more about outgoing call services, check out our Telemarketing Services Buyer's Guide.
Shopping for your call center is not like buying a simple commodity. The seller you choose is going to be the primary point of contact for many of your customers, and these interactions will significantly impact your corporate image--for better or worse. Throughout your selection process keep in mind that you are not just looking for a low-cost supplier, you are looking for a partner who will have considerable influence over your brand and customer satisfaction.
This BuyerZone Call Center Services Buyer's Guide will walk you through the call center selection process so you can make the right choice. You'll learn how to evaluate your needs, compare suppliers, and successfully implement an outsourced call center. Then, when you are ready, we can put you in touch with several qualified sellers who can supply you with your call center needs.
---
Finding the best call center is one of the most important decisions you'll make - one that can greatly impact your level of customer service and, as a result, your profitability.
---
Outsourcing Call Centers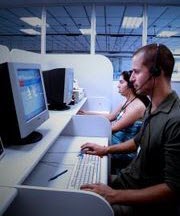 Outsourced call centers can be set up to handle any variety of inbound calls, such as:
Order processing
Customer service
Tech support
Lead qualification
Answering services/message taking
There is no magic guideline as to when a business should definitely outsource their incoming call handling. But there are a number of situations when it may be right for your business to look into it. Often revolving around resource planning, these situations include:
Significant growth- A new product launch or other major event can bring a huge volume of calls to even a small business. Outsourcing incoming calls to a service seller can eliminate the hassles of trying to ramp up dozens of new employees or investing in major equipment upgrades.


Cost savings- When businesses reach call volumes that demand a significant capital investment, either new phone systems, customer relationship management (CRM) software, dedicated call center space, or many new employees, outsourcing can be an easy, lower cost solution. Since call center service sellers are able to spread the cost of employees and technology over many customers, each individual customer pays less for this infrastructure.


Testing and learning- Smaller companies with little experience dealing with customers may launch their phone operations as an outsourced solution. When they have learned what it takes to run a call center and built up enough capital, they can bring the operation in house. Larger companies interested in testing new technologies or programs may find it easier and cheaper to use a call center for testing than to retrain in-house employees.


Variable volume- Call volumes that are relatively constant or those that grow at a predictable pace are relatively easy to plan for and budget. Businesses that see significant seasonality or unpredictable changes in volume can really benefit from the extra capacity of outsourcing call centers. This can include spot overflow, where the service seller is used to cover sudden surges in phone calls, or seasonal assistance.


Business model shifts- The decision to outsource incoming call management can be triggered by a major decision. Making the leap to 24/7 tech support, for example, and switching to a two- or three-shift operation can be a huge undertaking – choosing an outside service seller can make things much easier. Another trigger might be the need to offer support in multiple languages.
Call center outsourcing works best for fairly straightforward sales, service, and support. Products that have complex sales cycles and customer support lines that require in-depth troubleshooting are not as well suited to outsourcing.
---
Before you go any further, you have some estimating to do. Largely based on your previous monthly (and expected) call volume, the considerations in this next section will expedite the process once you get on the phone with a seller and also help you find the one that will best meet your business needs.
---
Preparing for Your Call Center Search
Call center service sellers come in different sizes, use different methods and technologies, and have different specialties. Before you begin talking with sellers, it's a good idea to sit down and determine exactly what your requirements are, so you can find sellers who match your needs.
Types of calls
Your first consideration is to determine what types of calls the seller will be handling. Orders? Information? Tech support? Customer service?
Hiring and training practices differ widely for call center employees. For example, the skill set for those who are focused on sales compared to those who provide support and service vary widely. So you'll want to choose a company with the right kind of experience.
Pay attention to these four considerations:
Call volume. Project your expected volume. Base your estimates firmly in reality--monthly minimums and maximums will be stipulated in your contract so under- or overestimating for negotiation purposes is not a good tactic. Make sure you have seasonal numbers if your traffic sees major spikes at different times of the year, and growth estimates if you are ramping up your operations.


Software. If you have in-house customer relationship management (CRM) or contact management software, you will want to make sure that the seller can provide connectivity from their system to yours. If the seller uses the same software you do, you may be able to set up a real-time, direct connection, so you can see updates as they are made.


Additional service needs. Many service sellers are equipped to handle email, instant messaging, and even social media in addition to traditional phone calls. Determine if you would like your seller's help handling these types of customer inquiries.


Specialization. Certain sellers have niche specialties that you may want to utilize. Some focus on particular industries (e.g. technology, higher education, or retail) which can make for a smoother launch of your program. Other sellers serve particular audiences by providing multiple language support or 24/7 staffing.
---
Here's where it gets tricky. If you search the web for call center reviews, you'll quickly discover there's an enormous disparity between the quality of an offshore call center compared to one located here in the states. Yes, offshore services can be less expensive. But they often result in something far more costly. Make sure you know the tradeoff before going any further.
---
The Offshore Call Center Debate
One of the major decisions you will have to make when choosing an outsourced call center is whether to go with an offshore seller or use a company whose agents are in the U.S. "Offshoring" has become quite common over the years, but it is not without controversy. The best advice we can give you is to make sure this decision is based on solid business reasoning, not emotion.
The main tradeoff is this:
An offshore call center is almost always less expensive. Rates can be as little as 25% of what a U.S.-based firm would charge for the same service. The savings are substantial enough that this option simply can not be ignored.


Your choice of sellers can impact your corporate image. There will always be a segment of the population - including some within your own company - who prefer to keep these types of jobs in the U.S. Plus, difficulty with language and cultural differences can have a significant impact on your customer satisfaction levels.
To help mitigate issues related to offshoring you may consider choosing a seller located in an area heavily influenced by the US (e.g. the Caribbean or Philippines). This will allow you to enjoy cost savings with fewer customer satisfaction issues. If you do choose to work with a call center located someplace where English is not commonly spoken, you may have better success with highly scripted applications such as order placement.
Other challenges related to offshore outsourcing include the difficulty and cost of arranging site visits for evaluation or training. Furthermore, 10- to 14-hour time differences can also make problem resolution difficult.
Ultimately, however, any seller with quality equipment and well trained agents should be able to provide a satisfactory level of service for your call center needs. Whichever route you choose, be sure your management team is on board and understands how the choice was made.
Call Center Factors to Consider
There are many factors to evaluate when choosing a call center seller. Some may be more important to your business than others, but they should all be weighed during your purchasing process.
Price
Overall pricing is the first item many companies use to choose their call center seller. Unfortunately, for some companies, it is the only item. As we stated in the introduction, choosing an external service seller to interact directly with hundreds or thousands of your customers and prospects should be treated as a partnership building, not a bargain-shopping, expedition. Even if price savings are your primary goal in outsourcing, you must consider the overall service that will be provided - otherwise those cost savings can quickly disappear.
Do your best to get apples-to-apples price quotes from the companies you are considering: all per-minute, or per dedicated rep, etc.
Remember that training and setup costs can be substantial, especially if they involve international travel. Since pricing is usually based on actual usage, you may want to present a few different scenarios to your potential vendors: ask for quotes for a slow month, an average month, and a busy month to get a better sense of the real costs you will be paying.
Experience
Look for a company with significant experience providing outsourced call center services. Startups can be fine if their management has a good background in the industry, but it is likely safer for you to choose a company that has existing customers and a solid reputation (ask for a list of current customers and see if there are any names you recognize). Industry veterans will know the importance of good infrastructure – phone systems, computers, and software – as well as how to adapt with the times.
You may want to look for sellers with experience in your exact or a related industry. This can reduce the amount of training needed and help launch your program more quickly - but of course is no guarantee of success.
Customer service reps
Whether they are called agents, phone staff, or customer service representatives (CSRs), the employees who actually answer the phones for the vendor are absolutely essential to your bottom line. The call centers of the 1970s and 1980s earned reputations as unforgiving sweatshops - agents then were generally unhappy, unmotivated, and only stayed in their jobs for as long as they had to. That situation has changed dramatically over the years as sellers learned how important a top-notch staff was to the quality of their service. However the environment for employees still varies considerably from employer to employer.
Look for employees who are energetic and treat callers with respect. They should be well trained and have opportunities for advancement within the company. It is not unusual for call centers to have high employee turnover, but look for an average tenure of 2-3 years; dramatically less may be a warning sign.
Additional services
You should make sure you choose a seller whose overall level of support is sufficient to meet your needs. Email support is pretty standard among modern call center service sellers, but you may also want instant messaging, social media, and even text messaging services.
Script development is another area you may need assistance with. Investigate the vendor's process and ask to see sample scripts the firm has developed for other customers. To ensure that all these additional services run smoothly, make sure the account manager who handles your case understands your industry and your business, since they will be your day-to-day point of contact.
Reporting
Reporting is another important aspect of the seller's services. Without detailed, accurate reporting, judging results becomes next to impossible. Before discussing reporting in detail with potential vendors, gather input from your staff regarding the statistics that are important to them and how often they will be needed. You should also decide if getting finished reports is sufficient for your needs, or if you want the seller to provide data in a common format (comma separated, Excel format, etc.) so you can run your own analyses.
Some metrics you may want to track:
Call duration
Average speed of answer
Handling time
Calls per time
Revenue
Upsell results
The ability to monitor calls is another area where sellers differ. Some require that you call one of their managers, who will then "piggyback" you onto an agent's call so you can hear how effective they are. Others let you dial in to their phone system directly and listen in without any assistance or even notification.
Technology and scalability
Modern call centers should be able to scale up or down with relative ease to meet call volume demands. Thanks to voice over Internet protocol (VOIP) and hosted telephone systems, adding agents no longer has to involve hard-wiring additional phone lines into the call center. This should translate into flexibility and cost savings for you. When evaluating vendors be sure to find out what kind of technology (phone systems, computers, and software) they are using and how up to date it is.
Evaluating Call Center Companies
A visit to the seller's location can provide a wealth of information about that call center company - information that may be hard to gather otherwise. Visiting the actual call center can give you a sense of how the company treats their employees.
For example, are staffers energetic and pleasant? Enthusiasm and friendliness in a person carries over to phone calls. This will also be a good opportunity for you to look at sample scripts, interview some of the agents who may be working for you, and get a sense of the scale of the operation. Compare services from our call center company network for free.
A site visit also gives you a chance to conduct in-person interviews with the agents. In addition to basics like how happy they are, their tenure at the company, and the projects they have worked on, questions such as "What is your next job going to be?" can help you get some insight into their commitment to customer service. You should also feel free to ask for HR records to verify claims about tenure and training.
Another important test is listening to actual calls. Ask to listen to live calls of the type you are planning to outsource: inbound sales, customer support, etc. Pay attention to how well the agents know their material, the overall image they project, how well they can improvise in unusual situations, and how they deal with upset or problematic customers.
Also check how the call center supervisor coaches agents to improve their call handling. This the most direct way to evaluate call center companies, so plan several listening sessions with multiple agents to make sure you get the information you need.
You can also make your own sample calls. Get phone numbers for some of the seller's other clients and call them unannounced, as if you were just another customer. Ask a few questions - hard questions if you like - and see how the CSR responds. If geography or timing prevents you from making an on-site visit, sample calls become even more important.
As with any major business purchase, you should request references of both current and former clients. If possible, ask call center companies for references to clients in businesses similar to yours, both in industry and size. Some questions you may want to ask when contacting references:
Did you accomplish your overall goals when working with this company?
Were you able to track all the metrics you needed around activity and results?
What was the best/worst part about working with this company?
What were the agents' biggest strengths and weaknesses?
Has this outsourcing impacted your customer satisfaction ratings? How?
Call Center Services Pricing & Rates
Budgeting for call center services is fairly complex. The bulk of the cost is per-minute or per-hour fees for each agent or call, depending on how your contract is structured. The complexity of your script, volume of your calls, and any special services you require will also come into play. In addition, pricing can vary according to quality. Call centers that employ highly skilled, experienced agents have higher costs and therefore charge higher prices.
When contracting for call center services, you can usually choose between shared or dedicated agents. Shared agents, also known as blended teams, handle calls from multiple sellers.
They may answer the phone for you one minute, and for some other company halfway around the world the next. With the right software and training, this approach works well for many common types of calls. For call center services pricing you will typically you pay between $0.50 and $1 per minute.
Dedicated agents work only for you - almost like an off-site employee. By concentrating only on your calls, the agents are better able to learn your business. Call center prices are per-agent, per-hour, and can range from $10 or less for the lowest-priced offshore companies to $25 and up for larger U.S.-based firms. This provides agents who are more knowledgeable about your company's products. But, as a result, it's more expensive overall.
There are many other fees to consider beyond the basic charges. Many sellers enforce monthly minimums, which can drive up your costs if your volume fluctuates unpredictably. You should also expect a setup fee which may be several thousand dollars. Other costs, such as additional commissions, training, programming, and reporting fees, may be covered by your per minute or per hour charges - or may not.
The best way to evaluate seller pricing is to get several bids and compare them to each other. Just make sure the sellers spell out exactly what charges you will be paying so you can make an apples-to-apples comparison before signing a contract.
Contracts, metrics, and SLAs
The contract should define more than just the term and call center services pricing. It should specify exactly what standards and procedures the call center is expected to follow, how their performance will be measured, and what penalties can be applied if they fall short of the requirements.
For example, a service level agreement (SLA) usually focuses on response times, such as guaranteeing that 80% of calls will be answered within 30 seconds. Depending on the nature of your business, you may want to pay extra to get a higher percentage in less time, or you may decide to save money by setting a lower goal. Some companies do not routinely include SLAs. You can probably negotiate one with any seller, but some feel that their standard response times are sufficient or most customers.
Other contract options include exclusivity, translation services, secrecy/confidentiality, monitoring rights, and more. When creating contracts of this magnitude, almost anything is negotiable. But remember: you will pay more for special requests.
Contract length can vary from a few months for a temporary assignment (like for a product launch or special promotion) to several years. Some may discount their call center rates if you agree to a longer term contract. So if you are confident in your choice of sellers, you might want to take them up on a two- or three-year term. Others may penalize you for canceling a contract within the first six months or year, but allow you to cancel any time after that.
Call Center Buying Tips
Where are they, really? Be sure you know exactly where your calls will be handled. Even though headquarters and a large call center are in your city, the seller may have satellite call centers in other states, countries, or even continents. Ask if your calls will be sent to multiple locations.


Get the service you deserve.Choose a call center where your call volume will make up 5 to 50% of the total volume. Less than that and the agents will not have a chance to get familiar with your services; more than that and you may be pushing the limits of what the center can handle.


Own your own phone number. Some call centers will offer to buy and set up a phone number for you. Just say no. Buying an 800 number and assigning it to the seller is fairly straightforward. If you ever need to switch sellers, it is much easier if you own the phone number. Same goes for email addresses - you create them and have them point to the seller.


Keep communications open. Over time, both industry conditions and your business will change. Staying in close touch with your call center seller allows you to have them adjust with you, and also ensures that you can discuss and resolve small problems before they become larger problems.


Sign an NDA. A non-disclosure agreement makes sure that the seller doesn't take the lessons they learn with your business to one of your competitors. This is especially important if your choose a seller who specializes in your industry.
Ready to Compare Call Center Services Price Quotes?