Introduction to Telemarketing Services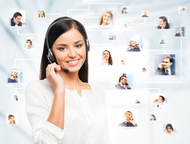 Telemarketing companies make large numbers of sales calls on your behalf. These services can be a cost-effective alternative to creating an in-house telemarketing group.
Telemarketing services can be broken into two major categories: inbound and outbound. This buyer's guide addresses outbound calling. To read about incoming call services, check out our Call Center Service Buyer's Guide.
Telemarketing services provide telephone sales representatives (TSRs) who can make several different types of calls for your business:
Direct sales
Lead generation
Appointment scheduling
Verifying information/cleaning lists
Research and surveys
With good training and support, the right telemarketing company can have a significant impact on your bottom line. So when you're comparing sellers, it's important that you balance the need to save money with the importance of quality. Think of the seller as an extension of your business, rather than just another seller.
This BuyerZone Telemarketing Buyer's Guide will help you determine what telemarketing company is right for you and launch a successful campaign. Then, when you're ready, we can put you in touch with several qualified sellers in your area - for free!
Reasons to Outsource Your Outbound Call Center
Setting up a large-scale outbound call center is expensive and complicated. First you need to make a large capital investment in phone lines, furniture, floor space, computers, and software. In addition, you will need to hire and train TSRs and management staff. This combination of initial and ongoing expenses has driven many companies to outsourcing.
Other factors can contribute to the decision to outsource:
Significant growth - Rapid growth can quickly overwhelm in-house telemarketing staff, but outbound call centers sellers can quickly add reps if you need to increase volume. Seasonal businesses benefit by adding reps only during busy times of the year.


New sales channels - Companies just getting into telemarketing can tap the expertise dedicated outbound call center firms can provide in creating lists, designing scripts, running tests, and managing campaigns.


Testing - Today's technology makes it easy to measure the success of new telemarketing programs. An average test campaign should be a minimum of 500 telemarketing hours and run for 30 days before the outcome is determined, for better or worse. When testing new sales programs or products, large companies may find it easier and cheaper to use an outbound call center than to retrain in-house employees. Small companies may also find it easier to do so than to build a call center and hire staff.


Specialty services - Companies that do business around the globe may want to switch to a two- or three-shift operation or operate in multiple languages. Using an outbound call center seller can smooth both of those transitions.
In addition, telemarketing call centers can provide cost savings to many companies. They already have the hardware, manpower, and expertise -- as well as the economies of scale-- that allow them to operate at a much lower cost than companies that set up their own in-house operations.
Preparing for Your Telemarketing Search
Telemarketing and telesales service sellers come in different sizes, use different methods and technologies, and have different specialties. Before you even start to talk to sellers, sit down and determine what exactly your requirements are - then find sellers who match your needs.
The first consideration is your goals for the telemarketing or telesales campaign. Determine what you will need the seller to do and what metrics you will use to measure success. You will want to choose a firm with experience in your industry and in similar campaigns, and you may need their help creating scripts or providing reports.
Next, forecast your expected volume. Base your estimates firmly in reality - because of monthly minimums and maximums that will be in your contract, under- or overestimating for negotiating purposes is not a good tactic. Make sure you have numbers that reflect any ramp or spike in calls you expect to be made for your telemarketing campaigns. You should have enough volume that the seller will put real effort into your calls, but not so much that their business depends on you.
If you have in-house contact management software, you will want to make sure that the telemarketing and/or telesales seller can provide connectivity from their system to yours, allowing you to easily exchange data. If the seller uses the same software you do, you may be able to set up a real-time direct connection, allowing you to see updates as they are made.
Many sellers specialize in certain types of telemarketing. Some focus on particular industries: technology, higher education, or retail, for example, which can result in a smoother launch of your program. Other sellers have a niche serving audiences with multiple language support or 24/7 staffing. In your preparation, decide what "extra" services you need so you can quickly winnow your options.
Finally, set a budget. One of the most common mistakes that buyers make is not having a budget set in advance. Many businesses are under the misconception that a telemarketing campaign will guarantee results based on the amount they spend, but it's not that simple. There are many metrics involved that will determine whether or not a campaign is successful.
BUYING TIP: Setting a clear budget in advance will protect you from overspending and losing money on your campaign.
---
As you move closer to actually contacting sellers, it's time to confront the endless debate: offshore vs. domestic. Both have specific advantages, and one is often substantially cheaper than the other.
---
The Offshore Telemarketing Debate
One of the major decisions to make when considering outsourcing your telemarketing operations is whether to go with an offshore seller or use a company whose call centers are in the U.S.. In the last few years, "offshoring" has really started take off - and the controversy has taken off with it.
While the idea of businesses using foreign plants and workers in manufacturing has largely been accepted, choosing offshore sellers for telemarketing efforts has caused much heated debate. The best advice we can give you is to make sure you base your decision on good business reasons, not emotion.
The main tradeoffs are these:
Choosing an offshore seller is almost always cheaper. Rates can be as little as 25% of what a U.S.-based firm would charge for the same service. The savings are substantial enough that it is impossible to ignore this option. Average offshore prices may start as low as $10-$14 per hour, compared to traditional onshore prices of $20-$60 per hour.


Your choice of sellers can impact your corporate image. There will always be a segment of the population - including some within your own company - that prefer to keep these types of jobs in the U.S. Larger companies usually face more media scrutiny on these types of issues; for smaller companies, customer perception is the greater risk.
Communication issues can also arise when offshoring your operations. This can be a result of difficult-to-understand accents or cultural differences that make casual conversation difficult. Other challenges of offshore outsourcing include the difficulty of arranging site visits for evaluation and training.
Near shore telemarketing
A third option called near shore telemarketing is also available, ranging from $18-$20 per hour. Near shore sellers are located in countries close to your location, and may be more compatible with your culture and language requirements. However, near shore telemarketing has only been proven successful in the Hispanic market: it hasn't fully caught on in the US. Near shore TSRs still have accents and will face a learning curve in order to adapt to the US culture.
You can reduce some of the risk and still lock in significant cost savings by choosing sellers whose call centers are in the Caribbean, Canada, or other locations where accents are not as strong and English commonly spoken. In places where English is not the first language, products with simple sales cycles and highly structured sales scripts can be easier for telemarketing agents to follow.
Whichever route you choose, make sure your management team is on board and understands how the choice was made.
---
With the advantages and disadvantages in mind, you can now explore the features of outsourced telemarketing in more detail by comparing the sellers side by side.
---
Evaluating Telemarketing Features
There are many factors to evaluate when comparing potential telemarketing firms. Some may be more or less important to your business, but they should all be weighed during your purchasing process.
Price
Overall pricing is the first item many companies use to select a telemarketing firm. Unfortunately, for some companies, it is the only item. As we stated in the introduction, choosing a service seller to interact directly with hundreds or thousands of your prospects and customers should be treated as a partnership building, not a bargain-shopping, expedition.
Do your best to get apples-to-apples price quotes from the companies you are considering: either per-minute or per dedicated rep rates, and monthly minimums. Remember that training and setup costs can be substantial, especially if they involve international travel.
Experience
Look for a telemarketing firm with significant experience providing outsourced telemarketing services.
Startups can be fine if their management has significant experience in the industry, but it is likely safer for you to choose a company that has existing customers and a solid reputation. Industry veterans know the importance of good infrastructure - phone systems, computers, and software - as well as how to adapt with the times.
You may also want to look for firms with experience in your exact industry. This can reduce the amount of training needed and help launch your program more quickly - but of course is no guarantee of success.
Sales reps
Whether they are called agents, phone staff, or telephone sales representatives (TSRs), the quality of the employees who actually make your calls is absolutely essential to your bottom line. Ask about their payment structure and the minimum hiring requirements to get a sense of how the company values their employees.
One good indicator of quality is how long the average employee stays with the company. An average tenure of less than a year can be a warning sign. The percentage of TSRs with a long tenure, over three years, can also be a tip-off: 35% to 50% is a good threshold to seek. Ask about the seller's commitment to staff training and promoting from within; employees who have growth opportunities are more likely to stay with their current job.
Reporting and additional services
You should make sure you choose among telemarketing firms who can provide an overall level of support sufficient to your needs. Make sure the account manager who handles your case understands your industry and your business, since he or she will be your day-to-day point of contact. If you need script development help, investigate the vendor's process and ask to see sample scripts they developed for other customers.
Reporting is another important aspect of the seller's offering. Without detailed, accurate reporting, judging results becomes next to impossible. Before discussing reporting in detail with potential vendors, gather input from your staff regarding the statistics that are important to them and how often they are needed. You should also decide if getting finished reports is sufficient for your needs, or if you want the telemarketing firm to provide data in a common format (comma separated, Excel format, etc) so you can run your own analyses.
Some types of reports you may want:
Total sales and revenue, plus breakdowns over time
Sales and revenue per list
Sales and revenue per rep
Call duration
Handling time
Calls per time
Revenue
The ability to monitor calls is another area where telemarketing firms differ. Some require that you call one of their managers, who will then "piggyback" you onto an agent's call so you can hear how effective they are. Others let you dial in to their phone system directly and listen to whomever you wish without any assistance or even notification.
E-mail blasting and voice blasting
Today, many outbound telemarketing call centers rely on e-mail blasting and voice blasting to enhance the results of your campaign. E-mail blasting is a marketing tool that will quickly send out an e-mail campaign to a targeted demographic for a much cheaper price than direct mail marketing. Voice blasting is a newer communication technique that sends pre-recorded phone messages to thousands of subscribers on a list to increase the volume of a telemarketing campaign.
Live lead transfer is another technology used to expedite a telemarketing campaign without increasing cost. Live lead transfer will gather the information of a viable lead and will then transfer the call to a TSR in order to close the sale. This is a screening process used to save call center agents time so that they can focus primarily on sales instead of generating leads.
Finally, make sure the vendor has adequate data security measures in place. Since they will be responsible for your valuable customer data, you need some guarantees that it will remain safe and secure.
---
A quality seller will provide you access to its employees. When you speak to them, here's what you should ask (and be on the lookout for).
---
Comparing Telemarketing Sellers
If you can arrange a site visit to the telemarketing call centers you are considering, you can get a wealth of information that may be hard to gather otherwise. Being in the actual call center can give you a sense of how the telemarketing company treats their employees. Are staffers energetic and pleasant? Enthusiasm and friendliness in person carries over to phone calls.
This will also be a good opportunity for you to look at sample scripts, meet some of the agents who may be working for you, and get a sense of the scale of the operation.
A site visit is also your chance to conduct in-person interviews with the agents. In addition to basics like how happy they are, their tenure at the company, and the projects they have worked on, questions such as "What is your next job going to be?" can help you get some insight into their commitment to telephone sales.
Another important test is listening to actual calls. Pay attention to how well the agents know the material they are selling, the overall image they project, and how well they can improvise when necessary. This the most direct way to evaluate a telemarketing call center, so plan several listening sessions to make sure you get the information you need.
As with any major business purchase, you should request references of both current and former clients. If possible, ask for references to clients in businesses similar to yours, both in industry and size. Some questions you may want to ask when contacting references:
Did you accomplish your overall goals when working with this company?
Were you able to get all the metrics you needed around activity and results?
What were the agents' biggest strengths and weaknesses?
---
While outbound service sellers are usually adept at providing the training and resources their people need to operate effectively, it's crucial to monitor the process yourself. To do so, there are three particular methods that ensure you get what you're paying for.
---
Secrets of Telemarketing Success
The success of a telemarketing campaign is dependent on many factors. The selling script, the time of the day when calls are generated, the personality of the TSRs, and the list of potential prospects can all influence the outcome of a campaign.
Make sure you give your campaign enough of a chance to succeed: if the results are not what you expect in the first week or so, make some changes instead of canceling the whole campaign.
While you should develop your calling script and strategies in conjunction with the seller, you should definitely make sure that the exact methodology is spelled out in detail.
It may sound obvious, but one key to effective telemarketing is to make sure specifics you require such as time of day to call, number of tries before leaving a message, how to follow up, and any other requirements are very clear - you may want to include them in your contract.
Training the TSRs is another important step to telemarketing success - it is recommended that your sales management runs or at least participates in the training at their call center. Take the most important lessons from your own internal sales training and present them to the TSRs who will be working on your account: the more ammunition you give them, the better they will do selling your products or services. Listening in on the first few days of calls can let you quickly address any omissions or problems.
In order to ensure quality assurance for the success of a campaign, all calls should be monitored and reported using one of the following methods:
Shadow monitoring: This enables you to listen in on calls at any time to ensure quality in the execution of your script. A call center that offers shadow monitoring shows confidence in the campaigns that they run on behalf of their clients.


Hosted monitoring: This is an essential service when outsourcing telemarketing to a call center. This allows you to listen in on TSRs along with a call center agent in order to monitor a live call.


Sales verification: Each lead that is generated will first be evaluated by quality assurance personnel. This will ensure that all generated leads meet the standard placed in the telemarketing campaign.
---
Take a few minutes to review the pricing estimates on outbound telemarketing services that we've compiled. Taken from a range of BuyerZone customers throughout the country, these numbers can help you budget effectively while making sure you don't overpay.
---
Telemarketing Service Pricing
It is difficult to pinpoint a specific market rate for hiring a telemarketing firm. Costs depend on a myriad of factors, including the type of project, skills and expertise required of TSRs, technologies needed, and even the time and day calls are generated.
Many large telemarketing firms require a minimum work order. These minimum orders can range from 1,000 to 10,000 person hours per project, although smaller boutique call centers may require lower minimums of 100 to 200 hours.
Most firms charge an hourly rate and bill by the actual time spent on calls. This rate is more commonly in the range of $20 to $60 per hour, but can be as low as $10 per hour for discount-priced offshore companies. The average hourly onshore rate is $28 per hour. As the number of hours increases, the cost per hour drops.
See what other BuyerZone users paid for telemarketing services.
Telemarketing pricing breakdown
Cost per hour. A typical telemarketing agent could make up to 100 calls per day in a seven hour workday, which is about 14 calls per hour. However, agents using predictive equipment could make up to 40 calls per hour. If you're being charged $25 per hour, this would drop your effective costs from $1.78 to $0.62 per call.


Cost per lead. In this method that is rapidly gaining in popularity, you'll only pay for qualified leads generated in the campaign. This lowers your financial risk, although the cost per qualified lead will be much more than the cost per non-qualified call.
The payroll structure of your telemarketer also affects the bill. For companies that do not offer commissions to TSRs, you can expect the base hourly charge to be relatively high. Companies that pay commission charge relatively less per hour. Depending on the cost of your product and the base salary of TSRs working on your project, commission charges may range from as little as 1% to as high as 10% of the revenue generated.
There are many other fees to consider beyond the basic charges. You should expect a setup fee of up to several thousand dollars to launch your campaign, which should cover configuring their software for you, basic script preparation, and initial training.
Other costs, such as additional training, programming, and reporting fees, may be covered by your per minute or per hour charges - or may not. Make sure the seller spells out exactly what additional charges you will incur. On average, miscellaneous costs could add 20% to the total price of a telemarketing campaign.
Contracts, metrics, and SLAs
A telemarketing contract needs to define more than just the contract term and pricing. It should specify exactly what standards and procedures the call center is expected to follow, how their performance will be measured, and what penalties can be applied if they fall short of the requirements.
We recommend that you include non-disclosure clauses in your contract. NDAs make sure the seller doesn't take the lessons they learn with your business to one of your competitors. This is especially important if your choose a seller who specializes in your industry.
One typical approach is to define a minimum percentage of successful sales. If you have run similar campaigns in-house, you will have good benchmarks to start from; if not, you may have to work with the vendor to refine the goals after the program is launched.
Other contract options include exclusivity, translation services, secrecy/confidentiality, monitoring rights, and more. When creating contracts of this magnitude, almost anything is negotiable, but remember that you will pay more for special requests.
Telemarketing Service Buying Tips
Consider commission. Working with a firm that pays commissions can sometimes drive better overall results. Commissions are more motivating to TSRs than a guaranteed hourly rate.


800 number ownership. Sometimes the TSRs will need to leave messages, including a phone number. The call center may offer to buy and set up a phone number for you, but this is not a good idea. You can easily buy your own 800 number and assign it to the seller. If you ever need to switch sellers, it is much easier if you own the phone number. The same goes for email addresses, if needed.


Script success. The telemarketing script is critical - and your vendor will have considerable expertise. Take their suggestions to heart - especially if your initial results are disappointing. Minor changes can turn a campaign around.


Size matters. Experts in the telemarketing industry confirm that the best call centers will have no more than 100 to 200 representatives. Once a call center become significantly larger, staff turnover can make it difficult to maintain quality; many call centers place a cap on employees in order to cultivate quality TSRs.


Team effort. When training the TSRs, use the best resource you have available: bring your own most successful salespeople to help give the TSRs the tools they need to succeed.


Government compliance. A call center must willingly comply with all federal requirements to avoid legal ramifications. They have to maintain an updated Do Not Call list and ensure that all scripts are written according to legal standards. Choose a telemarketing firm that will educate you on their Do Not Call processes in order to maintain federal compliance.
Ready to Compare Outbound Telemarketing Services Price Quotes?