Telemarketing Strategies & Techniques
Start-ups and small businesses have a few unique needs related to the challenge of engaging potential customers and bringing customers to the business as paying customers. Telemarketing services can get new customers through the door and on the road to repeat business.
Finding New Customers
Telemarketing targets the people who need your product through effective communication, which increases your business's opportunity for sales. Without a telemarketing agency, your company may be unaware of your ideal customer profile. You might market your product or service to a wide audience of people who may want your product, rather than focusing on the people likely to need or want what you're selling.
The strategy is risky, as the probability of your audience buying the product is unknown. An agency, however, can help solve the problem with several effective methods, including:
Surveys
Update your customer database
Customer feedback
A telemarketing service will help your start-up or small business by providing lists of qualified leads. Compare using unqualified leads to fishing without a hook and bait. Just like you won't catch many fish without a hook and bait, you probably won't generate much interest from your contact list when using unqualified leads.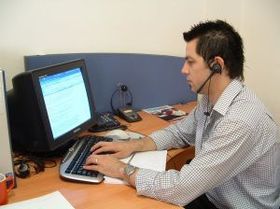 A list of qualified leads provides you with prescreened potential customers who have shown an interest in your product or service, or who fit a demographic model of your desired customers. This means your chances of making a sale increase when you use lists of qualified leads.
Just remember that telemarketers who have no personal association with a prospect will have a very small window of time in which to appeal to him before he loses interest. An engaging script can go a long way in keeping prospects on the line.
Always be sure to have up-to-date, thoroughly researched, and professionally written scripts with which your telemarketers can pitch your goods or services. Scripts that are tailored toward specific prospects perform even better, and reduce the awkward silences and moments when prospects feel like they can hang up.
Verification Services
Using telemarketing for verification services can save your business the cost of bad check fees and can help make sure the leads you pay for really exist. A list of qualified leads puts you in touch with potential customers who have buying authority and an interest in what you have to offer. When shopping around for a lead verification service, make sure your definition of a qualified lead meshes with what the service plans to provide.
Staying in Contact
A telemarketing service can help stand in for a sales force for a small company or start-up by providing after sale follow-up calls to customers. This lets your customers know you care about their patronage and satisfaction without the expense of hiring a sales team before your company is ready to take on that expense.
The telemarketing service uses your current customer contact information, so you don't need to purchase or provide a cold calling list of leads. You already know these customers have an interest in your products or services, and good customer after-care increases the chance they will return as repeat customers.
Give your start-up company or small business a boost when you hire telemarketing services to help out with finding, contacting and following up with customers.
Ready to Compare Outbound Telemarketing Services Price Quotes?