Actual Telemarketing Rates from BuyerZone Buyers
When it comes to purchasing outbound telemarketing services you will see prices vary based on the industry and market you are looking to target. However we compiled some of the prices that our users paid to give you a better idea of what your project will end up costing.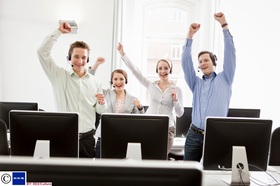 Costs are typically based on project type, the skill level of the telemarketer, industry expertise, and when calls are made. Billing can be affected by the time spent on calls and whether or not you need to pay commissions to the telemarketing reps.
You may incur additional fees for initial setup, script preparation, training representatives, programming, and reporting. Make sure your contract specifies all the fees you'll be responsible for, otherwise what looks like a cheap telemarketing option might turn out to be more expensive than you expect.
Unless you have a ready list of prospects, a telemarketing firm can provide you with one for a fee.
Hourly telemarketing costs
"$3,265 - Marketing test to include marketer training, database set-up, script writing, full statistics and reporting, 100 hrs. of marketing service, set-up charges, and contact list." - Insurance Administrative Assistant, Fremont, California
"$1,775 for 40 hours of telemarketing, including access to their website for communication, setup, etc." - Accountant, Oxford, Florida
"$3,300 for 100 hours of telemarketing - includes script." [cost-reduction services] - Telecommunications CEO, Lone Tree, Colorado
"$1,499/month with $500 set up fee. All services included." [home improvement] - Business Service Provider, South San Francisco, California
"$3,525 telemarketing setup, script, and 100 hours of calling." [401k plans] - Financial Services Owner, Pasadena, California
"Approximately $5,000 for a pilot campaign of outbound calls that includes the call list and live lead transfers." [drug testing services] - Sales Manager, Sarasota, Florida
"$2,500 - update database info and get email addresses for 3,300 people." [awareness campaign] - Business Service Provider, Houston, Texas
"$1,000 for an outbound telemarketing campaign. This included script editing, daily reports, and an exit database." [inventory liquidation] - Retail Office Manager, Walnut Creek, California
"I'm paying roughly $42/hr for outbound telemarketing and database management over a minimum contract length of three months. It is likely to continue on with a 12-month extension. I also purchased two telemarketing lists from D&B through TeleContact for roughly $.23/record." - Manufacturer, Tomball, Texas
Per lead telemarketing costs
Some telemarketing firms will provide services for a specific number of leads. You typically receive multiple services for one set rate.
"$1,400 for 1000 prospects. The calling campaign is going to start next week." - Regional Sales Representative, Cincinnati, Ohio
"25 leads, with guaranteed 15% close ratio. $800." [refinancing] - Banking Operations, Grandville, Michigan
"$1,400 for 40 leads." [mortgage refinancing] - Financial Services CEO, Elizabeth, Colorado
"$40 per lead on live transfers, set up, and everything we needed to receive our mortgage leads." - Real Estate Sales, Pleasant Grove, Utah
"$5,200 for three telemarketers, a list, lead qualification, four appointments/day, and script." - Insurance CEO, Ridgefield Park, New Jersey
Want more information on Telemarketing? Read our Telemarketing Services Buyer's Guide. To review in-depth telemarketing company profiles, use our instant provider comparison service.
Information was provided by BuyerZone users. Quotes have been edited for clarity only.
Ready to Compare Outbound Telemarketing Services Price Quotes?