Comparing & Selecting Kiosk Vendors
Regardless of your industry, the odds are that your business can benefit from the automated support of an electronic kiosk. According to Mintel analysts, automated self-service is now considered one of the largest areas of opportunity and market growth for businesses across the nation. Customers in any establishment are looking for the best way to cut to the chase and move beyond time-consuming sales processes to get what they want when they want it.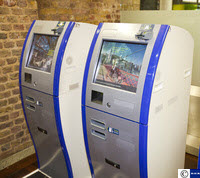 It's no wonder that more and more businesses are turning to interactive kiosks supplied by kiosk vendors. An interactive kiosk bridges the gap between people and technology, while making it easier for a business to sell to, educate, and help their customers.
What is an interactive kiosk?
In its most basic form, an interactive kiosk is a computer terminal used to electronically record and retrieve information. An interactive kiosk can be beneficial in almost any business setting to improve a customer's experience and expedite routine transactions.
Examples of interactive kiosks include:
Bank ATM
Supermarket checkout kiosk
Internet access kiosk
Internet ticketing kiosk
Airline boarding check-in kiosk
Choosing the right vendor
Kiosk vendors provide an electronic sales solution to meet a need. Retail owners, for example, can position an electronic kiosk to provide customers with price checks or help locating specific items. A medical office can utilize a kiosk as an educational sales tool to educate patients.
The best kiosk vendors will provide the following:
Customer Service
Expertise
Customization
Here are several guidelines that you can use right off the bat to hone in on the best kiosk vendor for your business:
Always conduct due diligence for kiosk vendors before working with them.
Arrange to meet them in person and then request to see some of their past work.
Try to get some insight into work they've done for companies similar to yours.
Get a list of references you can contact about a vendor's performance.
You want to associate with kiosk vendors who will design a solution that fits your needs. Let the vendor know the type of program you want to run and how many people you expect to use it.
Also, keep an eye out for kiosk vendors that deal exclusively with one type of kiosk, such as photo printing or ticket purchasing. Businesses that focus specifically on one type of kiosk technology are usually the most experienced and reliable to work with.
Top kiosk vendors
Fabcon Creative has been serving kiosk clients, worldwide, since 1977. Their turnkey service provides a variety of standard kiosk systems.
Kiosk Information Systems are a prominent vendor in the indoor/outdoor kiosk marketplace. From standard to custom design, they serve the top 100 retailers and Fortune 500 companies.
Phoenix Kiosk is a custom kiosk design manufacturer that prides itself on growing their clients business and not their payroll. Their service is applicable for companies small or large.
RedyRef Interactive Kiosks This US based kiosk manufacturer, includes customized design, specializing in touch screen directories and digital signage.
It's easy to start working with multiple kiosk vendors today. Submit a free BuyerZone request for interactive kiosks quotes and get matched to as many as six different kiosk vendors who will review your industry, technology requirements, and budget limitations to find you the best fit.
Ready to Compare Interactive Kiosks Price Quotes?