Power Up Your Home, Tools, or Campsite with Honda Home Generators
From one of the most reliable car manufacturers in history comes a series of generators that leverages the same long-lasting engine technology. Honda specializes in a wide range of small, portable home generators designed for everything from home backup and running power tools and other equipment to recreational activities like RVs, camping, and similar outdoor applications.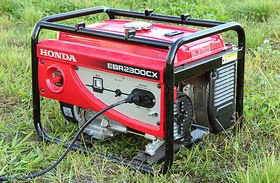 Available in a range of different outputs, extending from 1 kW to 10 kW, Honda's gas-powered models offer a combination of lightweight simplicity (some models weigh less than 30 lbs) and long run-times, with generators capable of more than 9 hours operation on a single gallon of gas.
How to choose the best Honda generator
You can take the pain out of shopping for Honda generators by comparing prices and brands, and by keeping the following points in mind during your research:
Determine how you plan to use the generator. This will help you to decide what kind of home generator you will need and make sure you don't overpay for something you won't use. Find out how much electricity your home uses, and decide whether your generator will be used only for emergencies or as your primary source of electricity. Make sure you also know how to use, care for, and be safe around your generator.
Know how much the generator's fuel tank can hold. When comparing Honda generator prices, you should always look for one that has a 5 gallon tank capacity. This way, your home generator will be able to run for several hours without having to worry about refueling.
Make sure the generator is durable and reliable. When making price comparisons, check to see if the generator has a ball bearing alternator as opposed to a needle bearing one. A ball bearing alternator is less likely to malfunction. Also, check to see if the alternator is made of metal or plastic. A plastic one is prone to warp, whereas a metal one is much sturdier. Some generators offer a cast iron sleeve liner, which makes the engine last longer.
Figure out if the generator is easy to use. Some home generators use starter ropes, which make them very difficult to start. In a stressful situation such as a power outage, you will want a generator that is user-friendly. Unless you're comfortable with starter ropes, you might want to buy a generator that has a one-touch electric starter, as well as a full power switch feature that allows you to turn it off easily as well. This way, you can save energy and allow your home generator to run as efficiently as possible. If you plan to use it while camping or traveling, look for a generator that has a portability kit. A high-quality home generator should require little maintenance and include reminders for when it's time to change the oil.
Honda generator prices
Honda generator prices vary based on the size of the generator, the type, wattage, fuel capacity, and more. Any household can benefit from owning a portable generator as a backup source of electricity during a power outage or to use when camping. But the variety of options can be overwhelming. Just because a generator is more expensive doesn't mean it will be the best for your household needs.
For example, on the low end, prices range from $2,000 for the Honda EU3000, a 3 kW gas-powered model. On the high end, your options include the Honda EU6500, another gas-powered option with 6.5 kW for $4,000. For deluxe models, like the EB10000 with 10 kW and full GFCI protection, you can expect to pay around $5,400.
Honda generator prices should be easy to compare when you know what features to look for. You know you will be investing in a high-quality machine, but don't overpay for a larger generator if your home doesn't need that much power. Compare prices and features to find the right generator for you.
Ready to Compare Home Generators Price Quotes?